Mon, 7 December 2020
Bad at Sports Episode 757: Michelle Hessel and Mint Boonyapanachoti
Set your phasers to scan as we dive deep into art-making with 3D scanning techniques. Ryan and Brian chat with Michelle Hessel and Mint Boonyapanachoti about food cart vendors and all things scannable.
---
Sun, 14 June 2020
Bad at Sports Episode 741: Indoor Recess The first HPAC Artist Run Chicago
Our Indoor Recess series concludes with a leap back a decade to the original Artists Run Chicago episode featuring Britton Bertran and Allison Peters Quinn.
Woo Hoo!
https://www.hydeparkart.org/exhibition-archive/artists-run-chicago/
---
Mon, 16 December 2019
Bad at Sports Episode 713: Jenn Smith
Jenn Smith talks Evangelicana, archival fevers and painting — all on view in her exhibition Soup Kite Laser Church at Flatland — with Brian and Jesse. Mining her evangelical Christian background, Jenn's work offers a unique view into the material and ephemeral histories of these communities, bringing to light their pamphlets, the pro wresting ads, the rock groups, the felt board fuzzies, usb kitsch, etc. with a deft touch that's playful, humane and mysterious all at once. Oh, and fifty-one books about Christian puppetry (in the work Fifty-one Books About Christian Puppetry).
---
Thu, 12 December 2019
Bad at Sports Episode 712: Michael Lopez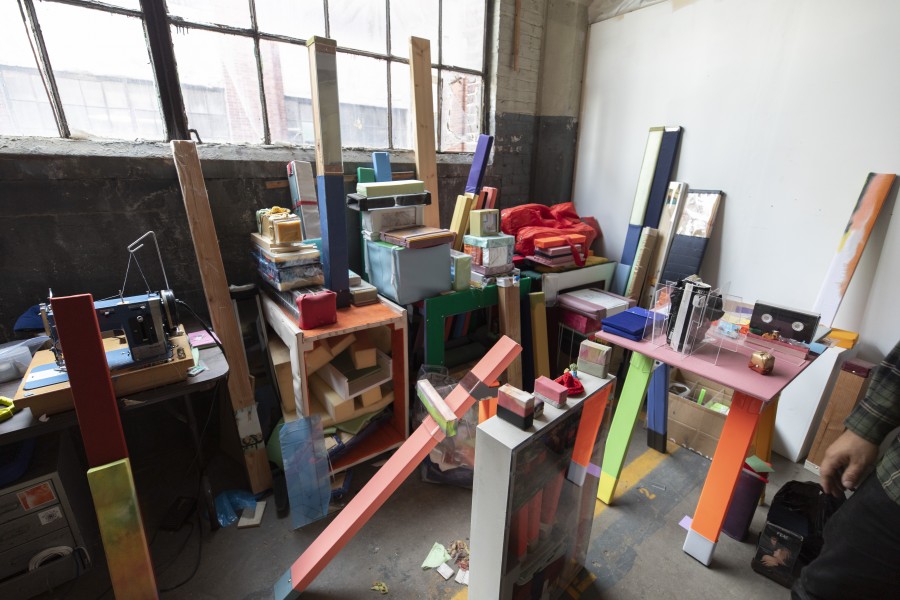 Michael Lopez sits down with Ryan and Jesse to talk about his ever-shifting exhibition at Adler & Floyd, his new zine The Cat Monster, The Apartment People, A Place for My Creatures to Play and his practice generally in this ever-shifting exhibition of talking. Mike is a sculptor, performer, writer, drawer, animator polymath type whose work deals with work; with money; with personal history; with material reuse, refuse and refusal; with mess and form; with the funny and the sad.
---
Fri, 15 June 2018
Bad at Sports Episode: 641 Anna Metcalfe and Holly Hanessian
Live from our Elevator Studio @ Open Engagement: We are joined by Anna Metcalfe and Holly Hanessian to discuss their cohort, The Socially Engaged Craft Collective (SECC), a group focusing on the social aspects historically connected to craft objects and materials. We suss out the intersection of ceramic objects and sustainable models of agriculture and water consumption.
http://www.hollyhanessian.com/
https://sociallyengagedcraftcollective.org/
http://openengagement.info/session/a-story-of-sustenance-the-ceramic-object-as-conduit-for-engagement/
---
Tue, 29 May 2018
Bad at Sports Episode 633: Erika Pettersen of Haiti Cultural Exchange
Live from our Elevator Studio @ Open Engagement: We are joined by Erika Pettersen of Haiti Cultural Exchange to learn about Lakou NOU ("Our Yard" in Haitian Creole), a program providing four artists of Haitian descent with the opportunity to create and present new work while connecting their skills and talents to four traditionally underserved Brooklyn neighborhoods.
---
Wed, 14 February 2018
Bad at Sports Episode 615 W.I.T.C.H.es
Contemporary Witches join us to smash the patriarchy. Jessica Caponigro, Chiara Galimberti, and Isyemille Lara introduce us to the "Women's International Terrorist Conspiracy from Hell" and give us one last chance to repent.
---
Fri, 17 February 2017
Bad at Sports Episode 576: Guy Richards Smit
This week: Our first live show from 105.5 WLPN-LP, an interview with Guy Richards Smit
---
Wed, 10 August 2016
Bad at Sports Episode 557: Bolen, Scott, and Yang take on Sensing and the Anthropocene
Jeremy Bolen, Emily Eliza Scott, and Andy Yang take on Sensing and the Anthropocene at the HKW in Berlin!
Real show note soon.
---
Thu, 21 April 2016
Bad at Sports Episode 547: Present Standard
This week: Richard and Duncan talk to the curators and artists of Present Standard!
Guest curated by Edra Soto and Josue Pellot, Present Standard features 25 contemporary artists with Latino Chicago connections. Their works that play with the manifold meanings and forms suggested by the "standard" – as either a flag or a pennant, a measuring tactic or a guiding principle, or a potent symbol of national identity.
---
Mon, 11 April 2016
Bad at Sports Episode 545-Deborah Stratman
This week: NO NOT THE GUITAR COLLECTOR! Instead this week Duncan and Jesse talk to Deborah Stratman the artist and filmmaker.
---
Tue, 22 March 2016
Bad at Sports Episode 544: Spring Break!
This week: Bad at Sports goes to SPRING BREAK Art Fair in the burned out section of the Post Office building on the Westside of Manhattan. Sadly we did not get loopy with jello shots and beach balls, but instead nerded out with some killer art conversations with some fantastic work! Joining Amanda this week is her co-host artist Caroline Burghardt, a Brooklyn based artists who looks at the relationship between humans and nature. Check out her site at www.carolineburghardt.com.
At the fair we first chatted with artist David B. Smith about his installation of fabric based sculptures. Then headed over to the curated exhibition "Doppelnamer" that is curated by and Elisabeth Smolarz, Lauren Silberman and Jamie Diamond. We chatted with Elisabeth and Lauren about the artists in the show, and their doppelnamers. The artists featured in the room were: Daniel Bejar, Vince Contarino, Andrew Ross, Jonathan Allen, Brent Birnbaum, Jamie Diamond, Lauren Silberman and Elisabeth Smolarz... and all of their doppelnamers.
photo:
Top: David B. Smith installation at Spring Break
Bottom: Brent Birnbaum and his Doppelnamer + Elisabeth Smolarz and Lauren Silberman chatting with Caroline Burghardt and Amanda Browder in the Doppelnamer booth at Spring Break.
Part I:
David B. Smith : artist
Part II:
Elisabeth Smolarz and Lauren Silberman and Jamie Diamond curators and artists part of the booth "Dopplenamer"
Artists in the show: Daniel Bejar, Vince Contarino, Andrew Ross, Jonathan Allen, Brent Birnbaum and all of their doppelnamers.
---
Sat, 12 March 2016
Bad at Sports Episode 542: Avi Gitler
This week: Tom Sanford is back! Tom and Duncan talk to Avi Gitler about his gallery Gitler & _______ and his amazing stories of world travel and the terror of facing the NYT art critic!
---
Mon, 1 February 2016
Bad at Sports Episode 538: Barbara DeGenevieve
This week: About a year and a half ago we mourned the passing of a true Chicago legend. Barbara DeGenevieve was an epic instructor, a committed boundary tester, and an enthusiastic gender warrior. Lisa Wainwright did a great job memorializing her on our site and this September Iceberg Projects mounted the first exhibition in honor of her legacy. Dr. Dan Berger, David Getsy, Doug Ischar, and our own Duncan MacKenzie gathered to discuss her exhibition, her story, and what made her the force she was.
Yes. Four white men whose names all begin with D got together to discuss a great woman. Yes we know. Take your fingers away from your keyboards.
Iceberg - http://icebergchicago.com/barbara-degenevieve-medusa%E2%80%99s-cave---iceberg-projects.html
David Getsy Just dropped a new book and announced another. Check it out...
http://www.amazon.com/Abstract-Bodies-Sixties-Sculpture-Expanded/dp/030019675X/ref=sr_1_2?ie=UTF8&qid=1454291662&sr=8-2&keywords=David+Getsy
http://www.amazon.com/Queer-Whitechapel-Documents-Contemporary-Art/dp/0262528673/ref=sr_1_1?ie=UTF8&qid=1454291662&sr=8-1&keywords=David+Getsy
Our initial Memorial...
http://badatsports.com/2014/barbara-degenevieve-irrepressible-irresistible-irreplacable/
---
Tue, 26 January 2016
Bad at Sports Episode 537: Anne Elizabeth Moore
Epic Chicago cultural legend Anne Elizabeth Moore joins Duncan's Columbia College class "the Late, Late Afternoon Show" for an invasive journey through her history. Abigail Satinsky joins Bad at Sports for a farewell Chicago as she confesses her move to Philadelphia.
Moore the warrior of comics, punk rock, anti-capitalism, journalism, and Cambodia's future, recounts her world.
Super fun.
http://anneelizabethmoore.com/
https://ladydrawers.wordpress.com/
http://ladydrawers.tumblr.com/
---
Fri, 8 January 2016
Bad at Sports 536: Janet Cardiff
Janet Cardiff's Forty Part Motet is composed of forty speakers arranged in eight groups of five, configured as a large oval facing each other in the center of the room, and resting on stands so they are roughly just above eye level. The Motet, as Cardiff referred to it in our conversation, is a reworking of the English composer Thomas Tallis'sSpem in Alium (1570), which translates as "Hope in Any Other" and is sung in Latin by a choir of forty voices. The composition is arranged so that the choir, like the speakers, is divided into eight groups of five singers; each group consists of a soprano, tenor, alto, baritone, and bass. The groups alternate singing: first one, than another, sometimes alone, and at a few moments, all together, rising in a crescendo that breaks open the room to a place beyond the physical world. To hear the Motet in its entirety is profound. Spem in Alium is considered one of the greatest works of English music. The Forty Part Motet is equally a contemporary masterwork. It was a privilege, then, to sit down with Cardiff on November 12, 2015, to speak about her practice. - Patricia Maloney
Janet Cardiff lives in British Columbia, where she works in collaboration with her partner George Bures Miller. The artist is internationally recognized for immersive multimedia works that create transcendent multisensory experiences and draw the viewer into often unsettling narratives. Cardiff and Miller's work has been included in recent group exhibitions and biennales such as Soundscapes at the National Gallery, London, the 19th Biennale of Sydney in 2014, and dOCUMENTA (13). Representing Canada at the 2001 Venice Biennale, Cardiff and Miller received the Biennale's Premio Prize and Benesse Prize. Recently, the artists debuted new site-specific commissions for Fondation Louis Vuitton, Paris, the Menil Collection, Houston, TX, and the Museo Nacional Centro de Arte Reina Sofia, Madrid, Spain.
The Forty Part Motet is on view at Fort Mason Center for Arts and Culture, in San Francisco, through January 18, 2016; it is co-presented by the San Francisco Museum of Modern Art.
---
Mon, 14 December 2015
Bad at Sports Episode 535: Noah Lyon
This week: Amanda believes the children are the future, she thinks you should teach them well and let them lead the way. Amanda wants to show you all the beauty you possess inside.
Noah Lyon decided long ago, never to walk in anyone's shadow, if he fails if he succeeds, at least he'll live as he believes.
No matter what we take from you, fine listeners, you are in the art world, you abdicated your dignity second semester your freshman year, who are you kidding.
Holy shit those lyrics work really well here.
---
Wed, 11 November 2015
Bad at Sports Episode 532: Nancy Lupo and Laylah Ali!
This week: Recorded live on stage September 18, 2015 at Expo Chicago as a part of the Dialogs series, we talk to Nancy Lupo and Laylah Ali!

You have to tell them...Soylent Green is people!!
https://www.youtube.com/watch?v=9IKVj4l5GU4
---
Sat, 5 September 2015
Bad at Sports Episode 523: Check Sunday's Trib
This week: As there is a lovely write-up on us in the paper, we pull our most popular episode out from the vault, blow the dust off, lovingly re-present our interview with the brilliant Kerry James Marshall for your enjoyment. If you are a first time listener please browse the archive there is some fun stuff.
Love and Kisses,
RH
---
Mon, 24 August 2015
Bad at Sports Episode 521: Terrain!
This week: Duncan will put a note here soon!
---
Mon, 17 August 2015
Bad at Sports Episode 520: 10 Years of Bad at Sports! The James Elkins art history farewell party
This week: TEN YEARS MAN...TEN YEARS!! This week we bid a sad farewell to our good friend James Elkins who has told art history "It isn't you, it's me, but at this point in my life I feel like I can't be tied down to a genre, I need to be free to see other modes of writing." Yes, it is true Art, he sat down for our interview and said ""you don't have Elkins to kick around any more, because, gentlemen, this is my last press conference."
Now wait. That was Nixon. Whatever. Anyways, James Elkins, super brilliant guy, most frequent guest in the history of Bad at Sports, returns again to tell us what comes next for him in his merry adventures.
---
Mon, 10 August 2015
Bad at Sports Episode 519: Katya Grokhovsky
This week: The return of the The Amanda Browder Show! we talk with artist Katya Grokhovsky from her exhibition/residency at Soho20 in NYC. We talk about her work, performance as a medium, artist as curator and her discussion panels surrounding feminism, and the contemporary art world.
www.katyagrokhovsky.net
http://katyagrokhovsky.tumblr.com/
http://feministurgent.tumblr.com/
http://soho20gallery.com/opportunities/artist-in-residence-studio-program/

Katya Grokhovsky is an interdisciplinary artist, curator, educator and organizer, whose work deals with issues of alienation, gender politics and migration. Grokhovsky holds an MFA from the School of the Art Institute of Chicago (2011), a BFA from Victorian College of the Arts, Australia (2007) and is a recipient of numerous fellowships, residencies and awards including SOHO20 Chelsea Gallery Residency (2015), BRIC Media Arts Fellowship (2015), VOX Populi AUX Curatorial Fellowship in Performance, Philadelphia (2015), New York Studio Residency Program Visiting Artist (2015), Residency Unlimited (2014), Kimmel Harding Nelson Center for the Arts, (2014), Saltonstall Foundation for the Arts (2013), NARS Residency (2013), Santa Fe Art Institute Residency (2012), Watermill Center Summer Residency (2011), Dame Joan Sutherland Fund Grant (2013), Australia Council for the Arts ArtStart Grant (2013), NYFA Mentoring Program for Immigrant Artists (2012), Chashama space to create grant (2012). Her work has been exhibited in venues such as Lesley Heller Workspace (2015), Judith Charles Gallery (2015), Dixon Place (2015), Spring Break Art /Show (2015), EFA Project Space (2014), HERE Arts Center (2014), Art in Odd Places NYC (2014), SAW - Storefront Art Walk Bay Ridge (2014), Gateway Project (2014), A.I.R Gallery Projects, Governor's Island (2014), Amelie A. Wallace Gallery, SUNY College (2014), Panoply Performance Lab (2014), New York City Center Lobby Projects (2013), Galerie Protege NYC (2013/14), IDEAS City, New Museum (2013), Gallery Affero (2013), Movement Research Festival (2012), Chashama (2012), Ukrainian Institute of America (2012), Grace Exhibition Space (2012-14), The Franklin (2013), Antena gallery (2013), Defibrillator gallery (2011/13), Bus Projects (2012), Heaven gallery (2010), amongst many others.
Details for image:
Katya Grokhovsky, One Fine Day, 2014. photo Yan Gi Cheng
---
Mon, 25 May 2015
Bad at Sports Episode 508: Carl Baratta and Oli Watt
This week: We talk to Carl Baratta and Oli Watt and we actually run this interview unlike when we did this last year.
Also:
Big news! ACRE is moving to a bigger and better location!

As you mayknow, ACRE has been operating out of my storefront apartment since its inception in 2010. I started searching for a new home for ACRE last spring and found a building in Pilsen that is absolutely perfect for us. A former funeral home, large enough for us to expand into over time and featuring remarkable restored historic elements, the building is an ideal base of operations for our growing organization.
You are among the first to know, and I am reaching out to you for help making our ambitious vision a reality. ACRE has already received a generous donation to cover a portion of the building renovation cost. In addition, we are launching a Kickstarter Campaign to raise the remaining $20,000 needed to realize our plans for the new space. We are hopeful that our campaign, which was specially selected by Art Basel's Crowdfunding jury, will garner both financial and community support for the project. We softly launched our fundraiser today and will begin promoting the campaign publicly on May 25th.

Due to your valuable and continued support of our organization, I am hoping that you may be able to make a contribution of at least $100 during the lead up to our public launch. If you are able, I ask that you please contribute between now and the 25th. Your contribution will make an even greater impact if made at this time, as it will help us to build momentum for the campaign's launch and indicate to future donors that there is enthusiasm for the project.

Here's a direct link to ACRE's Campaign: https://www.kickstarter.com/projects/1569629484/help-build-acres-new-home-in-chicago
I sincerely hope you will consider helping ACRE take this crucial step in our development. I've always felt that ACRE has an uncanny knack for being able to accomplish a lot with very little. I can't wait to show you what we are capable of with a new and improved home base.
Sincerely and With Great Excitement,
Emily
PS- If you are interested in making a significant contribution outside of the campaign please feel free to contact me.
---
Mon, 4 May 2015
Bad at Sports Episode 505: Pablo Helguera and Christian Viveros-Faune
This week in conjunction with EXPO Chicago we welcome Pablo Helguera and Chistian Viveros-Faune! We chat Socially Engaged Art.
It is time for an app that helps us gallery goers and Threewalls has the answer, lets kickstart them!
---
Mon, 30 March 2015
Episode 500: Richard bids a fond farewell
This week: So long and thanks for all the fish.
---
Mon, 23 March 2015
Bad at Sports Episode 499: Amanda Browder
This week: The penultimate show of the Richard Holland era has arrived. There was only one person who could possibly have been the subject of this show and that, of course, is Richard's good friend, Bad at Sports co-host and all around awesome person Amanda Browder! They talk about Amanda's work, installation and site specific art and Duncan's creepy fixations.
Next week is episode 500! Duncan, Richard and Amanda gather at a non-ironic tiki bar. Rude jokes are told. It is a wacky mess. Don't miss it.
Check out Amanda's work at www.amandabrowder.com
---
Mon, 16 March 2015
Bad at Sports Episode 498: Doris Salcedo
This week: A very brief interview with Doris Salcedo with special guests Sarah Guernsey, Executive Director of Publishing at the Art Institute of Chicago, and Hank Holland intern at Bad at Sports. Following the long intro and short interview we present courtesy of the Museum of Contemporary Art Chicago, Doris Salcedo's talk from February 22, 2015. Thanks MCA!
Only two more weeks of that Holland charm.
---
Mon, 9 March 2015
Bad at Sports Episode 497: Joe Zucker
This week: Duncan talks to Joe Zucker. His show opens March 15th at the Parish Art Museum.
---
Mon, 2 March 2015
Bad at Sports Episode 496: Justin Cooper
This week: This show has everything, the Amanda Browder Show, Justin Cooper, Richard finally records a new outro, and some of the most annoying music ever used on BAS!!
NYC/Browder talks to Brooklyn based artist Justin Cooper. Post a few deadpan jokes, and moments of spacing out...(edited of course) we discuss his history of his work, and his installationSpreadsheet, and performance Mowers of Ten presented by the Art-In-Buildings program, and Monique Meloche Gallery. The project is in conjunction with The Armory Show that is going on next week.
Employing a strategy of "endless introducing," Cooper plays both host and hosted, in an effort to eradicate the line between these two states. With the classic Charles and Ray Eames film, Powers of Ten, as inspiration, and Cooper's installation, Spreadsheet serving as a backdrop, the performance aggregates comedic bits, routines, acts, sound fragments, free floating signifiers, and chains of non sequitors systematized into miniature narratives, into a simulation of comedy. Like "Friends" minus the laugh track or AstroTurf as a surrogate for suburban lawn, Mowers of Ten, highlights the impossibility of reconciling the intellectual with the visceral. "I know this isn't funny...and yet." "I know this isn't grass...and yet."
http://moniquemeloche.com/artists/justin-cooper/
SHOUT OUT TO AMANDA:
Art Fair weekend is next weekend in NYC! The Armory, VOLTA, Scope, etc. etc.
BUT Time to go see the SPRING/BREAK Art Fair. Amanda Browder and a ton of very cool artists in NYC will be showing at this fair in the abandoned section of the Post Office on 33rd Street between 8th and 9th. It is a fair of guest curators who are bringing their collection of artists to each room in the massive office space.
Look for her on the 4th floor with curators Jacob Rhodes of Field Projects and Jen Schwarting. You can also find: Adam Parker Smith, ESP TV., Siebren Versteeg, Julia Oldham and Trish Tillman
---
Mon, 23 February 2015
Bad at Sports Episode 495: Ben Davis
This week: Open Engagement 2014 Amanda, Duncan, and Abby talk to Ben Davis.
---
Mon, 9 February 2015
Bad at Sports Episode 493: Judy Blum Reddy
This week: THE AMANDA BROWDER SHOW (TM)(R)(C)(WTF) Amanda talks to Judy Blum Reddy!

Also Duncan MacKenzie, co-host/founder/dependant of this very program has an art show opening this Thursday at Sector 2337! 2337 North Milwaukee, Chicago, IL. Contract kllers and bounty hunters this is a rare chance to get them both in one fell swoop and there is the added bonus of seeing some Kickass Mackenzie/Kuras art! Be there or be squa..a docuhebag who is dead to us! 7-9 PM.
---
Mon, 2 February 2015
Bad at Sports Episode 492: Tucker Nichols
This week: Brian and Patricia talk to Tucker Nichols
---
Mon, 26 January 2015
Bad at Sports Episode 491-A Blade of Grass
This week: From Open Engagement 2014 we talk to Deborah Fisher Executive Director of A Blade of Grass.
---
Mon, 19 January 2015
Bad at Sports Episode 490: Philip Vanderhyden
This week: We talk to Philip Vanderhyden about his work, particularly his recreation/revivial/refabrication/collaboration/whatever-you-want-to-call-it with the late, great Gretchen Bender and her 1988 work "People in Pain".
http://philipvanderhyden.com/
Also, Richard has an announcement. With his final words you'll find an ace that you can keep.
---
Mon, 12 January 2015
Bad at Sports Episode 489: Chelsea Haines
This week: Duncan, Abigail Satinsky and Columbia College Chicago's own Amy Mooney talk the author and curator Chelsea Haines. They -do not- talk about hot dog stands as art constructs, much to Richard's amazement.
---
Mon, 5 January 2015
Bad at Sports Episode 488: MFA roundtable at CAA
This week: Duncan (and eventually Richard when that jerk shows up) talks to Sharon Louden and Blane De St. Croix about the MFA and the profession of artist.
---
Mon, 29 December 2014
Bad at Sports Episode 487: Rick Lowe
This week: SF checks in with artist and genius Rick Lowe!
---
Mon, 22 December 2014
Bad at Sports Episode 486: Meg Duguid
This week: It's a holly jolly episode, Duncan and Richard are joined by guest interviewer Anna Kunz and talk to artist/film maker/giant of thought Meg Duguid!!
---
Sun, 14 December 2014
Bad at Sports Episode 485: Jillian Mayer
This week: Artist and videographer Jillian Mayer!
Born in 1984 in Miami, the artist and filmmaker Jillian Mayer lives in South Florida. Her work has been shown at the Utah Museum of Fine Arts, Salt Lake City (2014); Orlando Museum of Art, Orlando, FL (2014); Locust Projects, Miami (2013); Museum of Modern Art, New York (2013); Bass Museum of Art, Miami (2012); and World Class Boxing, Miami (2012). Her video Scenic Jogging was one of the 25 selections for the Guggenheim's YouTube Play: A Biennial of Creative Video and was exhibited at the Solomon R. Guggenheim Museum, New York; Peggy Guggenheim Collection, Venice, Italy; Guggenheim Museum, Bilbao, Spain; and Deutsche Guggenheim, Berlin (2010). Her videos have also been shown at the Rotterdam Film Festival (2014); Sundance Film Festival (2012, 2013); SXSW, Austin, TX (2012, 2013); and New York Film Festival (2013).
A recipient of the Sundance Institute New Frontier Story Lab Fellowship (2013); the Zentrum Paul Klee Fellowship, Berne, Switzerland (2013); the Cintas Foundation Fellowship, New York (2012); and the NEA Southern Constellation Fellowship at Elsewhere Museum, Greensboro, NC, Mayer was included in the "25 New Faces of Independent Film" by Filmmaker Magazine (2012). She was recently featured on the cover of ART PAPERS. Mayer is represented by David Castillo Gallery, Miami.
---
Mon, 8 December 2014
Bad at Sports Episode 484: The Knight Foundation
This week: Shame on us, we are still posting audio from Miami 2013! This week we talk to Tatiana Hernandez of the Knight Foundation.
Tatiana Hernandez joined Knight Foundation in 2011.
She leads the Knight Arts Challenge, Knight's open contest for discovering the best arts ideas in Miami, Detroit, Philadelphia and St. Paul. Through her work, she manages a portfolio of over 350 grantees, totaling nearly $100 million in investments.
Hernandez serves on the boards of the National Association of Latino Arts and Cultures and Machine Project, an experimental artist space in Los Angeles. She was named a 2014 Marshall Memorial Fellow, a program of the German Marshall Fund.
Before coming to Knight Foundation, Hernandez worked on issues in public education, most recently as the development director at Green Dot Public Schools where she oversaw $15 million per year in funding and was responsible for over $2 million in new support. Prior to her work in education, she served as the deputy director of programs for Best Buddies International, a Miami-based nonprofit that builds one-to-one friendship opportunities for people with intellectual disabilities.
Hernandez has written and spoken on the importance of new organizational models, equity in grantmaking and innovation in the arts.
---
Mon, 1 December 2014
Bad at Sports Episode 483: Pauline Oliveros
This week: Brian and Patricia are joined by sound artist and Machine Project collaborator Chris Kallmyer to sit down with PAULINE OLIVEROS on the eve of her performance at the UC Berkeley Art Museum. Oliveros is a revered figure in contemporary American music. Her career spans fifty years of boundary dissolving music making. In the '50s she was part of a circle of iconoclastic composers, artists, poets gathered together in San Francisco. Recently awarded the John Cage award for 2012 from the Foundation of Contemporary Arts, Oliveros is Distinguished Research Professor of Music at Rensselaer Polytechnic Institute, Troy, NY, and Darius Milhaud Artist-in-Residence at Mills College. Oliveros has been as interested in finding new sounds as in finding new uses for old ones --her primary instrument is the accordion, an unexpected visitor perhaps to musical cutting edge, but one which she approaches in much the same way that a Zen musician might approach the Japanese shakuhachi.
Pauline Oliveros' life as a composer and performer is about opening her own and others' sensibilities to the universe and facets of sounds. Since the 1960's she has influenced American music profoundly through her work with improvisation, meditation, electronic music, myth and ritual. Pauline Oliveros is the founder of "Deep Listening," which comes from her childhood fascination with sounds and from her works in concert music with composition, improvisation and electro-acoustics. Pauline Oliveros describes Deep Listening as a way of listening in every possible way to everything possible to hear no matter what you are doing. Such intense listening includes the sounds of daily life, of nature, of one's own thoughts as well as musical sounds. Deep Listening is my life practice," she explains, simply. Oliveros is founder of Deep Listening Institute, formerly Pauline Oliveros Foundation, now the Center For Deep Listening at Rensselaer.
---
Mon, 17 November 2014
Bad at Sports Episode 481: Dr. Robert Cozzolino and Sarah Trigg
This week: Dr. Robert Cozzolino Senior Curator and Curator of Modern Art, at the Pennsylvania Academy of the Fine Arts talks the forthcoming UofC Press book on the History of art in Chicago and more! Next, Sarah Trigg talks about her book Studio Life: Rituals, Collections, Tools, and Observations on the Artistic Process.
In googling for pictures I stumbling across a website dedicated to obscure noise albums on which they have info on a record that turns out to be a bootleg album of music Bob and I did together in the mid 90s that some industrious Finnish lad was churning out copies of. You can download it.
They really did love us in Finland.
http://1000flights.blogspot.com/2014/09/institute-of-sonic-ponderance-seven.html
---
Mon, 10 November 2014
Bad at Sports Episode 480: Amy Toscani and Walkerpalooza!
This week: What starts out as a converation with artist Amy Toscani evolves into a wandering conversation with lots of exciting folks from the Minneapolis art world!
---
Mon, 3 November 2014
Bad at Sports Epside 479: David Rathman and The studio visit w/David Linnewah
This week: From the BAS road trip to the Walker, we talk to David Rathman. Also a brief chat on the studio visit with artist and podcaster David Linnewah of Studio Break.
---
Mon, 27 October 2014
Bad at Sports Episode 478: Caroline Woolard
This week: We talk to Caroline Woolard about bfamfaphd and more!!!
http://badatsports.com/2014/who-pays-artists/
http://hyperallergic.com/156068/indicting-higher-education-in-the-arts-and-beyond/
http://hyperallergic.com/152614/a-survey-of-art-from-across-brooklyn/
Yes, we *do* like pina coladas...
---
Mon, 20 October 2014
Bad at Sports Episode 477: Rirkrit Tiravanija
This week: We talk to artist Rirkrit Tiravanija
---
Mon, 13 October 2014
Bad at Sports Episode 476: Sylvie Fortin
This week: Live from Miami (many months ago) Duncan, Patricia, and Brian talk to Syvlie Fortin.
From the press release when she joined:
The Biennale de Montréal is pleased to announce the appointment of Sylvie Fortin as Executive and Artistic Director of La Biennale de Montréal – BNL MTL, beginning Tuesday, September 3, 2013.
Sylvie Fortin will be responsible for the vision, strategic development and positioning of La Biennale de Montréal and will oversee its future editions, beginning with BNL MTL 2014. Fortin brings proven leadership, rigorous artistic vision and a unique combination of management experience, international connections, and media and publishing expertise to the Biennale de Montréal. She will move to Montréal from Kingston, where she has been Curator of Contemporary Art at the Agnes Etherington Art Centre at Queen's University since last January. As Editor-in-Chief (2004–2007) and Executive Director/Editor (2007–2012) of ART PAPERS, she led the organization from a regional publication to a global thought leader. She was also Curator of the 5th Manif d'art in Quebec City (2010), Curator of Contemporary Art at the Ottawa Art Gallery (Ottawa, 1996–2001), Program Coordinator at LA CHAMBRE BLANCHE (Quebec City, 1991–1994) and a long-term collaborator with OBORO (Montreal, 1994–2001). Her critical essays and reviews have been published in numerous catalogues, anthologies and periodicals.
Last April, La Biennale de Montréal and the Musée d'art contemporain de Montréal (MACM) announced a strategic partnership to co-produce future editions of BNL MTL. This innovative alliance between the Biennale de Montréal and MACM, Canada's foremost institution dedicated solely to contemporary art, signals a heightened level of civic commitment to BNL MTL. It also casts its future editions in a new light, providing a solid foundation for BNL MTL's continued growth, increased relevance and far-reaching collaborations with arts organizations in Montréal and beyond.
La Biennale de Montréal was founded in 1998. Its mission is to contribute to contemporary art discourse, to provide a platform for the exploration of innovative curatorial practices, to catalyze art production and to increase public awareness of contemporary art. It has thus far presented seven editions of its signature event, BNL MTL, which brings ambitious new projects by local, Canadian and international artists to Montréal residents and visitors.
Photo: P.Litherland.
---
Mon, 6 October 2014
Bad at Sports Episode 475: Sweet Home Alabama
This week: Amanda Browder rocking like a hurricane! Amanda visits Alabama for her installation Magic Chromacity. Amanda talks to artists Lillis Taylor and Doug Barrett!
Here is info on some of the cool stuff AB is about these days:
Magic Chromacity -

Amanda Browder was commissioned by the Department of Art and Art History and The Alys Stephens Center at University of Alabama at Birmingham to create a large scale fabric installation on the two buildings. Lauren Garber Lake is the director of the Art and Art History Dept who helped bring Amanda.

She had numerous public sewing days and a ton of fabric was donated by the people of Birmingham to sew the over 10,000 square feet of fabric in the project.

Sewing Days - many people from the community and specifically the Bib & Tucker Sewing Co-op that is run by Lillis Taylor who is interviewed today on BAS.

Magic = Magic City (Birmingham nickname)
Chroma + City (color + city)

It was up on Aug 29th on the Abroms Engel Institute for the Visual Art building and The Alys Stephens Center. These buildings were across the street from each other.

Amanda has made a print for the project . It is made with the help of Doug Barrett, Associate prof of Graphic Design from UAB who is also interviewed.

http://www.al.com/entertainment/index.ssf/2014/07/its_not_a_wrap_but_amanda_brow.html

----------------------------------------------------------------------------------------
Montana Show!

http://missoulian.com/news/local/new-york-artist-s-fabric-rapunzel-flows-down-side-of/article_d3639c68-4b65-11e4-aeb6-8f2941090212.html

Montana Museum of Arts and Culture , called "End of the Infinite," will run from Oct. 16 to Jan. 10, 2015
- amanda's mini-retrospective.

Show three building pieces, Rapunzel, Good Morning! and Future Phenomena. Plus an interior piece PRISM/LIVIN/ROOM that will be in the gallery til Jan.

Last week they showed Rapunzel in downtown Missoula on the Mercantile building during First Friday.

-------------------------------------------
Triumvirate!

at the Pelham Arts Center, Pelham NY

This will be an outdoor installation with fabric. The piece is a more energtic and vivacious piece compared to previous pieces. It works with the triangle forms and is also made from the donations at Pelham. This piece will be up Nov 14th.

More about Triumvirate!
November 14, 2014 – January 3, 2015
Triumvirate! is a multi-colored site-specific fabric installation that will hang on the facade of the Pelham Art Center, in Pelham NY. Using donated fabrics from Pelham and the surrounding areas, Triumvirate! will be a visual statement that buildings are not separate from the democratic life and spirit of the community.

The piece, referencing the three dimensional rectangular building, will be constructed from fabric donated by the residents of Pelham and assembled in public sewing day workshops. The immutable scale of the building is dramatized by the scale and independence of the triangles as well as the dimensional ambiguity of the fabric. The design creates a "shock of the new" with both color and form. As a collective we will rejoice in how something as small as a piece of discarded fabric can be rebuilt into an energetic architectural installation.
---
Mon, 29 September 2014
Bad at Sports Episode 474: Voltesque
This week: From Volta, we talk to W.A.G.E., Joshua Dorfman, and Alexander Reben.
---
Mon, 22 September 2014
Bad at Sports Episode 473: Collector Roundup
This week: We talk to collectors, they collect things, art things, yup, they collect them. We talk to the them...about collecting...art. They are art collectors.
---
Mon, 8 September 2014
Bad at Sports Episode 471: di Rosa
This week: Brian and Patricia head up to wine country to imbibe—if you will—one of the most unique public collections of art in California. Sited on over 200 extraordinary acres of vineyard, gardens, and natural landscape in the Carneros region of the Napa Valley, di Rosa originated as the shared vision of Rene and Veronica di Rosa, prolific collectors whose personal passion for art and adventuresome spirits fueled their support of art and artists. Their home and the famed vineyards around Winery Lake became the focal point not only for their life and a noted gathering place for artists, but the development of the art collection that is now housed in three buildings, both contemporary and historic, as well as on the surrounding landscape.
Considered the most significant holding of Bay Area art in the world, di Rosa houses approximately 2,000 works of art by more than 800 artists. Our friends at Art Practical are the lucky recipients of a year-long writing residency at di Rosa, and Patricia shares some of the insights she's gleaned in her weekly forays. In this episode's conversation, she and Brian meander through the residence and main gallery with Amy Owen, Curator, and Meagan Doud, Curatorial Assistant, reflecting on the collection, its history, and the bucolic landscape surrounding them. The serenity of the setting was only disrupted by the potential for lingering aftershocks following the 6.1 earthquake that hit the area early Sunday morning, August 24. di Rosa was the closest cultural center to the epicenter in downtown Napa, and while the buildings were unscathed, about 10% of the work on view (3% of the collection) sustained some damage. Generous efforts are underway to support the repair and restoration of the collection; you can learn more here about how you can help out!
Images:
1. di Rosa's Gatehouse Gallery overlooking Winery Lake. Photo: Erhard Pfeiffer.
2. di Rosa's Sculpture Meadow. Photo: Steven Rothfeld.
3. di Rosa's Courtyard. Photo: Steven Rothfeld.
---
Mon, 1 September 2014
Bad at Sports Episode 470: Adler Guerrier
This week: Adler Guerrier recorded in Miami at Pulse.
Also, only 50 shows left people! We are auctioning off slots to the highest bidders. The MCA will be hosting our party for Episoder 520, admittedly we haven't actually asked them yet.
Adler Guerrier creates visual dialogue between a wunderkammer of materials and techniques. Guerrier improvises between form and function to nimbly subvert space and time in constructions of race, ethnicity, class, and culture. He calls upon the democratizing nature of collage and the authority of formal composition to designate to art history an axis of contemporary identity critique. Often chronicling the hybridity and juxtaposition in his immediate environs, Guerrier practices a contemporary flaneurie in an impending age of post-demography.

Adler Guerrier was born in Port-au-Prince, Haiti and lives and works in Miami, FL. Subsequent to studies at the New World School of the Arts in Miami, Florida, Guerrier has exhibited at the Miami Art Museum, and The Whitney Biennial 2008. His works can be found in public collections including the Museum of Contemporary Art, North Miami, and the Studio Museum in Harlem, NY. His work has appeared in Art in America and The New York Times, among others.
---
Mon, 25 August 2014
Bad at Sports Episode 469-Jim DeRogatis
This week: We talk to Sound Opinions host, author, rock critic, and darn nice guy Jim DeRogatis. Metallica is ridiculed. Pitchfork too.
---
Mon, 18 August 2014
Bad at Sports Episode 468: Eric Fleischauer
This week: We start off over lunch with Chris Sperandio. Next Chris joins Duncan to interview Eric Fleischauer.
---
Mon, 11 August 2014
Bad at Sports Episode 467: Lauren Silberman and Kristen Schiele
This week: We talk to artists Lauren Silberman and Kristen Schiele! Duncan chews loudly on mic! Amanda tells Duncan he looks like a naked mole rat with a sweater! Richard is not fun at parties! All this and more!
One of my favorite shows in a good long while, classic BAS.
Lauren Silberman lives and works in New York City. She received her MFA from the International Center of Photography-Bard Program in Advanced Photographic Studies and her BA in Art History from Barnard College. She is currently a faculty member at the International Center of Photography. Lauren recently completed a residency with Camera Club of New York in 2012 and was an artist-in-residence in the Lower Manhattan Cultural Council's Workspace program during the 2008-2009 year and was a Visiting Scholar at NYU's Steinhardt School of Culture, Education, and Human Development. She has performed at Location One, Deitch Projects and 3rd Ward, as well as the several underground events and venues that have provided inspiration for her work. She has been featured in PDN's photo annual as emerging talent and exhibited in New York and abroad. Some of Lauren's clients include The New Yorker, Fortune Magazine, Brooklyn Industries and her work has been featured in the New York Times Magazine.
For inquiries regarding commissions or to purchase work, please email Lauren @ laurendarling dot com.
Lauren's TUMBLR
Follow her on Instagram @misslaurendarling.
-------------------------------------------
Kristen Schiele creates work in painting and sculpture. The works are inspired by stage sets, cinema, folklore, allegory, kitsch, and story telling that is theatrical and playful.
Currently, the work involves paintings of secret hide outs and bold, brightly patterned shadow boxes. Games, books, posters and graffiti cover the walls of Midwestern abandoned or new build-out subdivision-style constructions; the idyllic location of a kid's summertime.
"OOOT MMMMM" collaborative silkscreen artist book with poet Abraham Smith, printed by Kayrock Screenprinting is available online:
http://www.kayrock.org/books/index.html
Upcoming:
September 7, "Spirit Girls" Lu Magnus Gallery, NYC
September 26, "Escape from New York" with Gallery Poulsen, Copenhagen, Denmark
---
Mon, 4 August 2014
Bad at Sports Episode 466: Casey Ruble and Roza El-Hassan
This week: We talk to artists Casey Ruble and Roza El-Hassan!
---
Mon, 28 July 2014
Bad at Sports Episode 465: Nonsense with Jeff Stark
This week: Duncan, Richard and Amanda talk Nonsense with Jeff Stark!
What is Nonsense NYC?
Nonsense NYC is a discriminating resource for independent art, weird events, strange happenings, unique parties, and senseless culture in New York City.

What does that mean?
We send out an email every Friday about unique events occurring the following week.

What kind of stuff?
Street events, loft parties, puppet shows, bike rallys, costume balls, interactive art shows, movies in unusual places, parades, outlaw dancing, guerilla theater, burlesque and variety shows, loser open mikes, cirkuses, and absurdist pranks. Nonsense covers the stuff that has no name, or a name that you feel really awkward and self-conscious saying out loud, like "underground."

Sounds great, how do I sign up?
Click here.

Um, I'd rather not give you my email address. Can I just read it online?
No. The only place you can read Nonsense NYC is your inbox. We like the intimacy of email, thank you, and this Web stuff is too much work. We promise not to sell your email address or give it away. We're not going to spam you with useless information either.

OK, I've signed up, and I want to know more about Nonsense. Will you print my event?
We'd love to hear about all of your events. The important thing to remember is that Nonsense NYC happens because of you. That means we rely on you to let us know what events you're organizing and what events you're attending. Please keep us up to date and don't assume that we'll find out about it from someone else. Our job is to gather, edit, organize, and filter; your job is to make interesting things happen and let us know about them. Remember to include all the important information, like the address and stuff, and a brief description. When you put it all together, send it to jstark@nonsensenyc.com. Please send a text-only email; flash graphics, links to online fliers, and facebook announcements make our life more difficult. You can find a guide to better email communication here.

Also, Nonsense does not list events that cost more than $25 at the door, without door code, RSVPs, or special arrangement. We make some exceptions for obvious extra expenses, like boat rentals. To those of you promoting events: We're sorry. We know it's hard. We know it's risky. We know it's expensive. But nonsense has always skewed toward cheaper events; our readers expect it.

But one time I sent you something about my band/my movie/my party/my opening and you didn't print it. What gives? How do you decide what events will be on Nonsense NYC?
To start with, almost all the stuff we list is independent. Also, we like rock bands and experimental musicians and arty films and galleries and museums and big street festivals, but we can find information about all of those things in other places. We generally will not list them.

We use something called the rule of three. That means that we will generally list your event if there are three different things going on: DJs, bands, dancers, costumes, fire performance, theater, film, art, projections, fashion, an unusual space, or several other intangibles. Your event doesn't have to include all of these in order to be listed, and it certainly doesn't need all this at once. If you're in doubt, send it to us anyway -- we're decent editors.

The list is huge sometimes. Where do you find all this stuff? Do you write all of it yourself?
We don't really write so much as edit announcements from other people. The bulk of each weekly list is culled from other lists and Web calendars. We monitor a couple dozen of them. You can find a partial listing on the Links page.

So, do you go to all of the events that you list on Nonsense?
Not even. We can't afford it. We go out a couple of times a week, and we generally write a small editorial note if we have an opinion to share. You can find those comments in each post. They're all marked like this: NOTE.

How can I tell the good events from the bad ones? Will I have fun at all the events?
No, you won't always have fun. And please don't assume that merely listing this stuff is some sort of implicit endorsement. A lot of these events are strictly amateur hour. We love amateur hour. But the problem with some amateurs is that they're just amateurs. It's hard to distinguish the good stuff from the bad. Some of it, no doubt, will make you wish you'd sat on the couch eating microwave nachos. If you want a safe bet, go to the movies.

That said, if you start going to a lot of the events listed here you'll start to recognize some of the names of performers, promoters, venues, and so forth.

Let us know if you have a great time at an event. Hell, let us know if you feel like you got scammed out of $5. Send us a sentence or two about the events you've attended -- especially if you went to something that is ongoing -- and we'll run them in the future. You don't have to be a professional writer or do anything fancy. Just tell us what you would tell your friends over a late breakfast. Your fellow subscribers will appreciate it.

Why does the new Nonsense come out so late? Can't you get it out earlier?
No, we can't. It takes a long time to put this thing together. We have real jobs, and real lives. Both prohibit us from compiling the list earlier in the week. We try to run events for the following Thursday so you can have a heads up, but a lot of the people who do the kind of events that we list don't always have their shit together.

We print stuff that's happening on the day we post because sometime the show will happen a few more times throughout the weekend. Sometimes there will be a contact listed and you can use it to reach people and make sure that you don't miss their events in the future. If you check your email before you go out you'll still have time to make a snap decision.

What's with the "we?"
We don't know. We got used to writing like this several years ago and we kind of like it. It has a lot of antecedents, including the unsigned Talk of the Town section in the old New Yorker. We'd like to think that it alludes to that sort of liveliness and sparkling wit. You may disagree. We will cherish our delusions.

Conceptually, we thought that Nonsense NYC would be sort of a group effort, with its subscribers kicking down a lot of the weekly copy. It didn't really turn out that way, but we still like to hold on to the thought that Nonsense is put together by its community. In a way, it is: It would be a mighty boring list if there were no events to compile, and the people who make these events happen are the kind of people who receive it.

So who exactly is "we," and why are you doing this?
Nonsense NYC is compiled by Jeff Stark. Alita Edgar graciously puts together the Wishlist section. Jennifer Liepin edits the Help section. Juliana Driever is responsible for the Learning section. J. Sinopli is the person behind Spectre Priority. Neille Ilel did all the Web stuff.

Why are you doing this?
We believe that there is more to life in New York than getting drunk at slick new bars. We were frustrated when we moved here and couldn't find a reliable source of alternatives, even though we knew that there were creative people making cool shit happen. Almost more annoying was the fact that certain groups we knew about weren't always aware of one another.

Our solution was to start a weekly list. We did this in September 2000. Our goals are to help make New York a more interesting place to live, to encourage others to do the same, and to have more fun than just about anyone else. We're particularly drawn to participatory culture, amateurism, and urban folk art. To us, that means that things are more rewarding when you invest yourself in them, and that you are responsible for entertaining yourself and your friends.

We admire the handmade, the recycled. And we're generally suspicious of commercial entertainment. That doesn't mean we reflexively hate television or going to the movies. It's just that we genuinely believe that everyone has something to contribute, and that life is much richer when people stop treating each other like walking wallets.

Wow, this all sounds so lofty. Are these your ideas?
Not even. We're stealing ideas from a half dozen places and using the bits that suit us. In particular, we are indebted to Fluxus games, the Cacophony Society, the Suicide Club, the Situationists, American punk rock in the 1980s, the Do-It-Yourself ethic of the early 1990s, the Madagascar Institute, Dark Passage, and the yearly Burning Man festival in Nevada.

We do think that we are witnessing a special synthesis of these ideas in New York right now -- this very minute -- and that in a few years we will recognize it as a golden age.

OK. So how do you make money off of this?
That's not really the point. However Nonsense now accepts donations. The newsletter remains free, but there are real costs that we absorb in its creation. We would love for you to donate money to help offset webhosting, software, and computer expenses. The labor remains free.
We aren't asking for much; a yearly subscription would be a tremendous help. Please consider $5 for the year if you use the list to figure out what to do on a Saturday night, or if you just like to keep track of what's going on in New York.
Go ahead and donate $20 if you promote events that we list on Nonsense. You know it's worth it. And we would be grateful for more money if you really like what we do.
To be clear, these are donations: You are not paying for a service, but rather confirming that what we do is valuable and agreeing that independent artists should support other independent artists. If you've ever paid for a ticket to see your friend's band you know exactly what we mean.

But I want to complain about something. Who can I yell at?
You're getting this ostensibly for free; you're not allowed to complain. If you have to yell at someone, try a taxi driver: They're used to it.

I'm not getting the list. What's up?
We don't know. First, you should check your spam folder. Several of the major email providers sometimes think Nonsense is spam; first Yahoo and Hotmail, and eventually AOL and even Gmail blocked some newsletters. We use Dada Mail and Tiger Tech and are always trying to fix this problem.
If you don't find Nonsense in your spam folder there are a couple of things that you can do. You can approve messages from us or put us in your address book or on your whitelist. You can sign up with another email account. And if that doesn't work you can use your password to access our archives online.
This should be pretty obvious, but please do not flag our messages as spam for any reason. If you want to unsubscribe, please take a minute and follow the link at the bottom of every list or send us an email. Finally, it helps our case if you send an email to your provider to complain that Nonsense is being marked as spam or held.
I forgot what I was going to say, but I'll probably remember my question later.
email us anytime.
---
Mon, 21 July 2014
Bad at Sports Episode 464: Martin Jon Garcia and Ultra Violet
This week: Painter, filmmaker and producer Martin Jon Garcia get lightly abused by Dana and Richard and we talk about his show Our Cultural Center which can be viewed at www.ourculturalcenter.com (just saw MJG has had some health challenges of late and a heart felt BAS get well soon goes out to him!). Next Amanda Browder records the last interview with artist, Dali muse and Warhol Superstart Ultra Violet who left the mortal coil June 14th of 2014.
Nearly to the end of our 9th season, into the 10th. What interesting things await us for the 10th year of BAS?
---
Mon, 14 July 2014
Bad at Sports Episode 463: Maya Hayuk
This week: From Volta 2014 we talk to painter and muralist Maya Hayuk.
Duncan's announcements:
http://www.walkerart.org/calendar/2014/byor-bring-your-own-radio-and-tailgate
---
Mon, 7 July 2014
Bad at Sports Episode 462:NSFW with Rebecca Goyette and Lou Reads
This week: We might as well hang it up after this one, I mean where do we go from here?
Rebecca Goyette:
Rebecca Goyette studied undergraduate at RISD and received her MFA from SVA in New York. She has shown widely at venues in NYC and elsewhere, including solos at Airplane Gallery, NYC, (Lobsta Porn Theater), Jersey City Museum, Jersey City, NJ, (4-Eva.), the NY Studio Gallery, NYC, (Delicious.) and Galerie X, Istanbul, Turkey (Union/Bulusma.). She has completed residencies at the DNA Summer Residency, Provincetown, MA, the Offshore Project sponsored by Omada Filopappou, in Karamyli, Greece, and Byrdcliffe in Woodstock, NY. Goyette lives and works in Brooklyn, NY.
Lou Reads:
Lou Reads. What is it? Well, basically its a reason for me to practice reading. Why? Because I have a dream of doing voice overs for a living. I realize that in the future, like everything else, a computer will do that job. But for now I'll continue to entertain myself and hopefully you by reading the madness of the world wide web.
You're probably saying, "Why read from the internet, Lou? Why not read something that makes sense? You should read a book or like a play."
Seriously, you should shut up. I find the internet to be an amazing and almost bottomless pit of inspiration. In particular I find the Something Awful forums to be super awesome. Why? Because it features a huge user base of somewhat like minded jerks who are extremely active. The community just keeps churning out the goodness on a semi-daily basis. Goodness in the form of overly personal stories of woe or achievement, hilarious collections of images and so much more.
So, I plan to read mainly from the Something Awful forums for the most part. If anyone knows of a more active and equally verbose site I would love to check it out. My problem has been that most other forums I've been to have way to high a noise to signal ratio. For every earnest and interesting post there are 10 shit replies, flames and trolls.
I will read other things. Don't you worry! And if you want to suggest something then drop me a line.
Thanks for listening!
Your friend for as long as you listen to my podcast,
King Lou Fernandez
It's a whole new world.
---
Mon, 30 June 2014
Bad at Sports Episode 461: Rhodessa Jones
This week: Patricia realized who she wanted to be when she grows up when she sat down with the majestic Rhodessa Jones. They talk about the creation of The Medea Project: Theater for Incarcerated Women, and we learn that the California Arts Council once funded aerobics classes for female inmates. The Medea Project seeks to use the transformative potential of art to stem the recidivism rate for women prisoners. It is dedicated to the power that storytelling—of speaking in the first person—possesses to replace shame with resilience and to bring compassion into extreme circumstances. No allusions to OITNB are made, but Vee wouldn't stand a chance against Rhodessa.
Performer, teacher, director, Rhodessa Jones is Co-Artistic Director of San Francisco's performance company Cultural Odyssey. Jones directsThe Medea Project: Theater for Incarcerated Women, an award-winning performance workshop committed to incarcerated women's personal and social transformation, now in it's 25th year. As recipient of the U.S. Artist Fellowship, Jones expanded her work in jails and educational institutions internationally. She conducts Medea Projects in South African prisons, working with incarcerated women and training local artists and correctional personnel to embed the Medea process inside these institutions. In 2012, she was named Arts Envoy by the U.S. Embassy in South Africa. Recent U.S. residencies include Brown University and Scripps College Humanities Institute. She also was the Spring 2014 Interdisciplinary Artist in Residence at the University of Wisconsin. Mayor Ed Lee and the San Francisco Art Commission presented the 2013 Mayor's Art Award to Jones, for her "lifetime of artistic achievement and enduring commitment to the role of the arts in civic life." In addition, she is the recipient of an Honorary Doctorate from the California College of the Arts, SF Bay Guardian's Lifetime Achievement Award, SF Foundation's Community Leadership Award, Non-Profit Arts Excellence Award by the SF Business Arts Council, and an Otto Rene Castillo Award for Political Theater.
---
Mon, 23 June 2014
Bad at Sports Episode 460-Dana causan problemas en México
This week: Dana B makes a run for the border. Dana B from What's the T? interviews jet-setting artists Leonor Antunes at ZONA MACO and Carson Fisk Vittori at Material Art Fair. In her final dispatch from Mexico City, Dana B. interviews Joel Dean and Jason Benson of Oakland's important projects on IP's booth at Material Art Fair, their duo show at Lodos Contemporáneo, fashion earring trends, blue masa tortillas and how we suggested she become a drug mule in order to pay her expenses on the trip versus sending in her receipts to the home office.
---
Sun, 15 June 2014
Bad at Sports Episode 459: Adam Parker Smith
This week: Adam Parker Smith, he's more hilariouser than you, shut up. Lots of inappropriate stuff discussed. Dirty jokes too.
---
Mon, 9 June 2014
Bad at Sports Episode 458: Spring Broken
This week: To explain the show this week, I will use an internal BAS e-mail:
From: Richard Holland [mailto:richard@beyondpropertiesrealty.com]
Sent: Sunday, June 08, 2014 12:53 AM
To: 'Duncan MacKenzie'
Subject: This weeks "show"
-------
Dear Duncan,
In 458 weeks we have generated some good interviews, some bad interviews, some memorable, some forgettable, but this week is something new.
The audio you sent me, which I *think* was supposed to be an interview about the truly interesting End/Spring Break project with some combination of the artists Domingo Castillo, Patti Hernandez and/or Kathryn Marks along with BAS reporters Dana B. Brian A, and Patricia M, joining you for the fun, is, if presented as an interview, not an interview. What I have is the equivilant of sticking a tape recorder behind the bar on "free demerol night" and letting it roll.. It is more sound art than interview and is admittedly in moments damn funny. Have you seen "Party Monster"?
This is all a lead up to saying, "I'm not fucking editing this mess, I'm running it raw", which is a rare moment of prophetic skill, I predicted would be my reaction when we talked about it while recording the intro.
I can't make heads or tails of it all despite serious effort, and there are some funny and interesting moments, though I have cursed your name at great length and had to run out for extra voodoo doll pins, I will admit the audio is in line with the spirit of the project.
I will direct all negligent infliction of emotional distress inquiries to you at home once they flood the mailbox.
You take the good, you take the bad, you take them both and there you have; this hour of audio.
RH
PS: If problems result I suggest we go with "Strategem #27 'Blame Dana B'" I've drawn up the papers and hired the cleaning crew.
---
Mon, 2 June 2014
Bad at Sports Episode 457: Cristobal Riestra and Michael Jon
This week: Dana B's (What's the T?) Mexcellent Adventure continues. She talks with Gallerists Cristobal Riestra (Galeria OMR) and Machael Jon (Michael Jon Gallery).
---
Sun, 25 May 2014
Bad at Sports Episode 456:Jacqueline Kiyomi Gordon
This week: BAS west coast checks in from the YBCA for a chat with Jacqueline Kiyomi Gordon.
---
Mon, 19 May 2014
Bad at Sports Episode 455: Prospect New Orleans with
This week: Live from our bed at Volta, the fine folks of Propsect New Orleans! We talk to Franklin Sirmans the Artistic Director of Prospect New Orleans(who moonlights as the Terri and Michael Smooke Department Head and Curator of Contemporary Art at Los Angeles County Museum of Art) and the Executive Director of Prospect New Orleand Brooke Davis Anderson!
Plugs from our intro include:
Karen Azarnia, her installation work "Luminous" will be up at Terrain (http://terrainexhibitions.tumblr.com/)

May 4 – 28, 2014
Reception: Sunday, May 4, 4 – 7pm

Terrain Exhibitions
704 Highland Ave.
Oak Park, Illinois

http://www.yesyoureinheaven.com/
Opening May 22, 2014 at Rush and Chestnut Streets (50 E. Chestnutt)
Curated by Jeffly Molina
aaannnnd...

Jennifer Reeder's new movie, help out, kickstarter!!
https://www.kickstarter.com/projects/reeder/blood-below-the-skin
---
Mon, 12 May 2014
Bad at Sports Episode 454: Pulse-ishness with TM Sisters and Frank Webster
This week: Duncan and Brian in Miami! They talk to the TM Sisters and Frank Webster.
Frank Webster

http://fwebster.com/

TM Sisters

http://www.tmsisters.com/


---
Mon, 5 May 2014
Bad at Sports Episode 453: Art and Politics panel at CAA 2014
This week: CAA 2014 was the place and time, the event the BAS Art and Politics panel!! Daniel Tucker leads the charge with Duncan, Susy Bielak and Mary Patten along for the wild ride! Learn what the point of CAA is, finally!

---
Mon, 28 April 2014
Bad at Sports Episode 452: Taylor McKimens
This week: Amanda talks to Taylor McKimens!!
Taylor McKimens was born in 1976 in Winterhaven, California and lives and works in New York. He studied at Art Center College of Design in Pasadena, CA. McKimens has exhibited extensively and notably at Deitch Projects, NY, Macro Museum, Rome, The Hole, NY. Most recent exhibitions include: Studio d'Arte Raffaeli, When Things Get Back to Normal, Galerie Zürcher, Paris (solo 2011), New York Minute at The Garage Center, Moscow, curated by Kathy Grayson (2011), Spaghetti and Beachballs, curated by Donald Baechler, Studio d'Arte Raffaelli, Trento, Italy (2011) and Facemaker at Royal T, Los Angeles (2011).

Taylor McKimens initiates us in the suburban desert of the contemporary American wild west, portrayed as an extended backyard calling to be explored. Drainage ditches, weather-worn palm trees, dusty trucks make up the playing field where young characters embark on brave endeavors in an almost Edward Hopper-esque solitude. McKimens is completely unperturbed by the messier side of things and in fact revels in the drips and oozes that are the traces of life. In one of the show's major works, Knee Deep, the bright, acidic-colored canvas shows a young, baseball-capped girl stymied in a ditch. McKimens creates a certain sense of no-time as if she has always been there and will always be there, contemplating her next move. Alternating between loose areas of color with atmospheric gesture and dense areas of confident line quality where even the slightest details, a fly on a shoe, a piece of trash in a puddle, are given equal stature on the canvas.
---
Mon, 21 April 2014
Bad at Sports Episode 451: Vince Dermody
This week: Giant of consciousness, living legend of mischief, artist, and all around great guy Vince Dermody, co-founder of Law Office.

April 23rd, 7:00pm, Apple Store on Michigan Avenue in Chicago. Come check us out!!
---
Mon, 14 April 2014
Bad at Sports Episode 450: Critical Practices Inc.
This week: Live from Volta 2014 Duncan, Amanda, and Richard talk to:
Saul Ostrow Founder and President
David Goodman Secretary and Director of Projects and Programs
Susan Bowman Treasurer and Director of Design and Communication
of Critical Practices!
MISSION
CPI, founded in 2010 and incorporated in 2012, was established to support the emergence and development of new practices within the field of cultural production. We believe that the producers of critical culture are a community whose needs for peer discourse and engagement are underserved by current institutional conventions. Operating outside of normative institutional and marketplace models, CPI uses the common objectives, goals, and concerns of a diverse community of producers as its point of departure for programming. Our intent is to create a dynamic network and platform for the diverse points of view necessary to shape and sustain critical, theoretical, and artistic practices.
HISTORY
CPI has an auspice genealogy. Former artist (now Critic and Curator) Saul Ostrow has occupied the loft space at 162 West 21 Street since 1974. When he first moved to Chelsea, he shared this space with Rick Witter who worked for the gallery OK Harris, and the photographer Larry Topper. In the 1970s during the winter months Sunday Salons were held at which participants would show films give slide presentations or talk on topics of interest, as well as drink tea and coffee, and mingle. Annually two Parties where held: one in the Fall, celebrating the beginning of the art season the other in late June marking its end. By the end of the 70s Topper, and Witter had moved out and the "Loft." For a year or so, the artists Diane Mayo, Rex Lau, and John Wallace occupied it. In 1979, Saul Ostrow moved back into the Loft and through the 80s had a succession of roommates that included Jack Tilton, Donald Lipski, Muna Tseng, Eric Bass, Tseng Kwong Chi, and David Clarkson. Between 2003 – 05 it served as the studio of the painter Shirley Kaneda. In 2006, Ostrow moved back into the Loft. In 2011, a exhibition of works from the 1968-70 by the painter Don Dudley, was mounted for his 80th birthday party. With this event the 21ST.PROJECTS program was founded as a by-appointment-only project space.
---
Mon, 31 March 2014
Bad at Sports Episode 448: Amy Mooney and Neysa Page-Lieberman on Risk/Dana B. goes to Mexico!
This week: Neysa Page-Lieberman and Amy Mooney tell us about Risk! Dana B. of What's the T with Dana B kicks off her series from the Material Art Fair 2014 live from Mexico City!
---
Mon, 24 March 2014
Bad at Sports Episode 447: Andrea Bowers
This week: This week, our resident feminist commentator Patricia Maloney sits down with one of her heroes, the Los Angeles–based artist Andrea Bowers to talk about her solo exhibition, Andrea Bowers: #sweetjane, on view through April 13, 2014 at the Pitzer College Art Galleries and Pomona College Museum of Art in Southern California. #sweetjane explores the Steubenville, Ohio, rape case and the social media–driven activism that brought the young men responsible to trial in two distinct ways. At Pitzer is a 70-foot long drawing of the text messages sent between the teenagers in the 48 hours following the assault on the young woman who is known in the media and throughout the trial as Jane Doe. At Pomona is a video installation comprised of appropriated media footage and billboard-size photographs of disguised Anonymous protestors at the trial. Taken together, the installations create an incredibly damning document, not only of the events and of the young men, who were depicted sympathetically by the media, but also of the significant tolerance in this country around sexual assault.Bowers' activities in creating this work reflect the fluidity between art and activism that is a hallmark of her practice, as well as her belief that art can bear witness to the individual gestures and commitments that collectively enact significant social change.
An abridged text version of this conversation will be published by our friends at Art Practical on March 27, 2014.
Andrea Bowers received her MFA at the California Institute of the Arts in 1992. Solo exhibitions include: Secession, Vienna, Austria; REDCAT, Los Angeles, CA; and the Santa Monica Museum of Art, Santa Monica, CA. Her work has been included in exhibitions at the Whitney Museum of American Art, New York, NY; Bard College, Annandale-on-Hudson, NY; Sammlung Goetz, Seedamm Kulturzentrum, Switzerland; Kunsthalle Basel, Switzerland; Museum of Contemporary Art, Los Angeles, CA; New Museum of Contemporary Art, New York, NY; Frankfurter Kunstverein, Frankfurt, Germany; Stedelijk Museum voor Actuele Kunst; Armand Hammer Museum, Los Angeles, CA; Kunstmuseum Bonn, Bonn, Germany; Walker Art Center, Minneapolis, MN; Museum of Contemporary Art, Chicago, IL.
---
Mon, 17 March 2014
Bad at Sports Episode 446: Max Estenger and Mat Gleason
This week: Wanna know what Coagula firestarter Mat Gleason and formalist Max Estenger thought about the Whitney? They're happy to tell you. At least one painter Richard used to work with is likely to drop Mat from his Christmas card list. Mat doesn't mind.
Things go far off the rails, drinks are spilled, accusations are made, someone's mom's toilet paper consumption is discussed, punk rock is sung badly and, I shit you not, we meet Marcel Duchamp's illegitimate son on mic during the interview and he looks EXACTLY like dad. Even Mat with his lifetime of navigating LA culture and subculture admits "this is some serious weirdness". Without question the most out-of-control interview we've ever done, and the most painstaking edit in 450 shows, it is a classic. You think this is unfocused and wacky, it started life clocking in over 2 hours. Bootlegs for sale in the lobby at the merch table.
Read Mat Gleason's review of the Whitney:http://www.huffingtonpost.com/mat-gleason/insiders-are-not-outsider_b_4919996.html
See Max Estenger's show: www.johnmolloygallery.com
---
Mon, 10 March 2014
Bad at Sports Episode 445: Katy Hamer Fair Roundup!(TM)
This week: Katy Hamer, who in addition to her superior intellect and charm ALSO has stamina. So she demonstrates that stamina in our bed... and by bed we mean our bed booth at VOLTA in NYC this past weekend during which she tells us all about the art fairs. What did you think we meant? What the hell is wrong with you, we don't roll like that. Well, okay there was that time at a certain campingy art residency but I was drunk and I didn't know it was a sheep. But Katy should have her good name sullied by associationw with us! She is a talented writer and critic, how dare you.
Read her wildly impressive blog:
http://eyes-towards-the-dove.com
---
Mon, 3 March 2014
Bad at Sports Episode 444: Interdisciplinary panel at the BAS booth at CAA
This week live from the CAA conference 2014, we welcome Adrienne Klein, Deborah Robinson, Paul Thomas, Paul Catanese, and Claire Pentecost to discuss what the heck the space of "interdisciplinary art" means, why it maters to all art made today, and how do we teach it?
---
Mon, 24 February 2014
Bad at Sports Episode 443: Paper Monument
This week: CAA continues with our interview with Dushko Petrovich and Roger White, founders of Paper Monument on the wild and wooly world of foundations!

Paper Monument is a print journal of contemporary art published by n+1 and designed by Project Projects. Paper Monument relies on the support of our readers. We also receive financial support from the New York State Council on the Arts.
---
Mon, 17 February 2014
Bad at Sports Episode 442: CAA with Michael Rakowitz, Jenna Frye, Jesse Malmed, Matthew Smith
This week: Duncan and Richard at CAA 2014! We talk to Michael Rakowitz in the first of what will eventually be a multiple interview series, this time we discuss his work The Breakup, currently on view at Rhona Hoffman Gallery. Next Richard's new hero Jenna Frye on Makerness, BAS pal, artist, curator Jesse Malmed on WACH, and art book genius Matthew Smith of http://arenotbooks.com/.
This show is an epic. E P I C. So we put our hands up like the CAA can't hold us.
Who on Earth eats spearmint gummy. Yuck.
---
Mon, 10 February 2014
Bad at Sports Episode 441: Sharon Louden
This week: Live from Miami, well it was broadcast live at the time, whatever, anyways, Sharon Louden!!
Sharon M. Louden graduated with a BFA from the School of the Art Institute of Chicago and an MFA from Yale University, School of Art. Her work has been exhibited in numerous venues including the Aldrich Contemporary Art Museum, the Drawing Center, Carnegie Mellon University, Birmingham Museum of Art, Weatherspoon Art Museum and the Kemper Museum of Contemporary Art. Louden's work is held in major public and private collections including the Neuberger Museum of Art, Whitney Museum of American Art, National Gallery of Art, Arkansas Arts Center, Yale University Art Gallery, Weatherspoon Art Museum, and the Museum of Fine Arts, Houston, among others.
Sharon Louden's work has also been written about in the New York Times, Art in America, Washington Post, Sculpture Magazine and the Philadelphia Inquirer, as well as other publications. She has received a grant from the Elizabeth Foundation for the Arts and has participated in residencies at Tamarind Institute, Urban Glass and Art Omi.
Louden's animations continue to be screened and featured in many film festivals and museums all over the world. Her animation, Carrier, premiered in the East Wing Auditorium of the National Gallery of Art in Washington, DC in March, 2011 in a historical program of abstract animation since 1927. Sharon also premiered a new animation titled, Community, at the National Gallery of Art in the program, "Cine Concert: Abstract Film and Animation Since 1970" on September 8, 2013.
Louden was commissioned by the Weisman Art Museum to make a site-specific work in dialogue with Frank Gehry's new additions to the museum. Entitled Merge, this solo exhibition consisted of over 350,000 units of aluminum extending over a 3,000 square foot space and was on view from October 2011 through May 2012. This piece was then reconfigured and permanently installed in Oak Hall at the University of Connecticut in Storrs, CT and completed in January, 2013.
Also in 2013, Louden received a New York Foundation for the Arts Artist Fellowship in the category of Architecture/Environmental Structures/Design.
Recent exhibitions include a solo exhibition of new work including Community (the animation that premiered at the National Gallery of Art), as well a site-specific installation, painting, drawing and sculpture at Morgan Lehman Gallery in New York in October through November, 2013. Currently on view is a solo exhibition of Louden's paintings and drawings at Beta Pictoris/Maus Contemporary Art in Birmingham, Alabama, which will run through February 16, 2014.
Sharon Louden has taught for more than 20 years since graduating from Yale in 1991. Her teaching experience includes studio and professional practice classes to students of all levels in colleges and universities throughout the United States. Colleges and universities at which she has lectured and taught include: Kansas City Art Institute, College of Saint Rose, Massachusetts College of Art, Vanderbilt University and Maryland Institute College of Art. Sharon currently teaches at the New York Academy of Art in New York City. Last summer, Sharon taught experimental drawing and collage in the School of Art at Chautuaqua Institution in Chautauqua, New York.
In addition to teaching at the New York Academy of Art, Sharon also conducts a popular Lecture Series where she interviews luminaries and exceptional individuals in the art world and from afar.
Louden is also the editor of Living and Sustaining a Creative Life: Essays by 40 Working Artists published by Intellect Books and distributed by the University of Chicago Press. The book is already on its fourth printing since the first run sold out before its official release on October 15th, and has been #1 on Amazon.com's Bestseller List of Business Art References. It was also on Hyperallergic's List of Top Art Books of 2013. Recent press includes an interview in Hyperallergic blogazine, "How do Artists Live?".
A book tour started on November 2, 2013 which includes Sharon Louden and other contributors visiting cities across the United States and in Europe through 2015. Highlights include an event in the Salon at the Art Basel Miami Beach Art Fair this past December, 2013 as well as a discussion and book event at the 92nd St Y in New York and a panel discussion at the Hirshhorn Museum and Sculpture Garden in Washington, DC in January, 2014. For more information on the book tour, please click here.
In addition, she continues to conduct Glowtown workshops in schools and not-for-profit organizations across the country. Louden is also active on boards and committees of various not-for-profit art organizations and volunteers her time to artists to further their careers.
Sharon is a full-time practicing, professional artist who lives and works in Brooklyn, NY.
---
Mon, 3 February 2014
Bad at Sports Episode 440: Pulse - Rachel Adams and Jennie K. Lamensdorf
This week: The first of our series of shows receorded at Pulse 2013. Duncan and Brian talk to Rachel Adams and Jennie K. Lamensdorf.
---
Mon, 27 January 2014
Bad at Sports Episode 439: Hesse McGraw
This week: From OxBow, Duncan along with with Abigail Satinsky and Elizabeth Chodos sit down for a chat with Hese McGraw, Vice President for Exhibitions and Public Programs at San Francisco Art Institute.
Here is an outdated bio from his website:
Hesse McGraw is a curator, writer and artist working as curator at the Bemis Center for Contemporary Arts in Omaha, Nebraska.
He was the founding director and curator of Paragraph, a contemporary art gallery operating under the non-profit Urban Culture Project in downtown Kansas City, Missouri. He is the former assistant director of Max Protetch gallery in New York, City and former senior editor of Review, a Kansas City-based visual culture magazine. He has served as a lecturer in the Interdisciplinary department of the Kansas City Art Institute and frequently serves as a guest lecturer, critic and juror for fine art and architecture schools and organizations throughout the US.

Alongside producing two dozens exhibits and projects over three years at Paragraph, he has curated exhibitions for FLEX Self Storage (Topeka, Kansas), The New Genres Festival (Tulsa), The Stray Show (Chicago), Guild and Greyshkul (NYC), -scopeMiami, RARE (NYC), Rocket gallery (London) and White Flag Projects (St. Louis).
He regularly contributes to publications including Art Papers, Dots & Quotes, Empty magazine, The Kansas City Star, RES, Review, Tank, Ten by Ten. He has written exhibition essays for artists including Ryoji Ikeda, Tobias Wong, Steve Mumford, Eric von Robertson and many others.

His artwork incorporates photography, video, sound and text into site-specific installations and published works. The work experientially engages cultural information systems to amplify loaded micro-histories with the intent to create new networks of meaning. The work aims to construct democratic viewing scenarios that offer viewers a bit of personal space within the context of the general world. His work has been shown in venues internationally and in a solo exhibition at RARE, NYC.
---
Mon, 20 January 2014
Bad at Sports Episode 438: Skylar Fein
This week: Amanda talks to artist Skylar Fein!
Skylar Fein was born in Greenwich Village and raised in the Bronx. He has had many careers including teaching nonviolent resistance under the umbrella of the Quakers, working for a gay film festival in Seattle, stringing for The New York Times and as pre-med student at University of New Orleans where he moved one week before Hurricane Katrina hit.

In the wreckage of New Orleans, Fein found his new calling as an artist, experimenting with color and composition of the detritus of Katrina. His work soon became known for its pop sensibility as well as its hard-nosed politics. After a few starring roles in group shows, he had his first solo show in May 2008 at Jonathan Ferrara Gallery in New Orleans.

In the fall of 2008, his Prospect.1: Biennial installation, "Remember the Upstairs Lounge," shined a spotlight on an overlooked piece of New Orleans history: a fire that swept through a French Quarter bar in 1973, killing everyone inside. The worst fire in New Orleans history has never been solved. His installation walked visitors right through the swinging bar doors, and offered visual riffs on politics and sexuality circa 1973. The piece was praised in Artforum, Art In America, The New York Times Magazine and The New Yorker, among others.

In late 2009, Fein had his first solo museum show, "Youth Manifesto," at the New Orleans Museum of Art. The exhibition was an ode to punk rock as a force for social and cultural upheaval. True to form, the opening reception was shut down by police responding to the look of the unlikely art-going crowd.

In March 2010, Jonathan Ferrara Gallery presented Fein's solo installation, "Skylar Fein: Rise of the Youth Front" at VOLTA Art Fair in New York during Armory Week. This installation drew thousands of people and delved into revolutionary politics past and present, a continuing theme in Fein's work.In May 2010,Fein was invited by the New York curatorial project No Longer Empty to recreate his "Remember the Upstairs Lounge" installation in a vacant Chelsea space.The exhibition, once again, drew thousands of visitors and sparked renewed interest in this piece of history. In September 2011, Fein exhibited over eighty new works in his solo exhibition Junk Shot at Jonathan Ferrara Gallery, New Orleans. This exhibition embodied this artist's turn towards formalism and art historical reference while maintaining Fein's iconic sensibilities and aesthetic.

Skylar Fein was the recipient of a 2009 Joan Mitchell Foundation Award and his work is in several prominent collections including The Whitney Museum of American Art, The Brooklyn Museum, The Frederick R. Weisman Art Foundation, The Louisiana State Museum, The Birmingham Museum of Art, the New Orleans Museum of Art and collectors Beth Rudin DeWoody, Lance Armstrong, and Lawrence Benenson.
---
Mon, 13 January 2014
Bad at Sports Episode 437: Solveig Ovstebo
This week: From our residency at Expo Chicago 2013 we talk to the new (as of June 2013) Director of the Renaissance Society at the University of Chicago, Solveig Ovstebo.
---
Mon, 6 January 2014
Bad at Sports Episode 436: William Powhida and Charlie James
This week: Live on stage without a net from Art Expo Chicago 2013 (aka EXPO CHICAGO, The International Exposition of Contemporary and Modern Art) Duncan and Richard talk to Galleries Charlie James (Charlie James Gallery, Los Angeles) and artist William Powhida!
William Powhida (b. 1976, New York) is an artist and critic living and working in Williamsburg, Brooklyn. For several years Powhida worked as an art critic for the Brooklyn Rail while developing his own artistic practice. Powhida's work, reflecting his critical background, displays a concentrated fascination with the politics of access and the powers that control the assignment of value in the artworld. All roles are fair game, from nouveau-hot artists and the market-setting collectors that buy them, to the branded dealers that sell the work and the critics paid to provide intellectual justification for the pricepoints.
To soften what might appear a direct editorial voice, Powhida projects his commentary through the lens of an alter-ego, one with whom he shares a name (William Powhida). This alter-ego closely resembles any number of freshly minted artworld 'geniuses,' though Powhida's character happens to exhibit all of the worst traits imaginable in any coddled enfant-terrible art star. The fictional Powhida is petulant, narcissistic, and debauched. He has enormous feelings of entitlement, and a perspective so firmly rooted in solipsism that it seems an impossible exaggeration. This art star on the verge of self-immolation documents his misery and rage against the manifold injustices of the art world through a series of To Do Lists, Enemies Lists, and monomaniacal screeds that take on the look of disturbed 3am rants. However, not all of this work exists in the first person. In addition to the alter-ego's jeremiads, Powhida adds the sycophantic voice of the press ¬ a vital part of the star-making process. Ostensibly a frequent subject of Man About Town profiles in fashion magazines and newspapers, the alter-ego's more offensive conduct and outsized claims are documented in this way.
Which brings us to the startling visual power of Powhida's work. All of the content above, from the character's first-person attacks to press profiles by the New York Post, the LA Weekly, and 944 Magazine (examples) are all rendered in beautiful trompe l'oeil compositions that use various combinations of graphite, gouache, and colored pencil on either panel or paper. It is in fact the visual presentation of Powhida's arguments, coupled with their humor, that makes Powhida's sometimes scathing commentaries so much fun to digest.
William Powhida earned his BFA from Syracuse University, and took his MFA from Hunter College. He is represented by Platform Gallery in Seattle, and Charlie James Gallery in Los Angeles.
Established in Los Angeles in 2008, Charlie James Gallery represents work by emerging and mid-career artists.
969 Chung King Road
Los Angeles, CA 90012
T: 213.687.0844
F: 213.687.8815
HOURS:
Wednesday - Saturday
12 - 6 PM
---
Mon, 30 December 2013
Bad at Sports Episode 435: Christian Jankowski
This week: Patricia talks to artist Christian Jankowski. Chaos ensues. Chewing too.
---
Mon, 23 December 2013
Bad at Sports Episode 434: 2013 Holiday Special
This Week: Do Duncan and Richard take a week off, kick back, drink that eggnog Duncan makes with lighter fluid??? NO, no they do not. They undertake to make a holiday special so labor intensive, so wacky, so stupid it is hard to beleive. Yes, it is here.

AND, if you survive the dramatic reading, you will be rewarded by some rare and amazing Christmas Classics, about Daleks, sex, and stuff like that.
HO HO HO.
---
Mon, 16 December 2013
Bad at Sports Episode 433: Expo Chicago - Sanford Biggers, Elysia Borowy-Reeder and José Lerma
This week: Duncan and Richard at Expo Chicago 2013 talking to Sanford Biggers, Elysia Borowy-Reeder and José Lerma.
From Expo's info:
Sanford Biggers, Elysia Borowy-Reeder and José Lerma in conversation with Richard Holland and Duncan MacKenzie
For another rousing Bad at Sports discussion, hosts Richard Holland and Duncan MacKenzie will field interviews and commentary from Artist Sanford Biggers (SAIC MFA 1999, moniquemeloche, David Castillo Gallery, MASSIMO DE CARLO), Director of the Museum of Contemporary Art Detroit Elysia Borowy-Reeder and Artist José Lerma (SAIC Painting and Drawing), most recently featured in a solo exhibition for "Chicago Works" at the Museum of Contemporary Art Chicago.
---
Mon, 9 December 2013
Bad at Sports Episode 432: Sonnenzimmer and Sarah Weber
This week: First up, Sonnenzimmer!Duncan talks to Nick Butcher and Nadine Nakanishi about the poster scene, the business of art and design and more!

Next Dana Bassett talks to artist Sarah Weber.
Sonnenzimmer is the Chicago-based studio of Nick Butcher and Nadine Nakanishi. Merging backgrounds in typography, printmaking, graphic design and fine art, we create hand-crafted posters, books, and music packaging for a wide array of clients. Most of our projects are screen printed in-house. We are always up for the challenge of creating unique visuals for projects. If you are interested in working with us, don't hesitate to contact us. To read about our process, check our FAQ page.
We've had somewhat of an elastic existence in our 7 year history. Beginning as a shared painting studio, equipped with industrial screen printing equipment, the venture quickly morphed into a design and print studio specializing in hand-crafted prints and design for some of the city's most recognized cultural institutions. As image making is becoming more and more present in commerce and enjoying a true revival in print making and painting, we hope our mixture of fine and applied art will be looked at as complimentary assets. That people understand they are not mutually exclusive. We are interested in idiosyncratic imagery. This is explored through many lenses of an ongoing practice – may it be of collaborative, experimental, or commercial nature.
---
Sun, 1 December 2013
Bad at Sports Episode 431: Takeshi Murata and Robert Beatty
This week: San Francisco checks in with a great interview. Bad at Sports contributors Brian Andrews and Patricia Maloney sat down with artist Takeshi Murata and sound designer Robert Beatty on November 9, 2013, at Ratio 3, in San Francisco, to discuss Murata's most recent digitally animated video, OM Rider (2013). OM Rider follows two animated creatures: a wizened old man that Andrews describes as "half the Curious George Man in the Yellow Suit, half like the butler from Rocky Horror Picture Show," and a hipster wolf, which rides a moped through a barren landscape and performs other aimless tasks. The video begins with the creature playing a synthesizer that gives the video its title. Om Rider contains Murata's characteristic absurd humor and aesthetic, which mixes highly attuned lighting and composition with more retro modeling and minimalist, almost antiseptic spaces.
Takeshi Murata was born in 1974 in Chicago. In 1997, he graduated from the Rhode Island School of Design, where he studied film, video, and animation. He currently lives and works in Saugerties, New York. Murata has exhibited at the New Museum, New York; the Museum of Modern Art, New York; the Museum of Fine Arts, Houston; the Fondazione Sandretto Re Rebaudengo, Turin, Italy; Sikemma Jenkins & Co., New York; Gladstone Gallery, New York; and Salon 94, New York. Murata's work is featured in the collections of the Hirshhorn Museum and Sculpture Garden, Washington DC; DESTE Foundation for Contemporary Art, Athens; and The Smithsonian Museum of American Art.
FYI, AP will post an excerpted text version of this interview on Dec. 3, and the link for that conversation should be:
http://www.artpractical.com/column/interview-with-takeshi-murata/
And here is a related review Brian wrote for his previous show: http://www.artpractical.com/review/get_your_ass_to_mars_andrews/
---
Mon, 25 November 2013
Bad at Sports Episode 430 - EXPO panel Baer, Paddy, and Forrest Nash
---
Mon, 18 November 2013
Bad at Sports Episode 429: Michael Velliquette and Oliver Warden
This week: The Amanda Browder show rolls in to town! Amanda talks to Michael Velliquette and Oliver Warden
Michael Velliquette has a show up at DCKT Contemporary!
MICHAEL VELLIQUETTE (b. 1971) is a mixed media artist known for his densely detailed and dimensionally complex paper sculptures, installations, and drawings.He has recently had solo shows at DCKT Contemporary, New York, NY; Disjecta, Portland, OR; Morgan Lehman Gallery, New York, NY; and Rhodes College, Memphis, TN. His museum exhibitions include Slash: Paper Under the Knife at the Museum of Art and Design, New York; Art on Paper at the Weatherspoon Art Museum; and Psychedelic at the San Antonio Museum of Art.His work is in the collections of the Museum of Wisconsin Art; the Racine Art Museum; the Progressive Corporation; Western Bridge, Seattle; The John Michael Kohler Art Center; The Linda Pace Foundation; The State of Wisconsin; Boston Children's Hospital and the San Antonio Museum of Art. A catalog chronicling his work from the past 10 years titled "Michael Velliquette: Lairs of the Unconscious" was released in 2011 through Devibooks Publishers.

Michael Velliquette is a Faculty Associate in the Art Department at the University of Wisconsin-Madison and organizes the independently run project space Lovey Town.
Then a conversation with Oliver Warden about his project Globall!
GLOBALL is a new take on a social network created as a work of art by artist Oliver Warden.

"Basically, I want to pass seven wooden balls, one for each letter in GLOBALL, hand to hand, person to person, around the world.

On each of these wooden balls will be the instructions of what to do with it in multiple languages (three different ones for each ball) and in pictograms. When you receive a GLOBALL:

1. Take a picture of yourself with it and send the picture, your first name, your location and the time to our website www.wheresgloball.com.

2. Once on the website you can fill out a profile. There you can share your experience, connect with other GLOBALLers and follow your ball on its journey.

3. You'll then be asked to pass the GLOBALL to a VERY GOOD FRIEND and explain the instructions.

Hopefully as each ball travels, everyone will think about words such as 'share' and 'friend' and 'follow'. With a little luck, each GLOBALL will go on a voyage of friendship and connectivity around the world."

Oliver
---
Mon, 11 November 2013
Bad at Sports Episode 428: Oliver Ressler and Gregory Sholette
This week: Scandal! Economics! Wendy's ads from the 80's!! We talk to Oliver Ressler and Gregory Sholette about It's the Political Economy, Stupid.
The economic crisis that we face today has also become a major crisis for representative democracy. The very idea of the modern nation state is in jeopardy as the deterritorialized flow of finance capital melts down all that was once solid into raw material for market speculation. It is the social order itself, and the very notion of governance with its archaic promise of security and happiness that has become another kind of modern ruin.
It's the Political Economy, Stupid brings together an international group of artists who focus on the current crisis in a sustained and critical manner. Rather than acquiesce to the current calamity, this exhibition asks if it is not time to push back against the disciplinary dictates of the capitalist logic and, by use of artistic means, launch a rescue of the very notion of the social itself.
The Austrian Cultural Forum New York is pleased to present this new group exhibition which was curated by the Austrian-American team of Oliver Ressler and Gregory Sholette. The show derives its title from the slogan which in the early 1990s came to define then presidential candidate Bill Clinton's campaign, "It's the economy, stupid".

PRESS QUOTES:
"In the wake of the capitalist crisis, very few cultural institutions have dared to address the horrors of greed that plague us in such a direct and haunting way as the Austrian Cultural Forum." - Alexander Cavaluzzo, Hyperallergic.com, Feb. 13, 2012
"Curated by Gregory Sholette and Oliver Ressler, this is a good old political exhibition, full of sarcasm, hope, protest, and information." - William Corwin, Saatchi Online Magazine, Feb. 21, 2012
A "confrontational, intellectual, and occasionally amusing group show, which squarely aligns itself with the Occupy movement." - Robert Shuster, The Village Voice, Feb. 8, 2012
"Curated by Oliver Ressler and Gregory Sholette, this is a smart exhibition that I suspect will be preaching to the converted, but in style. [...] This is the gallery version of Occupy Wall Street." - Andrea Kirsh, Feb. 14, 2012, theartblog.org
"Visible from the sidewalk on a block that the Austrian Cultural Forum shares with Cartier, Ferragamo and Tourneau, the work [by Dread Scott] affirms a disheartening truth about the cultural mindset this well-curated exhibition aims to critique: many would prefer to see their money burn than have it distributed equitably." -David Markus, Art in America, Mar. 28, 2012
"Ressler's and Sholette's show does indeed achieve its objectives, occupying the Austrian Cultural Forum through a diverse range of artworks stemming from the 2008 crisis of finance capitalism. It does so principally by drawing together a selection of works which both educate and entertain, offering invaluable information and welcome critical reflection." - Thom Donovan, Art:21 Blog, Apr. 16, 2012
---
Mon, 4 November 2013
Bad at Sports Episode 427: Jen Delos Reyes
This week: Duncan, Richard, and Jason Dunda talk to a cast of thousands led by Jen Delos Reyes!

Jen Delos Reyes is an artist originally from Winnipeg, MB, Canada. Her research interests include the history of socially engaged art, group work, band dynamics, folk music, and artists' social roles. She has exhibited works across North America and Europe, and has contributed writing to various catalogues and institutional publications. She has received numerous grants and awards including a Social Sciences and Humanities Research Council of Canada Grant. Jen is the founder and director of Open Engagement, a conference on socially engaged art practice and herself speaks widely on Art and Social Practice at conferences and institutions around the world. She is currently an Assistant Professor at Portland State University where she teaches in the Art and Social Practice MFA program.
photo credit: Motoya Nakamura
---
Sun, 27 October 2013
Bad at Sports Episode 426: Monique Jenkinson
This week: This week Brian and Matt Sussman talk with Monique Jenkinson, whose
work draws from dance, theater, performance art and drag. Hot topics
include: staging a guerilla fashion show in a museum, the subversive
power of Disney princesses and how performers are like archives. Plus,
more divas than the Daytime Emmys!

Don't forget the apexart "Unsolicited Proposal" deadline looms large, go go now!! http://www.apexart.org/unsolicited.php
We'll miss you Lou.
Matt says "The photo should be credited to Arturo Cosenza".
---
Mon, 21 October 2013
Bad at Sports Epsiode 425: The Return of James Elkins!
This week: James Elkins returns to Bad at Sports.
---
Mon, 14 October 2013
Bad at Sports Episode 424: Sarah Conaway
This week: Duncan live from LA! This week he talks with artist Sarah Conaway.
Sarah Conaway (b. 1972 York, Pennsylvania) makes seemingly straightforward photographs that invite us to think magically, imbuing mundane objects with mystery and potential. Her recent photographs—printed in a range of sizes and primarily in black and white, with an occasional work in vibrant color—capture a series of actions set up by the artist in her the studio. Beyond the objects or materials that they portray, they express a residue, aura, or presence that we sense but do not necessarily see depicted. Although the act of photographing her sculptural constructions and still lifes—at times as ordinary as a crumpled strip of canvas or a piece of string—reduces the subjects' dimensionality, it focuses our attention on texture, light, and shadow—and the sheer pleasure of looking. Conaway's techniques are deceptively simple: her touch is light, the scale of the forms uncertain, the color and contrast stark. These arrangements of simple materials and common objects reveal their potential as architecture, figure, landscape, fantasy, or apparition while maintaining a tenuous state of balance and compositional harmony.
---
Mon, 7 October 2013
Bad at Sports Episode 423: Mat Gleason
This week: People are called Ninny! Art school is shit-talked! TMZ! Lawsuits! Hot chicks! Artists traded like sports players. Art world badass, gallerist, curator, writer, swell mofo Mat Gleason!
---
Mon, 30 September 2013
Bad at Sports Episode 422: The Institute for Figuring
This week: Duncan and Brian drop in to LA's ChinaTown and visit the Institute for Figuring!
The mission of the Institute For Figuring is to contribute to the public understanding of scientific and mathematical themes through innovative programming that includes exhibitions, lectures, workshops, and participatory, community based projects. The IFF is a 501(c)(3) nonprofit organization.
Located in the Chinatown district of Los Angeles, the IFF's venue functions both as an exhibition space and as a "play tank" for developing new methods of creative engagement with topics ranging from geometry and topology, to physics, computation, and biological form.
Founded in 2003, the IFF has developed exhibits and programs for museums, galleries, colleges, and community groups around the world. We have worked with: the Andy Warhol Museum (Pittsburgh), The Hayward (London), the Science Gallery (Dublin), the New Children's Museum (San Diego), Art Center College of Design (Pasadena), the Museum of Jurassic Technology (Los Angeles), and the Smithsonian's National Museum of Natural History.
The Institute's Crochet Coral Reef is now one of the largest science + art projects in the world.
At the core of the IFF's work is the concept of material play. We believe that ideas usually presented in abstract terms can often be embodied in physical activities that engage audiences via kindergarten-like practices. Through activities such as cutting and folding paper, we affirm that the hands and eyes can serve as guides to developing the human mind. By inviting our audience to literally play with ideas, the IFF offers a new, hands-on approach to public science education that is at once intellectually rigorous, pedagogically rich, and aesthetically aware.
---
Mon, 23 September 2013
Bad at Sports Episode 421: Spencer Finch
This week: Duncan and Richard talk to Spencer Finch about his current exhibition "Study for Disappearance" at the Rhona Hoffman Gallery.
What is the color of the threshold - of that liminal space before day plunges into night? Spencer Finch attempts to answer this question through his most recent body of work created specifically for Study for Disappearance, his fourth solo exhibition at Rhona Hoffman Gallery. Each watercolor diptych in this new series individually renders violet, blue, green, yellow, orange, and red as they appear on objects in his Brooklyn studio. On one side of each diptych, Finch has labeled the swatches of varying hues of a single color according to the object that bears them: "candle," "brick sample (Baltimore)," and "bull-fighting poster" to name a few. This study is paired with that of the identical collection of objects observed as the colors shift to grayscale with the dimming daylight. Slowing down the viewer's process of seeing, Finch guides us through the nuances of the fading light and the stages of visual perception. Accompanying the watercolor diptychs is a new light box piece, Color Test 600, comprised of various multicolored squares layered together to create an abstract study of darkness.

The ephemeral light of dusk is a seductive territory for Finch and such fleeting scenarios fuel his artistic process. Artworks such as the light installations West (Sunset in My Motel Room, Monument Valley, January 26, 2007, 5:36 – 6:06 PM) and Dusk (Hudson River Valley, October 30, 2005) have transported the light quality of a specific place during that transitory magic hour to the setting of art galleries and museums worldwide. Once again, for Study for Disappearance, Finch has succeeded in blending scientific method with a poetic sensibility to both record the light and color of the physical world and simultaneously explore the intangible and ethereal essence of a place. This time, Finch generously offers an intimate look at the enchanted and often confidential space of the artist's studio.
---