Wed, 24 November 2021
Bad at Sports Episode 783: Jessie Mott
On this week's Jess(i)e-fest, Jessie Mott joins Jesse and non-Jess(i)e Ryan in the studio to talk about her upcoming exhibition at the Epiphany Center for the Arts, Like Queer Animals:We Hold Your Gaze, a collaboration with queer scholar Chanal Nadeau. We yak about the origins of Mott's aberrant animals, in all of their forms, including paintings, publications and animations. Take a listen on the wild side.
---
Wed, 17 November 2021
Bad at Sports Episode 782 Iris Bernblum
On this pod's weekcast Iris Bernblum joins Brian and Ryan for an unadorned conversation about her current studio practice. Bernblum's work explores an animalic kinship, navigating a longing for the unknowable natural world. The pair conjures a sensual environment by imbuing the space with scent, sound, and lush color. Her cross disciplinary practice includes watercolors, video and sculpture speaking to ideas around human desire to control and tame wild spaces.
Name Drops:
Also, we dropped the first NFT Bad at Sports has ever made, the first podcast on Foundation, and the first interview with both Kayvon Tehranian and Lindsay Howard. Maybe the only NFT we will ever make and it is hella meta (like not the facebook nonsense).
Drops at 11am CST on Friday November 19th, 2021. Good luck friends.
---
Thu, 11 November 2021
Bad at Sports Episode 782: Tony Fitzpatrick
This week Bad at Sports sees the return of two legends.
Tony Fitzpatrick joins us to talk about his last museum show ever "the Jesus of Western Avenue" at the Cleve Carney Museum. And if that weren't enough Richard Holland takes a break from his retirement to rejoin the show? We are also joined by Justin Witte, the curator and director of the Cleve Carney Museum!
Names Dropped...
---
Wed, 3 November 2021
Bad at Sports Episode 781: Zach Cahill
This week Jesse Malmed and Duncan MacKenzie catch up with Zach Cahill and try to understand what compels us about unicorns, death, flowers, and pentagrams as we celebrate and query the thinking behind "Unicorn Death Road Trip Buddy Movie."
Names dropped...
---
Wed, 27 October 2021
Bad at Sports Episode 780: Terrain or Shine part 2
This week Bad at Sports Center checks in from a very rainy Terrain Biennial at Overton Elementary. We catch up with Kristin McWharter about sports and cheerleading then carry the conversation to Lauren Leving and Michael Paul Lopez aka. Mike Lopez about an exhibition at Material. Certified fresh.
---
Thu, 14 October 2021
Bad at Sports Episode 779: Terrain 2021
Live from the block party for the 2021 Terrain Biennial with guests Richard, Medina, Sadie Woods, DJ Gino, Ahmed Ozsever... And Ryan Peter Miller? What better way to honor our friend Sabina Ott!
---
Sat, 2 October 2021
Bad at Sports Episode 778: Earthly Observatory
Should we be more depressed about accelerating climate change or optimistic for human potential in a time of crisis? This week Jesse and Brian talk through the surprising artworks featured in Earthly Observatory with curators Giovanni Aloi and Andrew S. Yang.
---
Fri, 24 September 2021
Bad at Sports Episode: 777 Chicago Art Department
Today on Bad at Sportscenter, Jesse and Ryan are joined by some of the stars that form the constellation that post-latin-loqui astroscholars are calling This Is What We Know So Far, an exhibition open now at Chicago Art Department: artists Liz McCarthy, Sara Condo, Leo Kaplan and curator Erin Nixon. Along with Chicago faves Mike Lopez and Ben Driggs, they've mounted a colorful and joutous show dealing with process, the new now and the messiness of the moment. The conversation is lovely and the show even lovelier.
---
Thu, 9 September 2021
Bad at Sports Episode 776: Teresa Silva, Holly Cahill, and Tiger Strikes Asteroid
This week we check in on Tiger Strikes Asteroid with curators Teresa Silva and Holly Cahill. we examine collective art action, the network, Mana contemporary art space, and the half 46 person group show "It Feels Like The First Time."
---
Wed, 1 September 2021
Bad at Sports Episode: 775 Seitu Hayden
This week we continue our summer of comic investigation with
Seitu Hayden. Chicago illustrator extraordinaire and long time indie comic supporter. We talk about his 50 years in the independent publishing spaces, black comics, and some of the bright lights that made the scene happen. Hayden's works were included in the MCA's Chicago Comics:1960 to Now and the book "It's Life as I See it: Black Cartoonists in Chicago, 1940–1980."
#saytoons
---
Sun, 22 August 2021
Bad at Sports Episode 774: Chris Ware and Tim Samuelson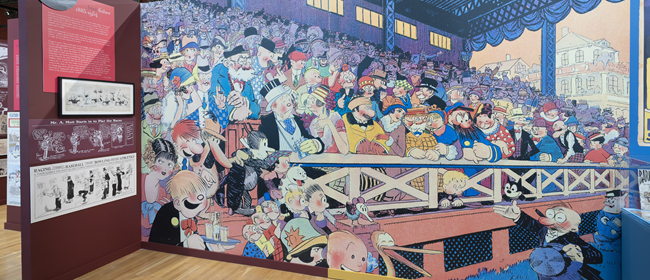 …meanwhile, in the least mysterious city on the planet (apparently Chicago), Duncan and Ryan panel with the overmodest Artist/Cartoonist Chris Ware and Chicago's cultural historian emeritus Tim Samuelson about the storied origins of the Chicago comic scene. In this harrowing episode our protagonists discuss a triumvirate of collaborative projects: the Chicago Cultural Center's,
"Chicago: Where Comics Came to Life 1880-1960",
the forthcoming exhibit at Wrightwood 659
"Romanticism to Ruin: Two Lost Works of Sulliv
an and Wright",
and an eponymous interminable exhibition of Samuelson's personal historical ephemera curated by Ware at the Chicago Cultural Center.
---
Fri, 13 August 2021
Bad at Sports Episode 773: Jessica Campbell
This week we are joined by the great cartoonist and brilliant artist Jessica Campbell. Campbell's cartoons and relief sculptures are on view at Chicago's MCA as part of Comics in Chicago: 1960s to Now. She also has an upcoming exhibition at Western Exhibitions Gallery in Chicago and a graphic novel about to drop from Drawn & Quarterly, "Rave."
---
Mon, 9 August 2021
Bad at Sports Episode 772: Diana Guerrero-Maciá
This week Bad @ Sports Center is winnowed down to skeleton crew, with Ryan Peter Miller chewing the fat with the ever vital Diana Guerrero-Maciá. Fresh from receiving a John Simon Guggenheim Fellowship in Fine Arts, Guerrero-Maciá discusses her studio practice which includes slow-craft processes in painting, textiles, drawing, print, and sculptural objects. With new work recently completed for two exhibitions, High Touch, at John Michael Kohler Art Center and Light Falls Fast at Traywick Contemporary, this is a hearty conversation.
---
Wed, 21 July 2021
Bad at Sports Episode 771: Foundation with Kayvon Tehranian and Lindsay Howard
This week Bad at Sports attempts to get to the bottom of whether foundation.app is a marketplace, a platform, or a cultural hall. Dana Bassett and Duncan MacKenzie are joined by Kayvon Tehranian, CEO and Lindsay Howard, Head of Community who are lighting our way towards how artists can get paid for their content while creating a new way to sell and consume art works, and just maybe, building a new internet in the meantime.
Duncan is trying to convince Lindsay to start a book club. If you're interested slide something into his DMs.
---
Tue, 22 June 2021
Bad at Sports 770: Tom Burtonwood and Holly Holmes Terrain 2021, Sabina Ott, and NFT making and collecting
In what feels like a throwback episode Ryan and Duncan record IRL with Holly Holmes and Tom Burtonwood. We explore the legacy of Sabina Ott, the future for the Terrain Biennial and its 2021 iteration, then we talk through what is going on in their studios and focus around their exploration of the NFT artwork space.
https://terrainexhibitions.org/
https://tomburtonwood.com/home.html
https://hollyholmes.xyz/home.html
---
Tue, 15 June 2021
Bad at Sports Episode 769: Buddy, Co-Pro Catskills, and what is happening at the Public Media Institute
This week on the B@S, Stella Brown and Nick Wylie join Jesse and Brian to talk about Buddy — the new artist-run shop/gallery/venue at the Chicago Cultural Center that features works and products by more than 220 artists — and Co-Prosperity Catskill — the new exhibition space in the Hudson Valley. These two new projects from the Public Media Institute, whose many many include WLPN, Lumpen Magazine, Lumpen TV and the Co-Prosperity space in Bridgeport, extend the ever-shifting and growing publicnesses that amplify, support and nurture so many artists and thinkers in our city. We talk about the realms of the possible, the concept of the public and end up making an ad (-vertisement and -vocacy) for Chicago in many acts.
---
Wed, 2 June 2021
Bad at Sports Episode 768: Christina Quarles
On today's episode Dana and Ryan join painter Christina Quarles [in person!] to discuss her eponymous exhibition at the Museum of Contemporary Art Chicago. We talk painting (of course), and discuss pandemic cancellations and inspirations. We hope you enjoy the sound of face-to-face conversation and Christina's giggles as much as we enjoyed recording them.
---
Wed, 26 May 2021
Bad at Sports Episode 767: Ben Davis on NFTs
This week we can catch up with the preeminent American Art Critic, Ben Davis from Art Net and talk about NFTs and whether this really is the future the hype demands, or whether this is a long con grift.
Ben Davis - http://www.benadavis.com/
Art Net - https://news.artnet.com/
Nifty Gateway - https://niftygateway.com/
Foundation.App - https://foundation.app/
Beeple - https://www.beeple-crap.com/
---
Mon, 10 May 2021
Bad at Sports Episode 766: Carrie Secrist
This week we returned with Carrie Secrist and the Carrie Secrist Gallery (CSG.) A long time pillar of Chicago's south loop CSG began a significant shift and radically changed how they were doing exhibitions as the pandemic was just kicking off. We check in with the gallery's founder to learn about this adventure and how it has impacted gallery artists and informing the way the gallery will work. We also take a minute to celebrate an incredible milestone for a Chicago artist, as a hint her initials are DGM and weirdly so are our managing founders, although they are not the same human and only one of them has been recognized by the Guggenheim. WE COULD NOT BE MORE EXCITED FOR HER! WELL DONE DGM!
---
Tue, 13 April 2021
Bad at Sports Episode 765: Stephanie Burke
On this harrowing episode of Bad at SportsCenter, we talk with photographer Stephanie Burke. Her ongoing series of photographs is a visual exploration of lost opportunities at Parks College. Founded in 1927 by Oliver "Lafe" Parks, Parks College was a nexus of aviation development throughout the 20th century. When the Parks College program was moved to SLU in 1997, the Cahokia Il campus was left empty, and has subsequently gone to ruin.
https://stephaniedawnburke.com/home.html
---
Wed, 31 March 2021
Bad at Sports Episode 764: Haig Aivazian
Image c/o the Renaissance Society of Haig Aivazian's "All of the Lights"
In a wide ranging discussion with Haig Aivazian we start with the exhibition at Chicago's Renaissance Society and we reach toward the history of fire, policing, data visualization, sports and art, and why artists should not be afraid of making propaganda!
https://renaissancesociety.org/exhibitions/539/haig-aivazian-all-of-the-lights/
https://haigaivazian.com/
---
Sun, 14 March 2021
Bad at Sports Episode 763: Paul Mpagi Sepuya
This week Ryan and Brian enter the dark room with Paul Mpagi Sepuya. The conversation floats along the inseparability of images and subcultures, the ritual of working an image in an analog dark room, and seeing exactly what is happening in the moment.
---
Wed, 3 March 2021
Bad at Sports Episode 762: Naomi Beckwith
On today's episode of Bad at Sports Center, Dana and Duncan have the distinct pleasure of speaking with Naomi Beckwith, the current Museum of Contemporary Art Manilow Senior Curator and incoming Deputy Director and Jennifer and David Stockman Chief Curator of New York's Solomon R. Guggenheim Museum. We discuss Beckwith's curatorial style, vision for her new position and and her recent work on the exhibition "Grief and Grievance: Art and Mourning in America," originally conceived by the late Okwui Enwezor at the New Museum. All this and just a little bit of "T" to round out our latest. We hope you enjoy it, friend.
https://hyperallergic.com/605116/architects-ask-moma-to-remove-philip-johnsons-name-citing-racist-legacy/
---
Thu, 18 February 2021
Bad at Sports Episode 761: Mairead Case
This week

Dana

and Jesse are joined "in the studio" by Chicago's native sun and brilliant author, Mairead Case. Case joins us on the show to discuss her latest novel, Tiny, and a slew of other topics ranging from grief to the dance floor and how those two are not as far apart as you might think.
---
Thu, 11 February 2021
Bad at Sports Episode 760: Nicole Marroquin
This week Bad at Sports Center welcomes Nicole Marroquin participant in the DePaul Art Museum exhibition LatinXAmerican and Faculty at the School of the Art Institute of Chicago. Marroquin's practice ranges from social justice to community organizing to educating public school teachers to archiving microhistories and the work of the photographer Diana Solís. Ryan and Duncan trace her practice through a ruckus and bouncy chat that eventually finds its root in Marroquin's history as a printer and ceramicist.
---
Thu, 4 February 2021
Bad at Sports Episode 760: Ramón Miranda Beltrán
This week Dana & Brian zoom down to Puerto Rico to continue the series of interviews with artists from LatinXAmerican at the DePaul Art Museum. Ramón Miranda Beltrán shares his insights into adapting a practice to exhibition during COVID-19 and waves of colonialism in the Caribbean.
https://resources.depaul.edu/art-museum/exhibitions/latinx-american/Pages/default.aspx
---
Wed, 20 January 2021
Bad at Sports Episode 759: Caroline Kent
We are back. The audio team needed a little time to recover from a blisteringly hard 2020 but here we kicking it off strong! Hello 2021!
This episode kicks off a miniseries of artist interviews from LatinXAmerican at the DePaul Art Museum. Duncan and Brian chat with Caroline Kent about abstract painting, twin language, and refining an artistic practice during the pandemic.
---