Thu, 27 February 2020
Bad at Sports Episode 723: Natasha Egan MoCP
This week Brian and Duncan take a trip to the College Art Association conference 2020 and catch up with Natasha Egan from the Museum of Contemporary Photography. This wide-ranging conversation starts with surveillance and their current exhibition "In Real Life" featuring the artists Stephanie Dinkins, Trevor Paglen, Leo Selvaggio, Maija Tammi, José Orlando Villatoro, Xu Bing, and Liam Young and ends with what is the nature of photography in our contemporary world.
https://www.mocp.org/index.php
---
Tue, 25 February 2020
Bad at Sports Episode 723: Peter Ablinger
Philip von Zweck speaks with Seth Brodsky about Gray Sounds, a new experimental sound and music series at the University of Chicago's Gray Center for Arts and Inquiry. On the occasion of the inaugural Gray Sound event Seth, Philip and Zachary Cahill talk with composer Peter Ablinger about "experimental" music, his work, noise, phonorealism, making a piano speak, and a host of other topics.
Peter Ablinger is an Austrian composer living in Berlin. He was recently in Chicago for a series of performances, lectures and an installation as part of Grey Sounds a new series produced by the Gray Center for Arts and Inquiry at the University of Chicago.
Seth Brodsky is the Director of the Gray Center for Arts and Inquiry and Associate Professor of Music and the Humanities at the University of Chicago. He is the author of "From 1989, or European Music and the Modernist Unconscious" (California, 2017), and has published on such topics as opera, influence, and the music of John Cage and Benjamin Britten. He is currently at work on a book about music, psychoanalysis, and repetition.
Zachary Cahill is Director of Programs and Fellowships at the Gray Center for Arts and Inquire and Editor in Chief, Portable Gray.
Philip von Zweck is an artist, occasional curator or writer and was weirdly, briefly faculty in the Conservatory of Music at Brooklyn College, CUNY. From 1995-2010 he was the host and producer of Something Else a weekly radio program of experimental music, sound art, and live performances on WLUW. He would like to thank composer D. Edward Davis for his help on this program.
---
Mon, 24 February 2020
Bad at Sports Episode 722: Alex Chitty, Raven Munsell, and Jack Schneider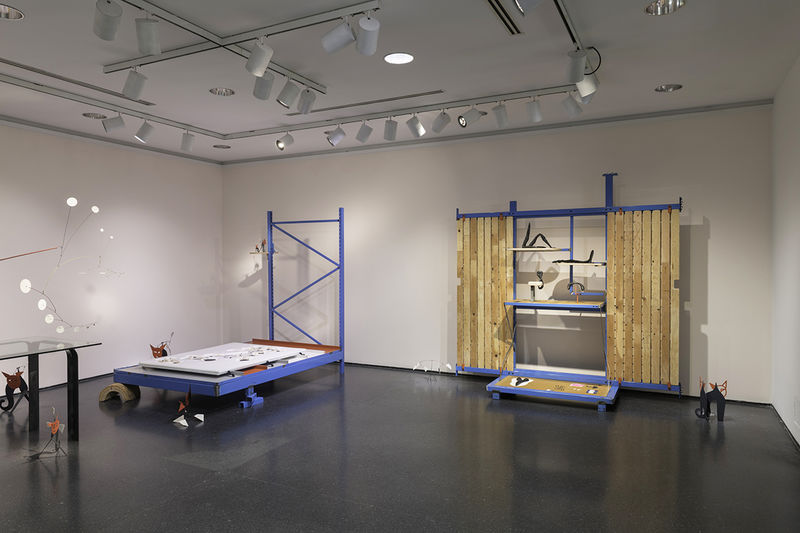 Join Dana and Brian for a conversation with Alex Chitty, Raven Munsell and Jack Schneider, the artist and curators behind the playful and innovative exhibition Becoming the Breeze: Alex Chitty with Alexander Calder on view at the Museum of Contemporary Art through April 12th. We learn about the history of the Ruth and Leonard Horwich Family Loan that mandates the nearly permanent exhibition of Calder's work and the 'breeze' of unseen documentation and labor that supports the beloved mobiles and sculptures.
More information on Becoming the Breeze https://mcachicago.org/Exhibitions/2019/Becoming-The-Breeze.
---
Mon, 17 February 2020
Bad at Sports Episode 721: Ashley Teamer
Join us today on Bad at Sports for a special interview with artist Ashley Teamer. Teamer discusses her latest exhibition, Better Than Me, and her work documenting the female basketball team at Dillard University. We delve into Teamer's aspirations and motivations fueling her work, which includes a new series of billboards featuring Dillard players that will be on view in New Orleans' downtown during the 2020 NCAA Women's Final Four in April.
For more information https://ashleyteamer.com/ and http://www.whateditions.com/.
---
Mon, 10 February 2020
Bad at Sports Episode 720: Terrain 2019 Ross Sawyers and Friends
The Terrain Biennial 2019. Radio Calamity...
So this was expected to be a much longer episode. Then many things no one could control happened...
Principally, it is now an interview with the Chicago based artist Ross Sawyers (who works as the Chair of Photography were Duncan works as the Chair of Art and Art History, Columbia College Chicago) with a couple of short footnotes. We are joined by his son Charlie.
https://terrainexhibitions.org/
What audio survived owes a debit to Tom Burtonwood, Monica Chadha, Holly Holmes, and Richard Medina.
Apologies to Sarah Beth Woods, Lise McKean, and Bhagya Ajaikumar, and everyone scheduled with but not conversed with.
---
Mon, 3 February 2020
Bad at Sports Episode 719: Erik Beehn and Test Site Projects
Erik Beehn and Amanda Browder throw down about the Vegas contemporary art world, printmaking, and the magic of the degraded form.
https://www.testsiteprojects.com/
---