Wed, 21 October 2020
Bad at Sports episode 754: Samantha Reynolds, Nimah Gobir, Guta Galli and Katherine Vetne
This week Ryan & Brian chat with Samantha Reynolds, Nimah Gobir, Guta Galli and Katherine Vetne about Until it Shatters, an exhibition at Root Division in conjunction with the Feminist Art Coalition that opens this election day. The exhibition title is in reference to Hillary Clinton's presidential concession speech "Now, I know we have still not shattered that highest and hardest glass ceiling, but someday, someone will..." Since its original inception, the curatorial model of Until It Shatters has adapted and shifted to an artist-driven project based on the shared need for community. Artists in the exhibition include Greta Liz Anderson, Salome El, Guta Galli, Nimah Gobir, Kiana Honarmand, Kuo-Chen "Kacy" Jung, Rebecca Kaufman , dani lopez, Cathy L, Kija Luca, Chi Chai Mate, Joy Nojim, Dimitra Skandal, Indira Urrutia & Katherine Vetne.
---
Tue, 6 October 2020
Bad at Sports Episode 753: Aram Han Sifuentes
Join us on this week's episode of Bad at Sports Center as Jesse and Dana virtually meet up for a conversation with Chicago fiber, social practice, and performance artist, Aram Han Sifuentes. We discuss the artists' multifaceted methods and finding joy in ongoing politically oriented projects like the Protest Banner Lending Library and US Citizenship Test Sampler. We also learn how Sifuentes is adapting her 2020 Official Unofficial Voting Station to the pandemic times in advance of the upcoming election.

More information on Sifuentes' projects can be found at:

http://officialunofficial.vote/
https://www.aramhansifuentes.com/
---
Mon, 17 August 2020
Bad at Sports Episode 752: Urban Glass and Knockdown Center
This episode recorded live in NYC at NADA NYC in 2017 with Michael Merck and Tyler Myers
from Knockdown Center and Cybele Maylone formerly of Urban Glass now of Aldrich Art Museum
---
Tue, 11 August 2020
Bad at Sports Episode 751: Richard Medina
The prodigy of Sabina Ott RETURNS!
This week Ryan & Brian chat with Richard Medina to talk about his first solo exhibition, Moby Dick, and what it's like to start a curatorial practice as an impassioned youth in Chicago's welcoming art scene.
---
Wed, 5 August 2020
Bad at Sports Episode 750: Michael Anderson RIP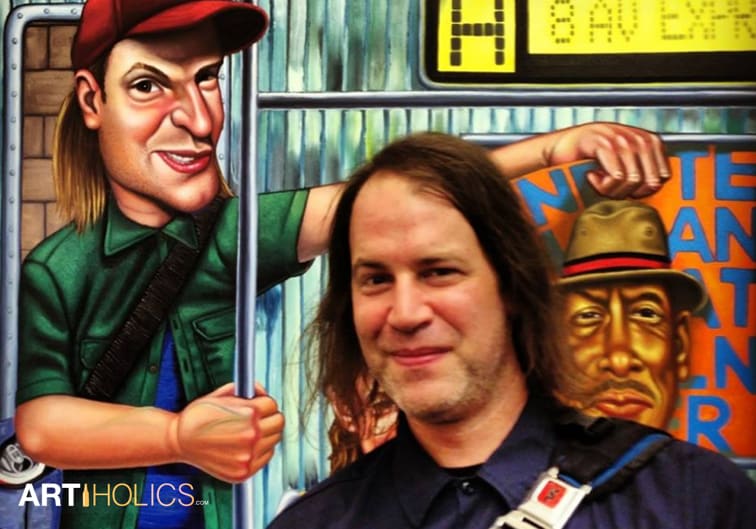 This week we came back to sad news last week we lost a great friend of the show and a unique NYC based voice, Michael Anderson. To honor his passing we represent his interview from 2009. We miss you buddy!
https://whitehotmagazine.com/articles/pictures-from-pandemic-michael-anderson/4680
Original post:
Holla! NYC correspondents Amanda Browder and Tom Sanford hang out with artist Michael Anderson in his Harlem studio. Born in the Bronx in 1968, Mr. Anderson began his artistic career fusing painting and collage but has concentrated on collage since the early 1990s.
Since that time his materials have consisted solely of posters and billboards found on the streets of international cities and physically torn down by the artist. (text from Michael's Blog).
To prep you when you go see Michael's show at Marlborough Gallery in Chelsea which opened on March 26th, 2009, Tom and Amanda talk to Michael about his work and end the conversation with a boxing match, as a way to get out their inner feelings. Michael watches in fear….or is it hilarity!
Michael Anderson
Marlborough Gallery
The Short Life of Trouble
Gayle Gates Art Collective
Dumbo
Collage Geomancy
Changing Role Gallery
Media Violence
Jack Da Vinci Johnson
Miami Ink
Leatherman
Bloomberg
Paul Rodgers Gallery
Mad Collectors
Richard Prince
Interview magazine
Lucien Freud
Jackson Pollock
digital TV
Size Matters
Mike Weiss
Michelle Stern
Tom Fruin
Jeff Sugg
Harlem
King Abraham
The Dark Knight
Philip Seymour Hoffman
In Cold Blood
VW Bug
Birdman's 5 * Stunna
Tony Fitzpatrick
Time magazine
Shepard Fairey
Bruce Nauman
---
Sun, 26 July 2020
Bad at Sports Episode 749: Alice Tippit and Alex Bradley Cohen
Today on Bad at Sports Center, Jesse and Dana are joined by special guest host, Alex Bradley Cohen, for an interview with painter Alice Tippit. We discuss the witty, poetic nature of Tippit's work, some of which is currently on view in the exhibition Pallid Carrier at Patron Gallery through August 29th.
More information on Pallid Carrier here.
---
Wed, 22 July 2020
Bad at Sports Episode 748: Stephanie Cristello and Ruslana Lichtzier
Today on the podcast, Brian and Jesse speak with Stephanie Cristello and Ruslana Lichtzier who are hosting the Chicago-based iteration of the vexillological contemporary art project Four Flags. Over the course of the next few months, dozens of Chicagoland artists are making flags that are being hoisted and hung from the façade of Chicago Manual Style—in the West Town / Ukrainian Village neighborhood—and on instagram at @fourflags.
Four Flags was founded by Julia Mullié and Nick Terra in Amsterdam, The Netherlands, and was launched on April 15, 2020. Exhibited artists to date include Evelyn Taocheng Wang, Das Institut (Kerstin Brätsch & Adele Röder), Kasper Bosmans, Jennifer Tee, Willem de Rooij, Rodrigo Hernández, Maria Roosen, Anna-Sophie Berger, Dora Budor, and Lena Henke, among others.
Bloemstraat 140B, Amsterdam, The Netherlands.
Chicago Manual Style and P.S. (Publishing Services) is a project space sited in a garage in Chicago, IL. Directed by Stephanie Cristello, the program is dedicated to exhibitions featuring established and emerging artists, and the production of critical writing. Positioned at the convergence of exhibitions and publications, each show results in the production and commission of essays and texts on contemporary art. Ruslana Lichtzier will be collaborating on curating this specific project.
---
Sun, 12 July 2020
Bad at Sports Episode 747: Sadie Woods
This week on Bad at Sports Center, Ryan and Dana are joined by Sadie Woods to talk about the recent re-release of her project, It Was a Rebellion Mixtape. Woods discusses her research process for this project and her personal evolution as a deejay and artist. We didn't have time to play a clip of It Was a Rebellion on the show, but you can download all three versions at this link: https://tinyurl.com/itwasarebellion. We hope you enjoy listening as much as we did.

Learn more about Sadie's work on her website: http://www.sadiewoods.com/
---
Mon, 6 July 2020
Bad at Sports Episode 746: Ellen Placey Wadey
Tune in to this week's Bad at Sports Center for a conversation with Ellen Placey Wadey, the Arts & Collections Senior Program Officer at the Gaylord & Dorothy Donnelley Foundation. We discuss equity and accessibility in foundation applications and find out how the Foundation is approaching the shifting needs of small arts organizations right now.
and read the Vu Le article we mention in the interview here.
---
Mon, 29 June 2020
Episode 745: Brian Andrews returns as Guest?
This week all we ask ourselves what is Brian doing well not at the radio station. Turns out he's having a baller film career in the AR/VR/XR arena and his latest work premiered at the Sundance Film Festival. As it expands its international festival run, we try and understand the world of the "Hominidae" - http://hominidanimation.net/
Juxapose magazine called an earlier iteration of the work "CREEP LEVEL OMEGA." Hold on to your hat.
---
Thu, 25 June 2020
Bad at Sports Episode 744: Deborah Stratman
This week on Bad at Sports Center: Dana and Jesse speak with Deborah Stratman about the filmmaker's now-postponed Chicago Works exhibition at the Museum of Contemporary Art. We hear Stratman's take on the issues inherent in screening work in a contemporary art museum and learn about her work on endlessly fascinating Chicago journalist Studs Terkel.
https://mcachicago.org/Exhibitions/2020/Chicago-Works-Deborah-Stratman
---
Mon, 22 June 2020
Bad at Sports Episode 743: Chris Reeves and Aaron Walker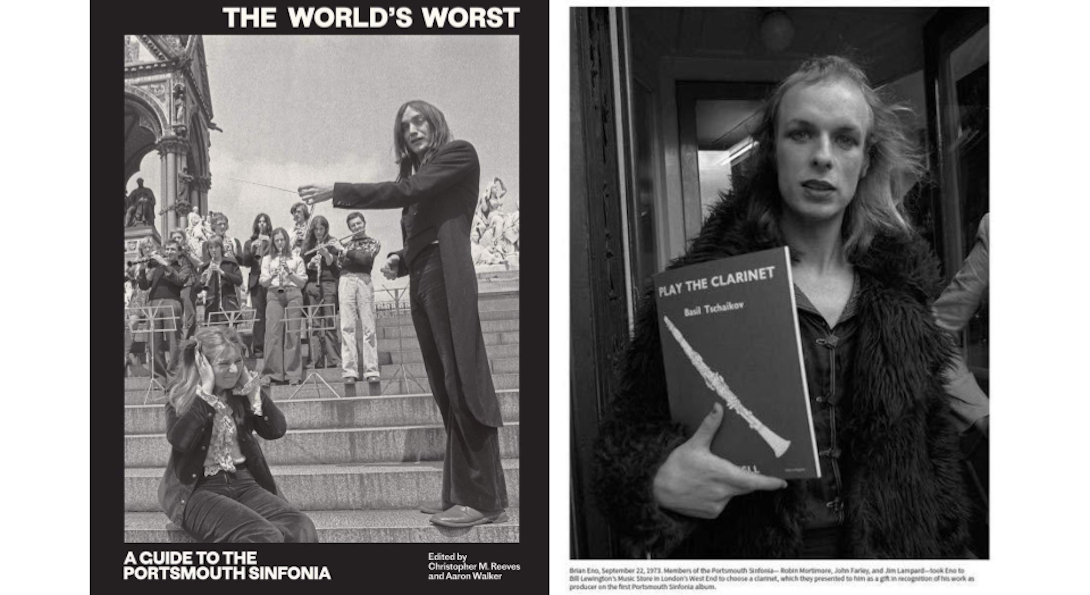 For this weeks episode of Bad at Sports Center we've finally transitioned into are virtual studio and are elated to be joined by the editors of The World's Worst: A Guide to the Portsmouth Sinfonia, Chris Reeves and Aaron Walker. Our guests provide Ryan and Dana with some background into the pioneering experimental orchestra, and we discuss their comprehensive compilation of interviews, new essays, historical documents and images. Tune in to hear all this and so much more (including, of course, Weird Al) on this episode of B@SC.
More information about the The World's Worst: A Guide to the Portsmouth Sinfonia can be found at http://soberscove.com/book/the-worlds-worst/.
---
Thu, 18 June 2020
Bad at Sports Episode 742: Heather Mekkelson
This week we Bad at Sport Center returns as we Kick begin experimenting with virtual recording. No one's back in our regular studio so we are reaching out to friends and artists we admire to talk about their exhibitions and events that have existed in the vacuum created by Covid 19.
Heather Mekkelson, long time bright light and unique sculptural voice had an exhibition which is functionally still up at 65 Grand disrupted by the Chicago lockdowns related to the pandemic. We chat through and try to open up her whimsical and profound investigations.
http://heathermekkelson.com/wordpress1/
---
Sun, 14 June 2020
Bad at Sports Episode 741: Indoor Recess The first HPAC Artist Run Chicago
Our Indoor Recess series concludes with a leap back a decade to the original Artists Run Chicago episode featuring Britton Bertran and Allison Peters Quinn.
Woo Hoo!
https://www.hydeparkart.org/exhibition-archive/artists-run-chicago/
---
Wed, 10 June 2020
Bad at Sports Episode 740: Indoor Recess Allison Agsten
On this episode of our Indoor Recess series we check back into a boozie 2017 with an interview we recorded the end of our first all day takeover at WLPN as part of Open Engagement in Chicago with long time friend of the show, Allison Agsten.
It was a moment where anything seemed possible and we were excited by the road ahead. Many things (like the pandemic) have changed for us, for Allison, for Chicago and LA since then but in the context of this interview the most notable change is the closure of Allison's project, the Main Museum. Which closed its doors in 2018 but the thing that drew us back to this moment was, everyone on mic was inspired and excited. Not everything had gone right and mistakes had been made all through the day but we were trying and we could all see new possibilities in a shared future.
Stay safe friends, we will get somewhere better together.
https://news.artnet.com/market/what-happened-at-the-main-1564471
http://openengagement.info/chicago-2017/
http://lumpenradio.com/
http://www.blackartmatters.net/
---
Mon, 8 June 2020
Bad at Sports Episode 739: Indoor Recess Ed Mar
Beer, Anti- Capitalist Exhibitions, Magazines, Punk Shows, Food and D&D! This Indoor Recess rewinds to the halcyon days when the Co-Prosperity Sphere was just a twinkle in Ed Marszewski's eye.
BONUS: Ed Mar teaches you how to pronounce his last name!
https://www.facebook.com/mashtunjournal/
https://www.community-bar.com/
---
Wed, 20 May 2020
Bad at Sports Episode 738: Indoor Recess and Kerry James Marshall
Can you have it all? Art world success and a fulfilling studio practice? Learn the master's secrets in this weeks Indoor Recess as we revisit our classic live episode with Kerry James Marshall.
---
Mon, 11 May 2020
Bad at Sports Episode 737: Indoor Recess with Michelle Grabner
So much has changed and so much has stayed the same in the art world since 2005. Reaching to the back of the crate for a deep cut, Indoor Recess this week features a interview with Michelle Grabner from episode 12.
---
Wed, 6 May 2020
Bad at Sports Episode 736: Christopher Sperandio and the Fundamental Camarena
This week, we catch up with long time friend of the show Christopher Sperandio at CAA 2020 where he celebrating the publication of two new books. Fundamental Camarena celebrate the work of a generation of Mexican comic book makers through the resuscitation of a forgotten master and Pinko Joe borrows liberally from the cultural archive to build a new narrative around those of us who challenge human greed and profiteering.
---
Thu, 30 April 2020
Bad at Sports Episode 735 Indoor Recess with Temporary Services
Ding ding ding! Time for Indoor Recess! This week the team does a deep dive to 2009 and our interview with seminal Chicago art group Temporary Services and celebrates all the good news in the art world today.
---
Sun, 26 April 2020
Bad at Sports Episode 734: Indoor Recess Brendan Fernandes
Indoor recess cannot be stopped! This week we throwback to our interview with Brendan Fernandes and honor Canada's musical heritage.
---
Wed, 22 April 2020
Bad at Sports Episode 733: Indoor Recess with Edra Soto
The Bad at Sports crew keep their social distance in the forth (and a half) week of Indoor Recess, our series of retro interviews featured in our upcoming Augmented Reality project. Relax and rewind to our conversation with Edra Soto.
---
Mon, 20 April 2020
Bad at Sports Episode 732: Indoor Recess with Amanda Williams
This week Bad at Sports is appearing as Indoor Recess. Collectively, we revisit the brilliance of Amanda Williams as we march towards the release of our augmented reality app (Bad at Reality) and the launch of Artists Run Chicago 2.0 at the Hyde Park Art Center probably August/September 2020.
---
Wed, 15 April 2020
Bad at Sports Episode 731: the Journal of Artist Books and the Center for Book and Paper (and Print)
This week we are joined by the Journal of Artist Books, Brad Freeman, and the Center for Book and Paper, then the Center for Book, Paper, and Print's, Mel Potter. We talk about the closure of these two historic artworld fixtures, the impact on the landscape of Chicago, hole it leaves nationally, And the choice by Columbia College Chicago to close the center and fold it into the department of Art and Art History.
---
Sun, 12 April 2020
Bad at Sports Episode 730: Indoor Recess with Jessica Stockholder
Indoor recess persists this week as the Bad at Sports crew talk podcast walks, colorful garbage, toilet paper paintings, and Thomas Kinkade. All in the service of presenting a throwback episode with living legend Jessica Stockholder.
---
Wed, 8 April 2020
Bad at Sports Episode 729: Today's MFA

This week we check in from CAA 2020 in Chicago and is always at this conference we are discussing the MFA and what it does for you and me and all of us. To help us understand the recent evolution of these degrees we are joined by Ellen Mueller of the Minneapolis College of Art and Design, MK Guth of the Pacific Northwest College of Art, Lisa Iglesias of the University of Florida Gainesville, and Paul Catanese of Columbia College Chicago (yes, that is where Duncan works also.)
---
Mon, 30 March 2020
Bad at Sports Episode 728: Indoor Recess Jim Duignan
Pandemic sends the Bad at Sports team home for Indoor Recess! For the next eight weeks we will be revisiting throwback classic Bad at Sports episodes that are featured in our upcoming augmented reality app. First up this week: Jim Duignan.
---
Thu, 26 March 2020
Bad at Sports Episode 726: Allison Peters Quinn and ARC2.0
If you love artist run spaces and Chicago this is the B@SC episode for you! Today we are joined in the studio by Hyde Park Art Center's Director of Exhibitions, Allison Peters Quinn, to discuss Artists Run Chicago 2.0, opening to the public on April 5th. Allison reflects on the previous iteration of Artist Run Chicago in 2009 and gives us some insight into 2.0, which features 50 artists run spaces and projects with concurrent programming throughout the summer. Stay tuned until the end of the show when we touch on our recent chili competition nerve and Allison compels us to reveal our latest Bad at Sports project.
*Sorry for the delay we were adapting to a changed world. We are going to try and drop thing a little more to schedule on Mondays and Thursdays through this "distancing event."
---
Tue, 10 March 2020
Bad at Sports Episode 726: Aaron Rodgers and Homeroom
The entire Bad at Sports Center trifecta of Dana, Brian and Ryan are back in the studio today with Aaron Rodgers from Homeroom, Randall West from Chicago Composers Orchestra and visual artist Azadeh Gholizadeh to discuss Ten x Ten 2020, a collaborative series pairing 10 visual artists with 10 contemporary composers to create an album and print portfolio with the support of Spudnik Press. West and Gholizadeh discuss their particular process and play us excerpts from West's composition for the project. Ten x Ten is ongoing throughout the rest of 2020 with concerts and exhibitions at various venues throughout Chicago.
---
Mon, 2 March 2020
Bad at Sports Episode 724: Nato Thompson returns
Live from NADA New York... maybe more than a year ago but certainly last time we were at NADA NYC… NATO THOMPSON returns to the show to talk about "seeing power" and how we need to think about our relationship with culture, and culture's relationship with us, especially when we are talking about "high art," "museums," and the tools of hegemony. What's an artist to do?
https://www.newartdealers.org/
https://www.natothompson.com/books-2#/https/wwwmhpbookscom/books/seeing-powe/
---
Thu, 27 February 2020
Bad at Sports Episode 723: Natasha Egan MoCP
This week Brian and Duncan take a trip to the College Art Association conference 2020 and catch up with Natasha Egan from the Museum of Contemporary Photography. This wide-ranging conversation starts with surveillance and their current exhibition "In Real Life" featuring the artists Stephanie Dinkins, Trevor Paglen, Leo Selvaggio, Maija Tammi, José Orlando Villatoro, Xu Bing, and Liam Young and ends with what is the nature of photography in our contemporary world.
https://www.mocp.org/index.php
---
Tue, 25 February 2020
Bad at Sports Episode 723: Peter Ablinger
Philip von Zweck speaks with Seth Brodsky about Gray Sounds, a new experimental sound and music series at the University of Chicago's Gray Center for Arts and Inquiry. On the occasion of the inaugural Gray Sound event Seth, Philip and Zachary Cahill talk with composer Peter Ablinger about "experimental" music, his work, noise, phonorealism, making a piano speak, and a host of other topics.
Peter Ablinger is an Austrian composer living in Berlin. He was recently in Chicago for a series of performances, lectures and an installation as part of Grey Sounds a new series produced by the Gray Center for Arts and Inquiry at the University of Chicago.
Seth Brodsky is the Director of the Gray Center for Arts and Inquiry and Associate Professor of Music and the Humanities at the University of Chicago. He is the author of "From 1989, or European Music and the Modernist Unconscious" (California, 2017), and has published on such topics as opera, influence, and the music of John Cage and Benjamin Britten. He is currently at work on a book about music, psychoanalysis, and repetition.
Zachary Cahill is Director of Programs and Fellowships at the Gray Center for Arts and Inquire and Editor in Chief, Portable Gray.
Philip von Zweck is an artist, occasional curator or writer and was weirdly, briefly faculty in the Conservatory of Music at Brooklyn College, CUNY. From 1995-2010 he was the host and producer of Something Else a weekly radio program of experimental music, sound art, and live performances on WLUW. He would like to thank composer D. Edward Davis for his help on this program.
---
Mon, 24 February 2020
Bad at Sports Episode 722: Alex Chitty, Raven Munsell, and Jack Schneider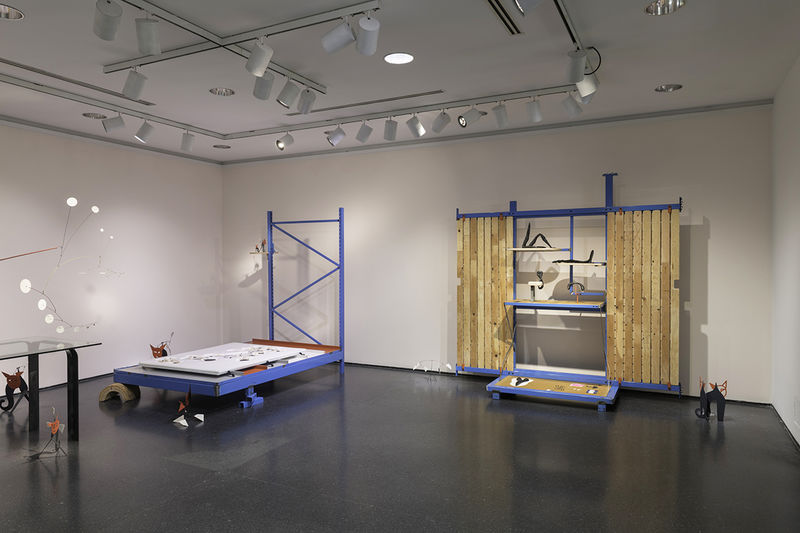 Join Dana and Brian for a conversation with Alex Chitty, Raven Munsell and Jack Schneider, the artist and curators behind the playful and innovative exhibition Becoming the Breeze: Alex Chitty with Alexander Calder on view at the Museum of Contemporary Art through April 12th. We learn about the history of the Ruth and Leonard Horwich Family Loan that mandates the nearly permanent exhibition of Calder's work and the 'breeze' of unseen documentation and labor that supports the beloved mobiles and sculptures.
More information on Becoming the Breeze https://mcachicago.org/Exhibitions/2019/Becoming-The-Breeze.
---
Mon, 17 February 2020
Bad at Sports Episode 721: Ashley Teamer
Join us today on Bad at Sports for a special interview with artist Ashley Teamer. Teamer discusses her latest exhibition, Better Than Me, and her work documenting the female basketball team at Dillard University. We delve into Teamer's aspirations and motivations fueling her work, which includes a new series of billboards featuring Dillard players that will be on view in New Orleans' downtown during the 2020 NCAA Women's Final Four in April.
For more information https://ashleyteamer.com/ and http://www.whateditions.com/.
---
Mon, 10 February 2020
Bad at Sports Episode 720: Terrain 2019 Ross Sawyers and Friends
The Terrain Biennial 2019. Radio Calamity...
So this was expected to be a much longer episode. Then many things no one could control happened...
Principally, it is now an interview with the Chicago based artist Ross Sawyers (who works as the Chair of Photography were Duncan works as the Chair of Art and Art History, Columbia College Chicago) with a couple of short footnotes. We are joined by his son Charlie.
https://terrainexhibitions.org/
What audio survived owes a debit to Tom Burtonwood, Monica Chadha, Holly Holmes, and Richard Medina.
Apologies to Sarah Beth Woods, Lise McKean, and Bhagya Ajaikumar, and everyone scheduled with but not conversed with.
---
Mon, 3 February 2020
Bad at Sports Episode 719: Erik Beehn and Test Site Projects
Erik Beehn and Amanda Browder throw down about the Vegas contemporary art world, printmaking, and the magic of the degraded form.
https://www.testsiteprojects.com/
---
Fri, 31 January 2020
Bad at Sports Episode 718: Maryam Taghavi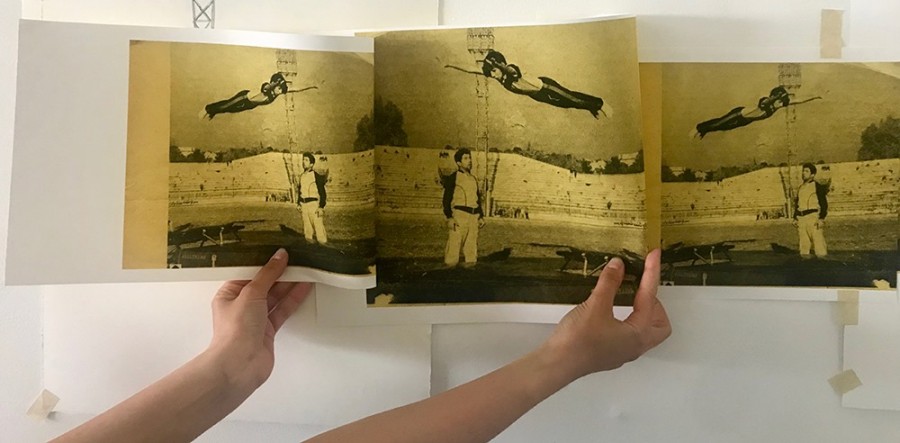 This episode of Bad at Sports Center finds our hosts, Dana and Ryan are over-caffeinated and in the studio with artist Maryam Taghavi. We practice Farsi live on air while we learn about Taghavi's flag project, بیست و چهار هفت or Twenty Four/ Seven, currently on view as part of Roman Susan's Woman's Club at The Cuckoo's Theater, which is on display in Roger's Park through Nowruz (the Iranian New Year) on March 18th. We discuss the artist's upcoming projects, flat experiences of time, and Taghavi takes us on her fascinating journey to Iran to recreate a 1984 photo. More information about Woman's Club can be found at https://romansusan.org/w-club.

You can learn more about Maryam's work at https://www.maryamtaghavi.com/.

---
Tue, 28 January 2020
Bad at Sports Episode 717: Public Works
On this episode of Bad at Sports Center, Dana and Brian are joined in the studio by Josh Zoerner and Chris Eichenseer of Public Works to discuss You Will Die, a frightening premonition which also happens to be the title of the gallery's latest exhibition. Zoerner and Eichenseer take us into the surprisingly delightful world of visual artists working in the realm of death metal music. During the second half of the show our hosts learn more about the history of Public Works, and their resilient space in the Wicker Park neighborhood of Chicago. You Will Die runs through February 14th, with a closing reception and event called Venus Doom: Dark Valentine's Day Party from 7-11pm with DJ sets by Fee Lion and performance by GirlBoifriend.

More information can be found at publicworksgallery.com.
---
Mon, 20 January 2020
Bad at Sports Episode 716: Anastasia Tinari, Selva Aparicio, and Valentina Zamfirescu
Today on Bad at Sports Center, Dana is joined in the studio by guest host Noel Morical for an interview with curator, Anastasia Tinari, and artists Selva Aparicio and Valentina Zamfirescu whose exhibition, Beyond Reach, is currently on view at Roots and Culture through February 22nd. Aparicio and Zamfirescu reveal the intimate and fascinating infrastructure behind the show, which deals with impressions of death and loss through site specific installation. VR, cicadas, cadavers and much, much more on this episode of BASC.

Special thanks to Lumpen's Jamie Trecker for supporting this episode!

More information on Beyond Reach can be found at https://www.rootsandculturecac.org/show/selva-aparicio-and-valentina-zamfirescu/.
---
Thu, 16 January 2020
Bad at Sports Episode 715: Shir Ende and Elliot Doughtie
This week Ryan and Brian chat with artists Shir Ende and Elliot Doughtie with Langer Over Dickie gallerists KT Duffy and Ali Seradge. The unpack movement within architecture, experiencing bathrooms from different perspectives, and the South Side's affinity for cream cheese based dips.
https://www.langeroverdickie.com/pagem
---
Wed, 8 January 2020
Bad at Sports Episode 714: The Leather Archives and Museum
Bad at Sports Center starts off 2020 with nothing less than VELVET, the upcoming Guest Artist Gallery (GAG) exhibition at The Leather Archives and Museum (LAM). Artists Caleb Yono and Melissa Hespelt join us live in the studio along with LAM's archivist Mel Leverich and curator, Vicente Ugartechea. Our hosts Brian and Dana learn about the expansive, community focused kink and fetish collection at the Archive, as well as how Yono and Hespelt and have navigated their glamorous gender queer collaboration to produce the first GAG of the year. VELVET opens January 24th from 6pm-9PM at the Leather Archives and Museum (21+ only). More information at https://leatherarchives.org/.
---