Sun, 30 December 2018
Bad at Sports Episode 668: Suellen Rocca
On this ultimate 2018 episode of Bad at Sports, the team finds themselves in the presence of Chicago legend, Suellen Rocca. Founding member of the Hairy Who, Rocca drops by the studio to illuminate Dana, Duncan, and Ryan on Chicago Art Institute's 50th anniversary survey, Hairy Who? 1966-1969. Rocca also discusses her role as Curator and Director of Exhibitions at Elmhurst College, where she has recently curated, The Figure and the Chicago Imagists: Selections from the Elmhurst College Art Collection. Join us as we experience collective transcendent delight.
---
Fri, 28 December 2018
Bad at Sports 667: Brook Hsu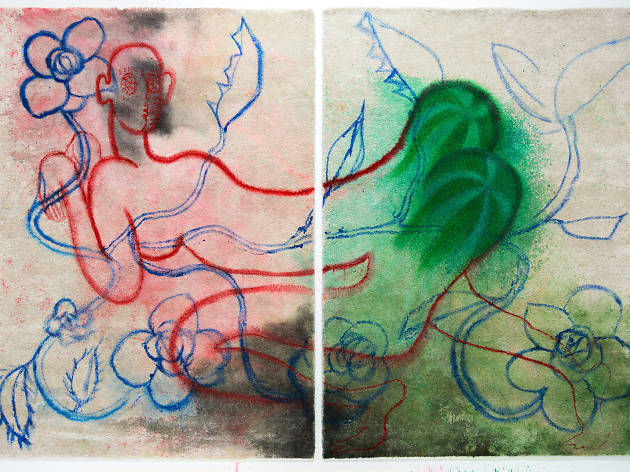 Brook Hsu joins the Bad at Sports Crew this week to discuss her contemporaneous group exhibit at the University of Chicago's Renaissance Society, Let me Consider it from Here. Brian and Jesse lead the listeners on an aural tour of Hsu's paintings and the breadth of her multifaceted, autobiographical practice. It's real and fun and real fun.
---
Tue, 25 December 2018
Bad at Sports Episode 666: Marcel Dzama!!
In this episode Tom Sanford is pulled out of retirement to throw down with Canadian Art all star, Marcel Dzama. We trace his history, the challenges of Winnipeg, Raymond Pettibone, David Zwirner, the Royal Art Lodge, and how drawings should go on tablecloths in Hong Kong.
Duncan swoons a little. It embarrassed everyone.
https://www.davidzwirner.com/artists/marcel-dzama
https://www.davidzwirner.com/artists/raymond-pettibon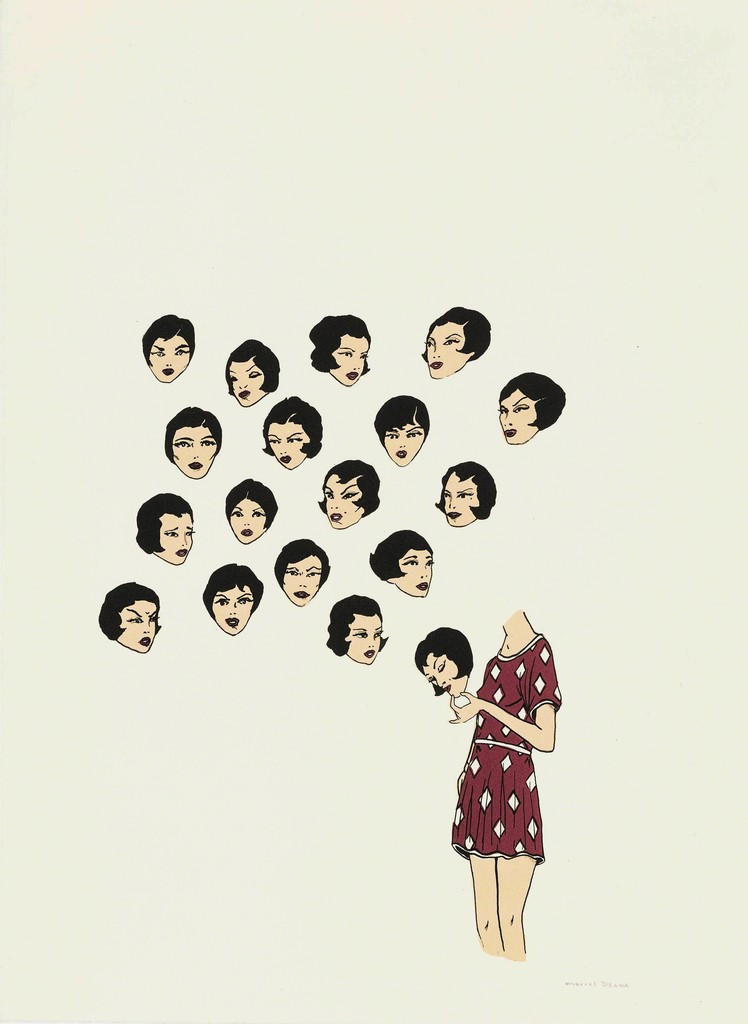 ---
Sat, 22 December 2018
Bad at Sports 665: Fully Booked
Join Bad at Sports at the Chicago Art Book Fair! Starting our series is an interview with Fully Booked's Anthony Tino. We discuss Fully Booked's unique and fascinating approach to sourcing and distributing art books from the Middle East, North Africa, and South Asia, and their work on the Dubai art book fair. Listen in & check out Fully Booked's current Kickstarter campaign for the 2019 edition of the Dubai fair! Link: https://www.kickstarter.com/projects/fullybooked/fully-booked-dubai-art-book-fair-2019?ref=12zwza
---
Wed, 19 December 2018
Bad at Sports Episode 664: Susan Giles and Jeff Carter
Susan Giles and Jeff Carter meet Jesse and Brian for a warm conversation on a cold day. Giles and Carter constitute two-thirds (the third third being BAS friend Faheem Majeed) of a wonderful new show at the Chicago Cultural Center until January 6th. We talk IKEA, gesticulation and gesture, modernism, cultural erasure, scale, materials, architecture, tedium and more, more, more on this episode of Bad at Sports.
---
Tue, 20 November 2018
Bad at Sports Episode 663: Nathaniel Mary Quinn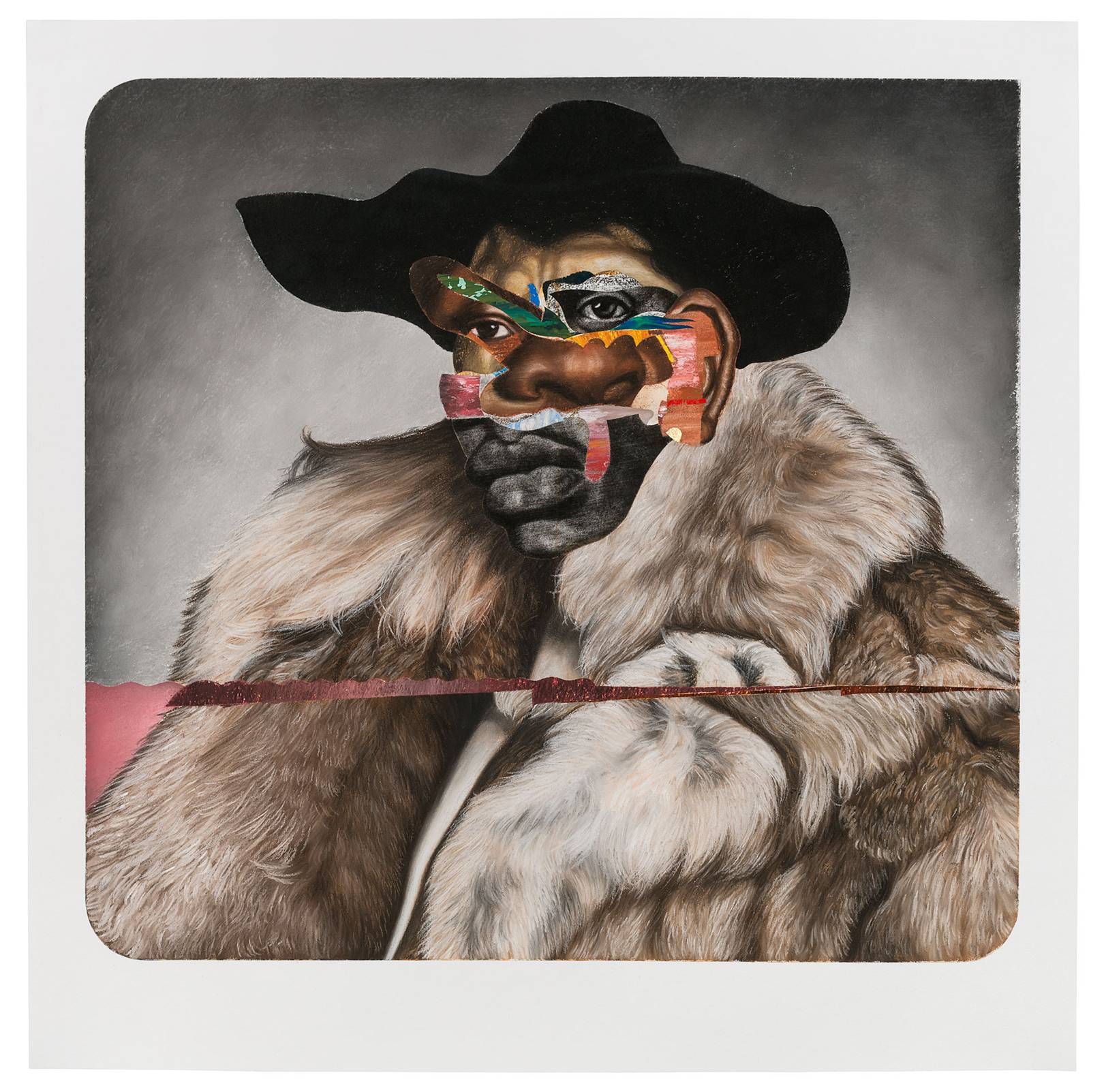 In this episode of Bad at Sports, Dana meets up with Nathaniel Mary Quinn at the Museum of Contemporary Photography to discuss the work on view in "Echoes: Reframing Collage", the companion exhibition to "The Many Hats of Ralph Arnold: Art, Identity & Politics", currently on view through Dec 21, 2018. Come for Quinn discussing his work ethic and personally philosophy on creativity, but stay for the dish on his day with a certain celebrity at the Brooklyn Museum. All this and always more, on this episode of Bad at Sports.
https://www.mbart.com/artists/192-nathaniel-mary-quinn/works/
http://www.mocp.org/exhibitions/2018/10/echoes-identity-and-politics-in-contemporary-collage.php
http://thebottomline.drawingcenter.org/2018/11/16/thoughts-on-for-opacity-with-nathaniel-mary-quinn-elijah-burgher-and-toyin-ojih-odutola/
---
Tue, 13 November 2018
Bad at Sports Episode 662: Nathaniel Stern
This week, Ryan and Dana are pleased to welcome Milwaukee-ite Nathaniel Stern back to the show. We discuss his latest art historical publication, Ecological Aesthetics: artful tactics for humans, nature, and politics. Stern gives our hosts some insight into what he considers Ecological Aesthetics with examples and artists ranging from South African artist Doung Anwar Jahangeer, to the Overpass Light Brigade. Dana gets to say the word marginalia as she tries to discover Ryan's Term Up the Volume. All this and clearly lots more on this episode of Bad at Sports.
---
Mon, 12 November 2018
Bad at Sports 661: Chicago New Media and Jon Cates
On this weeks episode, Dana and Brian nerd out with the impressive and eclectic team behind Chicago New Media 1973-1992, currently on view at Gallery 400 at the University of Illinois, Chicago and presented in partnership with Video Game Art Gallery. Guests Jon Cates, Tiffany Funk, Chaz Evans and Jonathan Kinkley talk us through the major historical moments in Chicago New Media history, including, but definitely not limited to, the midwest origins of Mortal Kombat. Oh, also, we're all wearing costumes.
---
Mon, 22 October 2018
Bad at Sports Episode 660: Matthew Thurber
Duncan and Matthew discuss what the art world feels likes, how a comic can be institutional critique, and what good art might be, all from the basement of Quimby's Chicago!
From Drawn and Quarterly the publisher of Art Comic...
Matthew Thurber's unpredictable practice has included: Mining the Moon, a full length musical play; Moon Tube, a week of movies each made in a single day; an olfactory performance, dressed as a giant nose; Mouse Maze, a mosaic labyrinth installed in an elementary school; Terpinwoe, choreographed noise dance about a carrot-based economy; an interactive novel about handwriting analysis.
As Ambergris and in other ensembles he has performed at the Serpentine Gallery in London, the Hammer Museum, the Fumetto Festival, Abrons Art Center, and in an eyeglass store. He co-founded Tomato House, an art gallery in operation from 2012-2015, with Rebecca Bird. Finally he is the author of 1-800-MICE, INFOMANIACS, and Art Comic. T
hurber resides in New York's Hudson Valley where he is working on animated and live action film projects. He is the operator of Mrs William Horsley, a mobile theater devoted to creating works of narrative experimentation and scientific investigation using puppetry. Thurber curates the Sweet16 Cinema Club, a film series dedicated to watching films on film.
https://www.drawnandquarterly.com/author/matthew-thurber
---
Wed, 17 October 2018
Bad at Sports Episode 659: Beatriz Santiago Munoz
Bad at Sports Center has a full house for today's episode with hosts Jesse Malmed, Dana Bassett & the one and only DJ Super Older Brother in the studio with artist Beatriz Santiago Muñoz and Assistant Director of Exhibitions at SAIC Sullivan Galleries, Hannah Barco. Muñoz & Barco walk us through "Safehouse", the culmination of a two-year project conducted in Puerto Rico and Chicago in partnership with Sullivan Galleries. Muñoz discusses her research into the history of the Puerto Rican Anti-Colonialist Movement, and gives our host some insight into her process and philosophy around the documentary and exploratory style of film and exhibition making. Not to be missed!
---
Sat, 13 October 2018
Bad at Sports Episode 658: Lit y Luz
Dana hosts solo on this episode of Bad at Sports Center featuring curators Esteban King of Espac in Mexico City and Mia Lopez of the DePaul Art Museum, alongside artists Tamara Becerra Valdez and Alejandro Jiménez Flores. Our guests bring us into their textually inspired exhibition "So close, far away" (Tan cerca, tan lejos) which opens Saturday, October 13th at Sector 2327. Sector's last ever exhibition, "So close, far away" is presented in partnership with the Lit y Luz Festival, celebrating and exchanging culture between Mexico City and Chicago. Our guests discuss the discursive and experiential aspects of the show, and Alejandro treats us to a short poetry reading. We threw in a little gossip at the end just for fun. More information about "So close, far away" and Lit y Luz can be found at https://www.litluz.org/.
Super special thank you & shout out to Julie Wi for helping us produce this episode!
---
Fri, 12 October 2018
Bad at Sports Episode 567: Balas and Wax
On this illustrious episode of Bad@SportsCenter, Brian and Ryan chat with the collaborative, Balas & Wax, about their current project Settlement, sponsored by Chicago's Threewalls. Susy Bielak is an artist, writer, curator, and educator, and Fred Schmalz is and artist, poet, and editor. Under their collaborative moniker, the partnership focuses on the peculiarities of contemporary cities, generated from a foundation of ethnographic and journalistic research and healthy touch of the absurd.
---
Wed, 3 October 2018
Bad at Sports Episode 656: Brett Cook
Live from the patio of the Oakland Museum!
Artist, organizer, spiritualist Brett Cook enlightens us on the structure of dialogue and how we as artists can provide platforms for others. we also stared towards the negotiation of power relationships within the visual and the social. We also wrestle with how an audience can more completely understand artists and their production.
All of us struggle with validation in the context of separation and exclusion.
Brett Cook artist of love and support.
---
Tue, 2 October 2018
Bad at Sports Episode 655: EXPO Roundtable
KT Hawbaker and Susan Snodgrass join the cast of Bad at Sports Center for an epic EXPO breakdown. The good, the bad, the who wore it best. Everything you need to know to face your next dinner party.
In conjunction with a Marz Community Brewing event hosted by the galleries of 1709 West Chicago Ave. Were we also released our beer!
KT Hawbaker is a fiercely Midwestern harpy who accidentally became an arts journalist. A graduate of the University of Iowa and SAIC, they cover Chicago's visual art and theater communities, while writing longer features on LGBTQ+ lives and femme healthcare. When they aren't at the Tribune, they produce a sex-positive zine called "pill magazine" and a queer podcast entitled "A Fairy Home Companion."
Susan Snodgrass is a Chicago-based critic and editor of ARTMargins Online. Much of her writing is devoted to alternative models of critical practice and art making, whether exploring new genres of public art or contemporary art in Eastern Europe. Her blog, In/Site: Reflections on the Art of Place, explores art, architecture, and urbanism. She has written for both print and online publications for over 30 years, most notably for Art in America, for which she served as a Corresponding Editor, and more recently for Textile: Cloth and Culture and The SEEN. Her book on the experimental architecture of Ken Isaacs, published by Half Letter Press, is forthcoming in late 2018.
---
Sat, 29 September 2018
Bad at Sports Episode: 654 Neeraja D and Ahmed Ozsever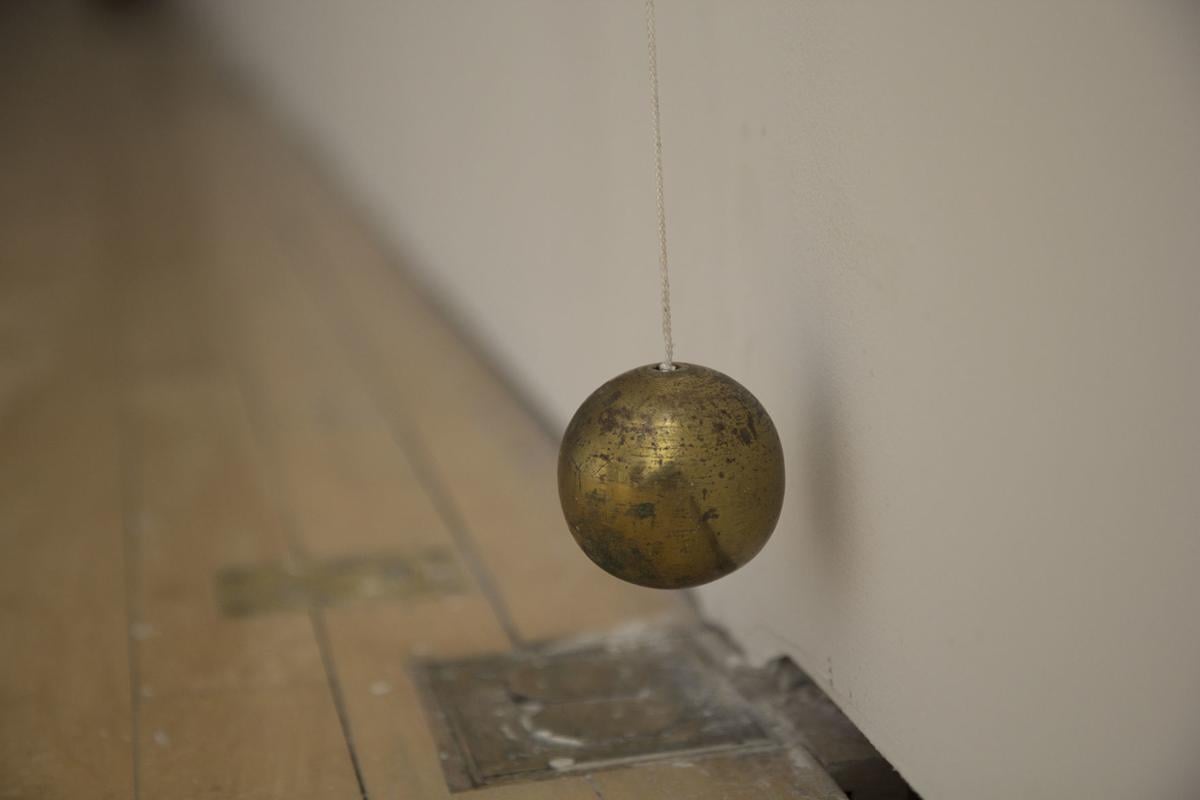 On this episode of Bad @ SportsCenter, we speak with Neeraja D and Ahmed Ozsever about their transnational collaboration N/A. Their exhibit, N/A: An Architectural Ceremony, is currently on display at Carthage College's HF Johnson Gallery, reuniting the duo for an immersive installation featuring photography, printmaking, sculpture, and video. We discuss the function of authorship and international mail and revel in the gentle cacophony of malapropisms, mispronunciations, and misspeak. And a good time was had by all.
---
Fri, 28 September 2018
Bad at Sports episode 653: Jacob Saenz
Poetry? Hell yes we do that.
Bio from the Poetry Foundation:
Poet and editor Jacob Saenz was born in Chicago and raised in Cicero, Illinois. He earned a BA in creative writing from Columbia College in Chicago. His first collection of poetry, Throwing the Crown, was awarded the 2018 American Poetry Review/Honickman First Book Prize and is forthcoming from Coppery Canyon Press.
Saenz has been an editor at Columbia Poetry Review and an associate editor at RHINO. He works as an acquisitions assistant at the Columbia College library and has read his poetry at a number of Chicago venues. A CantoMundo fellow, he has also been the recipient of a Letras Latinas Residency Fellowship and a Ruth Lilly Poetry Fellowship.
---
Fri, 14 September 2018
Bad at Sports 652: David Hockney
This week we have the honor of welcoming David Hockney. One of the world's most celebrated artists David joins us at an amazing time. We catch up with him in the context of his beautiful new show at Richard Gray gallery but we catch him the day before he is expected to become the artists whose work has broken the world record for highest price paid at auction for a work by a living artist. He is pretty chill about it and gives us a little bit of a lesson on perspective and how photography is rotted the Western mind. we also learn what VR might be good for.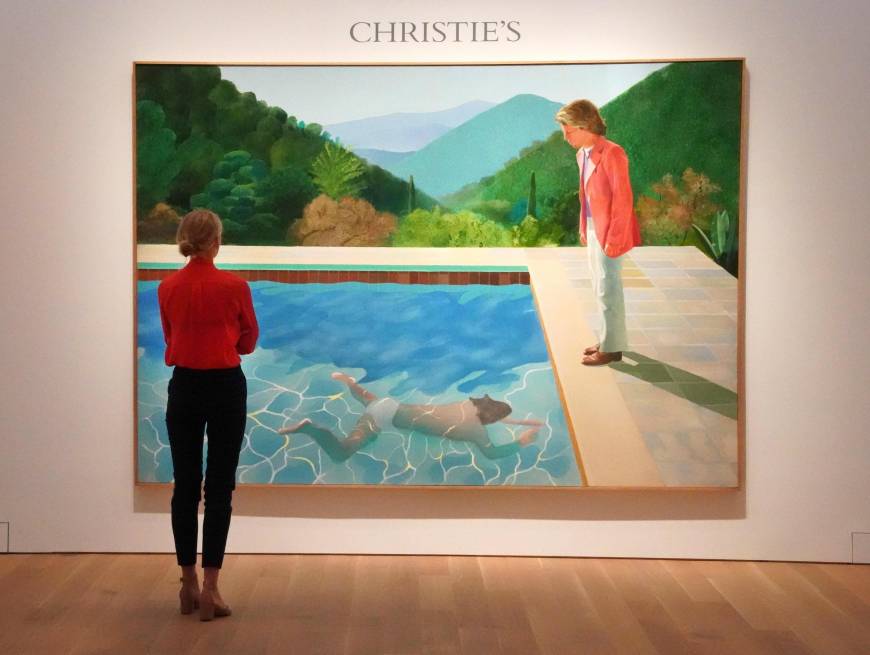 Bad at Sports, not to be outdone and competitive to the last, has news of its own…
On September 25, 2018 bad at sports will become the world's first podcast with its own line of beer. released in conjunction with Mars community brewing the "Artist +/- Beer +/- Jerks = Bad at Sports" hazy IPA is ready to set the world a'drinking.
We the humans of Bad at Sports will celebrate by hosting a couple of beer released parties where you can also get limited-edition Bad at Sports merchandise.
Tuesday, September 25 from 6 to 10 we will be having the ART STILL SUXS drink up at Marz Community Brewing at 3630 South Iron St. where you can hang with the gang from Bad at Sports Center and the team form B@S central while we all enjoy a good cup of ale.
Sunday, September 30th from 1-4 we will join the galleries of 1709 West Chicago Ave, Western Exhibition, Document, Paris London Hong Kong, and Volume Gallery at a Marz tasting event were you can pick up a six or witness us in a couple of guest critics discussing the 2018 iteration of EXPO Chicago live from Volume gallery.
you can come by grab beer, posters, T-shirts, a handsome new pen seen here on David Hockney, (this is an image we blatantly stolen off of Instagram.)
---
Wed, 12 September 2018
Bad at Sports Episode 651: Gonzalo Reyes Rodriguez
And we're back! Join hosts of Bad at Sports Center for our first episode of the Fall season featuring our amazing summer tans and multidisciplinary artist and all around shady queen, Gonzalo Reyes Rodriguez. Rodriguez brings us in to their research process and discusses a new body of work focusing on the Sandinistas and their persistence in US culture. Towards the end of the episode, Gonzalo humors our returning segments, "Term Up the Volume" and "Whats the T". Work by Rodriguez is on view alongside art by Darryl DeAngelo Terrell in their two-person exhibition "Gonzalo Reyes Rodriguez & Darryl DeAngelo Terrell" opening Friday, September 7th and on view at Roots & Culture through October 6th.


---
Mon, 13 August 2018
Bad at Sports Episode 650 Allison Agsten and the Main Museum
This week we catch up with Dana's life crush, Allison Agsten, Director of LA's Main Museum. We chat through founding a museum, LA's art scene, and who has the best bag.
http://www.themainmuseum.org/home
Allison Agsten, you might remember as Curator of Engagement at the Hammer when she appeared on our show with Duncan's life crush Mark Allen, http://badatsports.com/2011/episode-319-mark-allen-and-allison-agsten/
We be crushing yo.
Recorded as part of the B@S radio take over at Lumpen Radio WLPN Chicago for Justice and Open Engagement 2018
---
Thu, 9 August 2018
Bad at Sports Episode 649: Hiba Ali
Hiba Ali rock's the mic on this week's Bad @ SportsCenter, joining Brian and Ryan in the studio. Ali discusses her current curatorial project, U.N.I.T., generated through Roots and Culture's CONNECT residency, and delves into her multifaceted art practice that includes video, installation, fashion, and music.
---
Tue, 7 August 2018
Bad at Sports Episode: 648 Sheehy, Cadieux, and Matteson
Art and Change. Fast and Slow.
We check in with three bright lights of the Minneapolis/St Paul arts community and try to get to the bottom of #soilpractice #socialpractice
How do we make and sustain engagement?
Recorded as part of the B@S radio take over at Lumpen Radio WLPN Chicago for Justice and Open Engagement 2018
Colleen Sheehy is Executive Director of Public Art Saint Paul, an organization that places artists in leading roles to shape urban spaces, improve city systems, and deepen civic engagement.
Valentine Cadieux is Director of the Environmental Studies Program and the Sustainability Program at Hamline University in St. Paul.
https://www.hamline.edu/faculty-staff/valentine-cadieux/
Shanai Matteson is an artist and activist who leads collaborative public art and design projects through Works Progress Studio. She is cofounder of Water Bar & Public Studio.
---
Mon, 23 July 2018
Bad at Sports Episode 647: Jessica Stockholder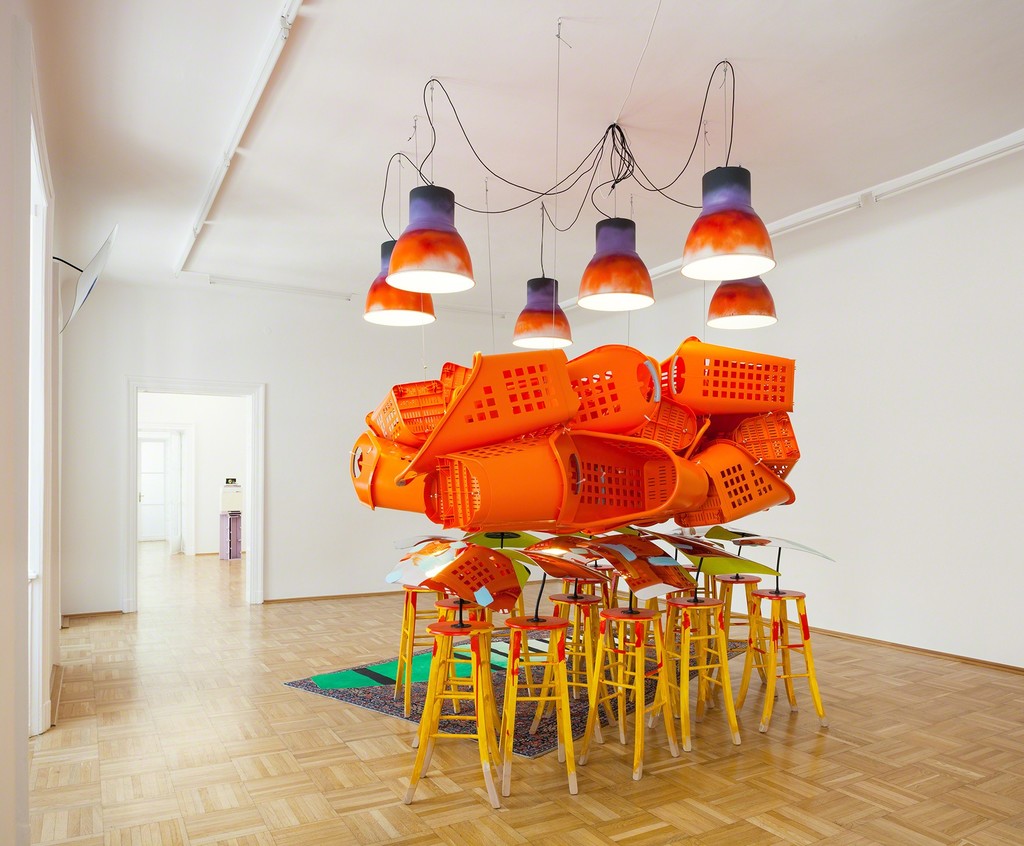 Jessica Stockholder is reticent to be called a living legend, but on this week's episode, Bad@SportsCenter speaks with living legend, JEsSicA sTOckHoLDeR! With an impending sabbatical from University of Chicago, Stockholder will still be doing all of the things, including a year-long residency in Berlin, and upcoming exhibitions at The Contemporary Austin and the Centraal Museum, Utrecht. Our charming discourse addresses her process, materiality, language, and the essentialism of production to existence. Can we get an Amen?!?
---
Thu, 19 July 2018
Bad at Sports Episode 646: Dan Berger Iceberg Projects
This week we bring you a special and timely conversation between our very own Dana Bassett and Dr. Daniel Berger recorded at Iceberg Projects where Berger has curated the current show, "Flesh of My Flesh," an exhibition of painting, film, sculpture, photography and print work by the late David Wojnarowicz. Dan and Dana discuss Wojnarowicz's aesthetic and historical legacy, the AIDS crisis, and the upcoming screening of Films by David Wojnarowicz and Friends, featuring "Silence=Death."

Wojnarowicz's screening takes place this Sunday, July 22nd at Northwestern's Block Museum. More information can be found here: http://icebergchicago.com/davidwojnarowicz.html.

"Flesh of My Flesh" is on view at Iceberg Projects until August 4th.


Full text of the writing referenced in this interview:
When I put my hands on your body on your flesh I feel the history of that body. Not just the beginning of its forming in that distant lake but all the way beyond its ending. I feel the warmth and texture and simultaneously I see the flesh unwrap from the layers of fat and disappear. I see the fat disappear from the muscle. I see the muscle disappearing from around the organs and detaching iself from the bones. I see the organs gradually fade into transparency leaving a gleaming skeleton gleaming like ivory that slowly resolves until it becomes dust. I am consumed in the sense of your weight the way your flesh occupies momentary space the fullness of it beneath my palms. I am amazed at how perfectly your body fits to the curves of my hands. If I could attach our blood vessels so we could become each other I would. If I could attach our blood vessels in order to anchor you to the earth to this present time I would. If I could open up your body and slip inside your skin and look out your eyes and forever have my lips fused with yours I would. It makes me weep to feel the history of your flesh beneath my hands in a time of so much loss. It makes me weep to feel the movement of your flesh beneath my palms as you twist and turn over to one side to create a series of gestures to reach up around my neck to draw me nearer. All these memories will be lost in time like tears in the rain.
---
Thu, 12 July 2018
Bad at Sports Episode 645: Susanne Doremus
Bad @ SportsCenter kicks back this week with Chicago painter, Susanne Doremus, for a delightful exchange over her current show at Devening Projects, Cabinet:1. In her newest exhibition, Doremus has drawn down the emblematic grand scale of her paintings, inaugurating new spaces for her visual lexicon of calligraphic line and exposed revisions. We visit the affinity of drawing and painting, the influence of teaching on studio practice, and the function of audience on the objet d'art.
---
Fri, 29 June 2018
Bad at Sports Episode 644: Chicago Design Museum
On this week's episode Bad @ SportsCenter jaws with Tanner Woodford and Lauren Boegen of the Chicago Design Museum. We find out about the founding of ChiDM, and chat about the current exhibit, Great Ideas of Humanity, a revival of the Container Corporation of America's Great Ideas of Western Man campaign from the mid 20th Century (it sounds so long ago…). Stick around to the end… we get a little graphic.
---
Fri, 22 June 2018
Bad at Sports Episode 643: Sabina Ott and the Terrain Biennial 2017
In this Terrain Biennial "Mega-sode" the full Bad at Sports crew posts up on Sabina Ott's front porch for an all day affair featuring: Ahmed Ozsever/Carrie Cooper/Maggie Leininger (10:14); Alisa Reith/Laura Shaeffer/Matthew Nicholas from Compound Yellow (20:26); Iris Bernblum/Zoe Nelson (28:18); Anna Kunz/Alex Paik from Tiger Strikes Asteroid (39:08); Sabina Ott (50:45); Jenny Kendler/Richard Medina (104:24); and Jesse Malmed (132:32). Buckle up!
https://www.terrainexhibitions.com/
http://sabinaott.com/home.html
http://ahmedozsever.com/home.html
https://www.carrieannacooper.com/
https://www.maggieleiningerart.com/
http://zoenelson.com/home.html
http://www.tigerstrikesasteroid.com/flatfile-chi
http://jennykendler.com/home.html
---
Wed, 20 June 2018
Bad at Sports Episode 642: Fernwey and Chicago Print Crawl
This week Bad at Sports Center welcomes Kate Conlon and Boyang Hou from Fernwey Gallery and the Chicago Print Crawl to chat about the Chicago Print/Art world's blowout Sunday June 24th organized by Spudnik Press and their projects and Damen Avenue artist run space.
---
Fri, 15 June 2018
Bad at Sports Episode: 641 Anna Metcalfe and Holly Hanessian
Live from our Elevator Studio @ Open Engagement: We are joined by Anna Metcalfe and Holly Hanessian to discuss their cohort, The Socially Engaged Craft Collective (SECC), a group focusing on the social aspects historically connected to craft objects and materials. We suss out the intersection of ceramic objects and sustainable models of agriculture and water consumption.
http://www.hollyhanessian.com/
https://sociallyengagedcraftcollective.org/
http://openengagement.info/session/a-story-of-sustenance-the-ceramic-object-as-conduit-for-engagement/
---
Thu, 14 June 2018
Bad at Sports Episode 640: Lizania Cruz aka. We the News
Live from our Elevator Studio @ Open Engagement:
We are joined by the ever-inspiring, Lizania Cruz, who takes us into the world of her latest project, We the News. Cruz discusses her work creating and distributing immigrant-focused publications and products for her nomadic newsstand. We learn the history and future of WTN, including collaborations with Black Alliance of Just Immigration (BAJI) and The Laundromat Project through the first ever, one-year Artist Residency.
---
Wed, 13 June 2018
Bad at Sport Episode 639: Art and Ecology
This week features a soil + social practice mega-interview conducted live at Open Engagement 2018. The conversation includes Francesca Fiore and Hillary Wagner explaining what their collaborative effort SOIL SERIES is, and how the project fits into the context of its rural Appalachian setting. Margaretha Haughwout discusses her project for the conference (Trees of Tomorrow) as well as her work with Guerrilla Grafters. And Sarah Nelson Wright describes the various iterations of the group effort Chance Ecologies. The imaginative and practical potential of soil + social practice connects all these practices and provides the framework for the dialogue.
http://www.treesoftomorrow.life/
http://www.guerrillagrafters.org/
---
Tue, 12 June 2018
Bad at Sports Episode 638: Joan Giroux
Listener Warning: be not confused by the unfamiliar sounds greeting your ears at the outset of this broadcast. Bad @ SportsCenter has a brand-new theme song to introduce this week's guest, artist and educator, Joan Giroux. Inspired by land rights activism in Chicago, Giroux monopolizes the airwaves, discussing her latest project on display at MCA's The Commons Artist Project. Brain and Ryan are faced with the Letterbox Challenge, one of the many interactive modes of play developed by Giroux for this exhibit, advocating the preservation of the city's open green spaces against political and commercial development.
https://mcachicago.org/Exhibitions/2018/The-Commons-Artist-Project-Joan-Giroux
---
Fri, 8 June 2018
Bad at Sports Episode 637: Lindsey French
On this week's Bad at Sports Center, Artist Lindsey French opens up about her ongoing dialog with all things vegetal. French's work is a multi-faceted collaboration with the natural world, giving voice to the photosynthetic, and openly conspiring with the notorious poison ivy. Her most recent project is currently on display in "Plants and Animals," a group show at Bridgeport's The Learning Machine. We make you say "OOO", as we term up the volume over object-oriented ontology, and we review the movies Toy Story and Joel Schumacher's Batman and Robin. Classic.
---
Wed, 6 June 2018
Bad at Sports Episode 636: Haller Baggesen and Leenaars
Join us this week as we welcome Lise Haller Baggesen and Kirsten Leenaars to discuss their artist variety show, Boulevard Dreamers, the next iteration of which will be popping up at the Art Institute this summer. We learn about Leenaars upcoming project at The Haggerty Museum of Art, and Baggesen's recently launched book, a component of the exhibition Poor & Needy organized by Yvette Brackman and Baggesen at the Poor Farm in 2016. All this and more on Bad at Sports Center!

Learn more about Lise: https://lisehallerbaggesen.wordpress.com/
& Kirsten: https://kirstenleenaars.wordpress.com
---
Thu, 31 May 2018
Bad at Sports Episode 635: Mel Chin
Live from our Elevator Studio @ Open Engagement: We are honored to be joined by OE Keynote presenter, and the artist behind "All Over the Place" currently on view at the Queens Museum (and elsewhere), Mel Chin! Chin takes us 'all over the place,' from his origins in Texas, to behind his fight against lead, and his personal connection to the Queens Museum and The 1964/1965 New York World's Fair. We laugh, we cry, and we can't wait for you to hear this interview!
https://www.queensmuseum.org/2017/11/mel-chin-2
---
Wed, 30 May 2018
Bad at Sports Episode 634: Jessie McLaughlin
Live from our Elevator Studio @ Open Engagement: We are joined by presenter, Jessie McLaughlin, an artist from the other side of the pond with a mission to get conference attenders on their feet and in their critical mind. We discuss being bad at sports (a favorite of ours), stigma and Serena Williams. What more could you ask for?
---
Tue, 29 May 2018
Bad at Sports Episode 633: Erika Pettersen of Haiti Cultural Exchange
Live from our Elevator Studio @ Open Engagement: We are joined by Erika Pettersen of Haiti Cultural Exchange to learn about Lakou NOU ("Our Yard" in Haitian Creole), a program providing four artists of Haitian descent with the opportunity to create and present new work while connecting their skills and talents to four traditionally underserved Brooklyn neighborhoods.
---
Fri, 25 May 2018
Bad at Sports Episode 632: Chloë Bass
Live from our Elevator Studio @ Open Engagement: We are joined by Chloë Bass who takes us through the intriacies of her exhibition, The Book of Everyday Instruction, currently on view at the Knockdown Center. We follow her journey through the book of an exhibition and find out what is next for this multiform artist.
---
Thu, 24 May 2018
Bad at Sports Episode 631: Keeley Haftner
Live from our Elevator Studio @ Open Engagement: We are joined by presenter and friend of the podcast, Keeley Haftner, for a riveting discussion on making and unmaking, how to create a sustainable practice, recycling and what actually goes down in sorting facilties.
---
Wed, 23 May 2018
Bad at Sports Episode 630: Lucy Lippard
Live from our Elevator Studio @ Open Engagement: We are honored to be joined by OE Keynote presenter, the one and only Lucy Lippard! We find out what Lippard has been up to in New Mexico, her local newsletter, and Amanda and Dana vie for an invitation to move into her village. Hopefully you can hear us over the background sounds!
---
Tue, 22 May 2018
Bad at Sports Episode 629: Susan Jahoda, Emilio Martinez Poppe, Caroline Woolard (BfaMfaPhd)
Live from our Elevator Studio @ Open Engagement: We are joined by the creative minds behind BfaMfaPhd (Susan Jahoda, Emilio Martinez Poppe, Caroline Woolard) and their info-tapestry on the lifecycle of a project. Our guests give us insight into their OE presentation on support, guide us through the their tapestry, and give us the "down low" on upcoming project launches.
---
Wed, 16 May 2018
Bad at Sports Episode 628: Lori Waxman
This week we are joined in the studio by real life art critic for the Chicago Tribune and senior lecturer at the School of the Art Institute, Lori Waxman, to discuss her latest book Keep Walking Intently: The Ambulatory Art of the Surrealists, the Situationist International, and Fluxus Walking. We learn some art history, discuss the implications of walking-while-female, and Waxman connects her work to some favorite contemporary practitioners like Janet Cardiff and Chicago's own Hui-min Tsen. This and more on this episode of Bad at Sports Center.
---
Tue, 8 May 2018
Bad at Sports Episode 627: Kimi Hanauer
This week on Bad at Sports Center Ryan and Dana are joined in the studio by Kimi Hanauer, an artist, cultural organizer, publisher and writer in Chicago for the opening of "All Positions Depend," curated by Josh Rios at ACRE Projects. Hanauer provides insight into her installation "On Allegiance," detailing her investigation into early formations of citizenship and the origins of White Supremacy in the United States. We also learn about Press Press, a Baltimore based interdisciplinary publishing initiative, and their work with immigrant youth. Towards the end of our show, co-host RPM 'terms up the volume' with some cutting edge words. All this & more on this weeks episode of Bad at Sports Center!
Learn more about Kimi's work at https://www.kimihanauer.com/ & http://presspress.info/.
All Positions Depend is on view at ACRE Projects (1345 W 19th Street) through May 20th. More information can be found here (link: https://www.facebook.com/events/879921235512790/?ref=br_rs).
---
Sat, 5 May 2018
Bad at Sports Episode 626: Cameron Granger
Tune in to hear Brian and Dana interview Cameron Granger, artist and curator of the recent Video Playlist Program "Ten Toes Down." Granger explains his Video Playlist response to the exhibition In Their Own Form currently on view at The Museum of Contemporary Photography and we discuss speculative versions of Afrofuturism, 3D animation, and find out which vine is Cam's least favorite. Yeah, we didn't realize vine was still around either. All this and more on Bad at Sports!

In Their Own Form is on view at MoCP through July 8th, 2018.
---
Mon, 30 April 2018
Bad at Sports Episode 625: Ann Toebbe
This week on Bad at Sports Center, Ann Toebbe joins Brian, Ryan and Dana in the studio to discuss the painting in her current 2 person exhibition, At Home, currently on view at Carthage College's H. F. Johnson Gallery of Art. Toebbe walks our host through her singular process of transforming memories and her day to day life into intentionally flat and beautifully complicated canvases. Learn more about At Home and Toebbe at
https://www.carthage.edu/art-gallery/exhibitions/ & https://www.anntoebbe.com/.
---
Fri, 27 April 2018
Bad at Sports Episode 624: Gwendolyn Zabicki
This week in the studio, Gwendolyn Zabicki swept in to reflect on her love of painting, as Dana and Ryan get a glimpse into her sparkling studio practice. Gwendolyn decries the onerousness of curating, sharing her prolific pursuits of wrangling some big group painting exhibitions. Dana hints at a deep dish about the upcoming Open Engagement close to the chest and Ryan keeps his definition of brachylogy brief.
---
Thu, 19 April 2018
Bad at Sports Episode 623: Alex Katz
This episode is one for the [art] history books. Sit back and relax as you listen to Dana and Duncan get schooled by the greatest living painter to ever grace this lowly little podcast, an artist who literally needs zero introduction, Alex Katz. We discuss the brand new paintings in his recently opened exhibition, Grass and Trees, Alex's interest in "fancy painting," and how one develops style and technique in their work. Our hosts even get a much-needed lesson on fashion in this episode of Bad at Sports.
Alex Katz's Grass and Trees is on view at the Richard Gray Gallery Warehouse through June 2, 2018
---
Tue, 3 April 2018
Bad at Sports Episode 622: Gabe Holcombe of Lillerne Tapes
This week on Bad at Sports Center, Gabe Holcombe of Lillerne Tapes joins Brian Andrews, Dana Bassett and special guest host, smaller Dana (aka Alexis Bassett aka DJ Lil Sis), to discuss ten years of cassette releases and what types of audio are, and are not, allowed in prison. Enjoy some smooth jams as Holcombe previews the latest Lillerne releases. More information available at http://www.lillernetapes.com/.
---
Sat, 24 March 2018
Bad at Sports Episode 621: Daniel G. Baird
This week in the studio, we enter the virtual cave of sculptor, Daniel G. Baird. Dana and Ryan join Daniel in traversing the temporal expanse, dragging the prehistoric into the hyperreality of the Anthropocene. We muse on the museological and disambiguate our guest from his 90's roots rock alter ego. Daniel's current solo exhibition, "on the water," is on display at New York's Grimm Gallery and is additionally featured in "Unthought Environments," at the Renaissance Society.
---
Mon, 19 March 2018
Bad at Sports Episode 620: Karsten Lund

Karsten Lund is Assistant Curator at The Renaissance Society with recent curated exhibitions including Ben Rivers em>Urth and Sadie Benning's Shared Eye. Previously, Lund was Curatorial Assistant at the Museum of Contemporary Art Chicago, contributing to major group exhibitions including The Way of the Shovel: Art as Archaeology and The Freedom Principle: Experiments in Art and Music, 1965 to Now.Additionally, he has produced curatorial projects at other venues, including the Museum of Contemporary Photography, New Capital Projects, Hyde Park Art Center, and a factory shortly before its demolition.
UNTHOUGHT ENVIRONMENTS
Start with the ancient elements—earth, water, fire, air—and then expand your view of our elemental world. Think about sunlight, weather systems, rare earth minerals, and electromagnetic forces, to name only a few other things. Phenomena like these are integral to our daily lives but they can be elusive, easily forgotten, or deliberately kept out of sight: the hidden components of our virtual worlds, factors in geopolitics, or deeper influences on human habits and cultures. What are our "unthought environments" today? Our elemental surroundings become another kind of vital infrastructure, seemingly there to be used and overlooked, but the elements have shaped us, too, and sometimes they veer into the foreground.
Unthought Environments is informed by evolving discussions in various fields, including media studies, ecology, and philosophy. Against this backdrop, new and recent artworks offer a set of explorations with different focal points in the elemental sphere as it intersects with our more human-made domains. The artists' videos, sculptures, photographs, installations, and digital images delve into the state of water in multiple countries; the mining operations that feed our computers; the effects of the sun; electromagnetic fields made visible; dust storms; and other phenomena brought to life.
Curated by Karsten Lund.
---
Mon, 12 March 2018
Bad at Sports Episode 619: Emily Eddy
Today on Bad at Sports(center center center center), curator and media artist Emily Eddy joins Ryan, Diana and Jesse in the cave to discuss this weekend's Onion City Experimental Film and Video Festival, which she curated. We talk the talk about talking about moving images (which used to be movies and before that films and at some point in there videos), about recent trends in the field, about programming strategies, about the Nightingale's tenth anniversary (!!!) and what it is teens are or are into. It's probably radio and probably newspapers, but who knows.

Emily Eddy is a film, video, and digital media artist and curator based in Chicago. She graduated from The School of the Art Institute of Chicago in 2013, where she received her Bachelors in Fine Arts. She has been curating film, video, and new media works at the Nightingale Cinema in Chicago since 2013, and she has worked with the screening series and online video curation project Video! Video! Zine since 2016. Emily has curated and programmed screenings at many venues in Chicago, as well as in Los Angeles, Reykjavik, Iceland, and her hometown, Portland, Oregon.
---
Thu, 1 March 2018
Bad at Sports Episode 618: Frank Mauguri
Rituals and Ceremonies abound as Brian and Jason sit with Frank Mauguri, Creative Director of Cabinet of Curiosity Events and the legendary Red Moon Theater. Frank unpacks his creative journey through the frames of spectacle, intimacy, and and a chilling brain diagnosis.
https://www.cocechicago.com/
---
Fri, 23 February 2018
Bad at Sports Episode 617: Jennifer Vanilla
This week on Bad At Sports Center, Jesse and Dana wax on in anticipation of an otherworldly interview with Becca Kaufman, aka Jennifer Vanilla. A hybrid character given to live performance, music, and stand up, Vanilla joins us to discuss her current tour and what she has cooking when the Queen returns to Queens.
---
Wed, 21 February 2018
Bad at Sports Episode 616: Jennifer Bastian
Hosts Brian Andrews and Dana Bassett welcome photographer Jennifer Bastian and the triumphant return of DJ Super Older Brother, Duncan Mackenzie. Bastian elucidates the art of unpacking trauma, human connection, and we put out even more opinions on the recently unveiled Smithsonian Obama portraits into the world. Oh, and, Dana got married. All on this episode of Bad at Sports Center.
---
Wed, 14 February 2018
Bad at Sports Episode 615 W.I.T.C.H.es
Contemporary Witches join us to smash the patriarchy. Jessica Caponigro, Chiara Galimberti, and Isyemille Lara introduce us to the "Women's International Terrorist Conspiracy from Hell" and give us one last chance to repent.
---
Mon, 12 February 2018
Bad at Sports Episode 614 Donna Neuwirth and Su Legatt
This week We head back to Open Engagement and we talk to Donna Neuwirth and Su Legatt about "the Worm Farm Institute," Creative Placemaking, The practice of art in rural and urban environments, empathy, and community.
https://wormfarminstitute.org/about-the-wormfarm/about/
---
Fri, 9 February 2018
Bad at Sports Episode 613 Marcela E Torres
This week in Bad @ Sports Center, sport gets a sporting chance, as guest Marcela Torres discusses her new work at ACRE's group exhibit, body | armor. Jesse and Ryan bob and weave through a lively conversation about MMA fighting, the spectacle of suffering, and the value of labor. Let's Get Ready to Mumble!
---
Thu, 1 February 2018
Bad at Sports Episode 612 Naghmeh Farzaneh
This week Ryan and Brian sit down with Animator Naghmeh Farzaneh to chat about what it is like to animate for the ACLU and unpacking her immigration experience in the film Scent of Geranium.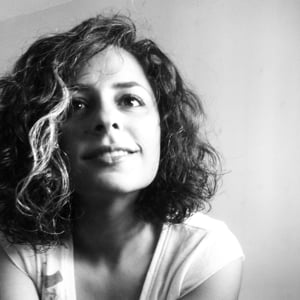 ---
Sat, 27 January 2018
Bad at Sports Episode 611: Vincent Uribe and Lauren Leving
Brian and Dana interview representatives, Vincent Uribe and Lauren Leving, from The Arts of Life on the occasion of the Circle Contemporary exhibition titled Community in Color, featuring artists from their studio and selections by curator, Leving. Our hosts learn about The Arts of Life studio program and the 60 artists they work with between their Chicago and Glenview locations. More info at http://artsoflife.org/.
---