Fri, 26 May 2017
Bad at Sports Episode 590: Naima Keith and Ian Weaver
This week we check in with Naima Keith and Ian Weaver...
Naima Keith Deputy Director of Exhibits and Programs at the California African American Museum and Chicago Art rocker and roller Ian Weaver join the show to talk about the Artadia Granting program, (COOK COUNTY - YOUR ARTADIA APPLICATIONS ARE DUE ON THE FIRST OF JUNE,) Museum Challenges, tindering artists, programing at CAAM, Pilsen and the Little Village, inventing histories for communities which have suffered erasure, the Black Knight Archive, and how facing the past helps us find the future.
The T is rich this week with a bizarre and public fight on Facebook between two prominent Chicago Art worlders, the South Side Weekly digs deep into Theaster Gate's Rebuild Foundation, and the Chicago Torture Justice Center Opens today!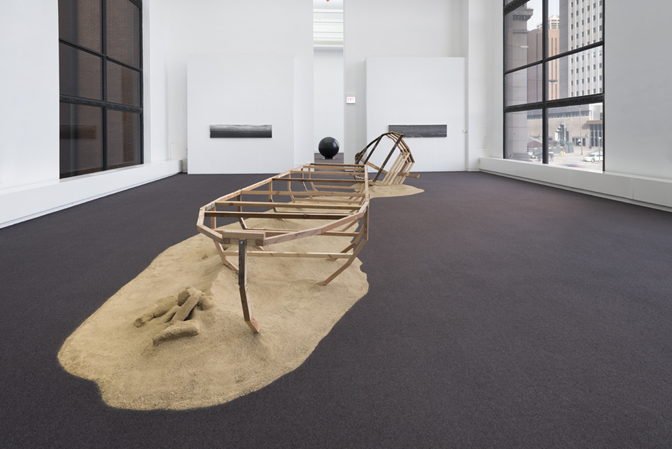 ---
Thu, 25 May 2017
Bad at Sports Episode 589: Ionit Behar
Ionit Behar!!!
This week we are joined by Spertus Curator and Independent force Ionit Beher.
We talk Spertus, Ben Shahn, Fieldwork Collaborative, the Chicago Parks District and Public Spaces, field houses and the "More Strange then True," the tension of Public Trust, and The bathroom as the site of the new Avante Garde.
Enjoy!
---
Mon, 15 May 2017
Bad at Sports Episode 588: Deana Haggag
This week Bad at Sports Center is joined by Deana Haggag! The newly appointed President and CEO of United States Artists!
From Deana Haggag's site...
Deana Haggag is the President & CEO of United States Artists, a national arts funding organization based in Chicago, IL. Before joining USA in February 2017, she was the Executive Director of The Contemporary, a nomadic and non-collecting art museum in Baltimore, MD, for four years. In addition to her leadership roles, Deana lectures extensively, consults on various art initiatives, contributes to cultural publications, and has taught at institutions such as Towson University and Johns Hopkins University. She is on the Advisory Board of Recess and Council of Common Field, and has served as a member of the Affiliates Board for the Museums and Society Program at Johns Hopkins University and StageOne/FANS council at the Baltimore School for the Arts. She received her MFA in Curatorial Practice from the Maryland Institute College of Art and a BA from Rutgers University in Art History and Philosophy.
She is proudly a first-generation Egyptian-American Muslim woman of Afro-Arab descent.
She currently lives between Chicago and Baltimore.
---
Tue, 9 May 2017
Bad at Sports Episode 587: Paul Hopkin and Jason Dunda
Paul Hopkin drops by to talk about surviving your art world, running a gallery and cultural enterprise, and what it is like to be late. Jason Dunda pinch hits while wait for Paul and talks about PAINTING. He also mentions support he has received from the Canada Council. We all take a moment to remember Vito Acconci and his seminal work: Seed Bed.
All and all this is a banter filled tart. Enjoy.
---