Mon, 14 December 2015
Bad at Sports Episode 535: Noah Lyon
This week: Amanda believes the children are the future, she thinks you should teach them well and let them lead the way. Amanda wants to show you all the beauty you possess inside.
Noah Lyon decided long ago, never to walk in anyone's shadow, if he fails if he succeeds, at least he'll live as he believes.
No matter what we take from you, fine listeners, you are in the art world, you abdicated your dignity second semester your freshman year, who are you kidding.
Holy shit those lyrics work really well here.
---
Thu, 3 December 2015
Bad at Sports Episode 534: Jitish Kallat
This week, Mumbai-based artist Jitish Kallat returns to Bad at Sports, this time from San
Francisco, where he sits down with Patricia Maloney. Listeners may remember Kallat's
first appearance on the podcast on the eve of the opening for his large-scale installation,
Public Notice 3 (2010-11), in the Fullerton Hall stairwell of the Art Institute of Chicago.
Kallat, one of the most prominent figures of contemporary Asian art, works across a
variety of media, including painting, sculpture, photography, installation, and video. He
was the curator for the Kochi-Muziris Biennale, India in 2014. This year, Kallat has had
several solo exhibitions, including Jitish Kallat: Public Notice 2, at the Art Gallery of
New South Wales in Sydney. His Paris exhibition, The Infinite Episode, opened at the
Galerie Templon in September 2015. Kallat's large permanent public sculpture unveiled
in Austria in October 2015.
His solo exhibitions include Epilogue (2013-14) at the San Jose Museum of Art; Circa at
the Ian Potter Museum of Art, Melbourne, Australia (2012); Fieldnotes: Tomorrow was
here Yesterday at the Bhau Daji Lad Museum, Mumbai, India (2011); Likewise at Arndt,
Berlin, Germany (2010); The Astronomy of the Subway at Haunch of Venison, London,
UK (2010); Aquasaurus at the Sherman Contemporary Art Foundation, Paddington,
Australia (2008) and Lonely Facts at the Kunsthalle Luckenwalde, Luckenwalde,
Germany (1998).
Kallat has participated in major exhibitions, including: India: Art Now at the Arken
Museum, Ishoj, Denmark (2012-13); Indian Highway IV at MAXXI, Rome, Italy (2012)
and at Musée d'art contemporain de Lyon, Lyon, France (2011); The Empire Strikes
Back: Indian Art Today at Saatchi Gallery, London, UK (2010); Chalo! India: A New Era
of Indian Art at Essl Museum – Contemporary Art, Klosterneuburg, Austria and at Mori
Art Museum, Tokyo (both 2009), as well as Indian Highway at the Serpentine Gallery,
London, UK (2008-09); Die Tropen. Ansichten von der Mitte der Weltkugel at Martin-
Gropius-Bau, Berlin, Germany (2008); Urban Manners at Hangar Bicocca, Milan, Italy
(2007) and Century City at Tate Modern, London, UK (2001).
---
Wed, 25 November 2015
Bad at Sports Episode 533: Dread Scott
This week we are totally ashamed of Chicago and are collectively horrified by the Tragic death of Laquan McDonald. #blacklivesmatter
We are joined by venerable Dread Scott to talk through the problems and possibilities that exist in contemporary America.
---
Wed, 11 November 2015
Bad at Sports Episode 532: Nancy Lupo and Laylah Ali!
This week: Recorded live on stage September 18, 2015 at Expo Chicago as a part of the Dialogs series, we talk to Nancy Lupo and Laylah Ali!

You have to tell them...Soylent Green is people!!
https://www.youtube.com/watch?v=9IKVj4l5GU4
---
Fri, 6 November 2015
Bad at Sports Episode 531: Ben Tanzer
This week we are joined by the Emmy Award winning novelist, screen writer and Chicago based social worker, Ben Tanzer thanks go out to Columbia College Chicago's "Late Late Afternoon Show."
Ben's blog and Podcast This Will Change your Life has treated the literary world much like B@S has treated the Contemporary Art world. It is worth checking out.
---
Thu, 29 October 2015
Bad at Sports Episode 530: Nina Katchadourian
Real show note to follow.
---
Tue, 20 October 2015
Bad at Sports Episode 529: Chances Dances with Latham Zearfoss
This week we present an interview recorded live at EXPO Chicago with Latham Zearfoss one of the leaders of a decade long party called Chances Dances. You will have to tune in to almost, but not quite, the end where we actually break a little news.
You have time to catch their Gallery 400 show or hit them up on the internet at http://www.chancesdances.org/. Turns Out they know how to party, with everyone.
They continue to run two parties a month...
THIRD SATURDAYS at The Subterranean
2011 W. North Ave., Chicago, IL
10pm-3am / $5 Cover
SECOND TUESDAYS at Danny's
1959 W. Dickens Ave., Chicago, IL
10pm-2am / FREE
---
Tue, 13 October 2015
Bad at Sports Episode 528: Alfredo Cramerotti, Malerie Marder, and Cauleen Smith.
This week we present literally exactly what happened when Duncan did this:
EXPO VIDEO | Alfredo Cramerotti In Conversation
Featuring Alfredo Cramerotti, Director | MOSTYN and 2015 EXPO VIDEO Curator Malerie Marder, Artist and Cauleen Smith, Artist. Moderated by Duncan MacKenzie, Bad at Sports
Internationally acclaimed curator in film, video and new media Alfredo Cramerotti will be in conversation with Bad at Sports discussing the 2015 EXPO VIDEO program. Based in the UK, Cramerotti's work explores the relationship between reality and representation across TV, radio, publishing, critical writing, photography and curatorial exhibitions. His research includes the theory and practice of "aesthetic journalism," a concept he created to investigate the relationship between contemporary exhibitions and elements of interview, documentary and reportage.
---
Tue, 6 October 2015
Bad at Sports Episode 527: Hou Redux
Bad at Sports finishes our 5 episode look back with a return to the cultural impact of Hou Hanru. He casts a shadow that has only grown longer in the 8 years since we originally aired this interview. We are excited to return to his thinking right after his appointment to the Guggenheim as Consulting Curator to The Robert H. N. Ho Family Foundation Chinese Art Initiative.
---
Tue, 29 September 2015
Bad at Sports Episode 526 AA Redux
This week we look back at our interview with AA Bronson founding member of General Idea and Printed Matter.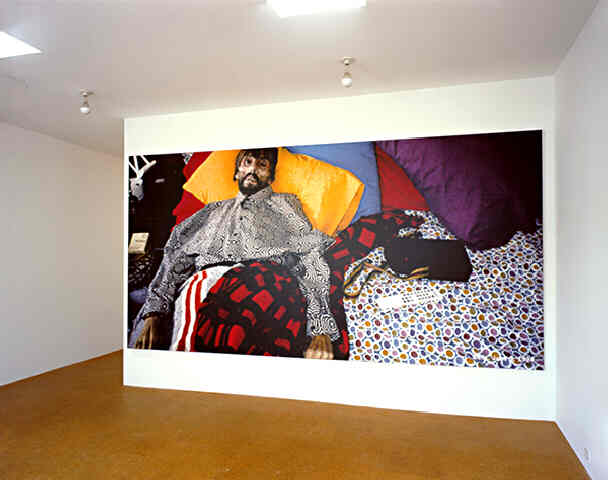 ---
Mon, 21 September 2015
Bad at Sports Episode 525: Polly Apfelbaum
The return of the Amanda Browder Show!!!
She brings back her favorite memory from episodes past...
Polly Apfelbaum!!!
---
Tue, 15 September 2015
Bad at Sports Episode 524 - Luc Redux
As we look back on ten years we pull a second episode back into the light... Luc Tuymans!
We also reflect a little on how next week is EXPO Chicago week.
---
Sat, 5 September 2015
Bad at Sports Episode 523: Check Sunday's Trib
This week: As there is a lovely write-up on us in the paper, we pull our most popular episode out from the vault, blow the dust off, lovingly re-present our interview with the brilliant Kerry James Marshall for your enjoyment. If you are a first time listener please browse the archive there is some fun stuff.
Love and Kisses,
RH
---
Tue, 1 September 2015
Bad at Sports Episode 522 Brian and Patricia Unbury Their Secrets
Brian and Patricia celebrate Bad at Sports's West Coast Bureau's aniversary a couple of weeks early.
Patricia filled this as the show note...
If I could turn back time
If I could find a way I'd take back those words that hurt you and you'd stay

I don't know why I did the things I did I don't know why I said the things I said
Pride's like a knife it can cut deep inside
Words are like weapons they wound sometimes.

I didn't really mean to hurt you I didn't wanna see you go I know I made you cry, but baby

[Chorus:]
If I could turn back time
If I could find a way
I'd take back those words that hurt you
And you'd stay
If I could reach the stars
I'd give them all to you
Then you'd love me, love me
Like you used to do

If I could turn back time

My world was shattered I was torn apart
Like someone took a knife and drove it deep in my heart
You walked out that door I swore that I didn't care
But I lost everything darling then and there

Too strong to tell you I was sorry
Too proud to tell you I was wrong
I know that I was blind, and ooh...

[Chorus]

Ooohh

If I could turn back time
If I could turn back time
If I could turn back time
ooh baby

I didn't really mean to hurt you
I didn't want to see you go
I know I made you cry
Ooohh

[Chorus #2]
If I could turn back time
If I could find a way
I'd take back those words that hurt you
If I could reach the stars
I'd give them all to you
Then you'd love me, love me
Like you used to do

If I could turn back time (turn back time)
If I could find a way (find a way)
Then baby, maybe, maybe
You'd stay

[to fade]
Reach the stars
If I could reach the stars
---
Mon, 24 August 2015
Bad at Sports Episode 521: Terrain!
This week: Duncan will put a note here soon!
---
Mon, 17 August 2015
Bad at Sports Episode 520: 10 Years of Bad at Sports! The James Elkins art history farewell party
This week: TEN YEARS MAN...TEN YEARS!! This week we bid a sad farewell to our good friend James Elkins who has told art history "It isn't you, it's me, but at this point in my life I feel like I can't be tied down to a genre, I need to be free to see other modes of writing." Yes, it is true Art, he sat down for our interview and said ""you don't have Elkins to kick around any more, because, gentlemen, this is my last press conference."
Now wait. That was Nixon. Whatever. Anyways, James Elkins, super brilliant guy, most frequent guest in the history of Bad at Sports, returns again to tell us what comes next for him in his merry adventures.
---
Mon, 10 August 2015
Bad at Sports Episode 519: Katya Grokhovsky
This week: The return of the The Amanda Browder Show! we talk with artist Katya Grokhovsky from her exhibition/residency at Soho20 in NYC. We talk about her work, performance as a medium, artist as curator and her discussion panels surrounding feminism, and the contemporary art world.
www.katyagrokhovsky.net
http://katyagrokhovsky.tumblr.com/
http://feministurgent.tumblr.com/
http://soho20gallery.com/opportunities/artist-in-residence-studio-program/

Katya Grokhovsky is an interdisciplinary artist, curator, educator and organizer, whose work deals with issues of alienation, gender politics and migration. Grokhovsky holds an MFA from the School of the Art Institute of Chicago (2011), a BFA from Victorian College of the Arts, Australia (2007) and is a recipient of numerous fellowships, residencies and awards including SOHO20 Chelsea Gallery Residency (2015), BRIC Media Arts Fellowship (2015), VOX Populi AUX Curatorial Fellowship in Performance, Philadelphia (2015), New York Studio Residency Program Visiting Artist (2015), Residency Unlimited (2014), Kimmel Harding Nelson Center for the Arts, (2014), Saltonstall Foundation for the Arts (2013), NARS Residency (2013), Santa Fe Art Institute Residency (2012), Watermill Center Summer Residency (2011), Dame Joan Sutherland Fund Grant (2013), Australia Council for the Arts ArtStart Grant (2013), NYFA Mentoring Program for Immigrant Artists (2012), Chashama space to create grant (2012). Her work has been exhibited in venues such as Lesley Heller Workspace (2015), Judith Charles Gallery (2015), Dixon Place (2015), Spring Break Art /Show (2015), EFA Project Space (2014), HERE Arts Center (2014), Art in Odd Places NYC (2014), SAW - Storefront Art Walk Bay Ridge (2014), Gateway Project (2014), A.I.R Gallery Projects, Governor's Island (2014), Amelie A. Wallace Gallery, SUNY College (2014), Panoply Performance Lab (2014), New York City Center Lobby Projects (2013), Galerie Protege NYC (2013/14), IDEAS City, New Museum (2013), Gallery Affero (2013), Movement Research Festival (2012), Chashama (2012), Ukrainian Institute of America (2012), Grace Exhibition Space (2012-14), The Franklin (2013), Antena gallery (2013), Defibrillator gallery (2011/13), Bus Projects (2012), Heaven gallery (2010), amongst many others.
Details for image:
Katya Grokhovsky, One Fine Day, 2014. photo Yan Gi Cheng
---
Mon, 3 August 2015
Bad at Sports Episode 518: Renny Pritikin
This week, Brian and Patricia (and her stealth interns) talk shop and the sublime with Renny Pritikin, Chief Curator of the Contemporary Jewish Museum, in San Francisco. Currently on view at the CJM is Night Begins the Day: Rethinking Space, Time, and Beauty, which tackles fear and awe, time and frailty, and the limits of seeing in our age of technological innovation. The always frank and open Pritikin shares his thoughts on curating for an ethnic-specific cultural institution, curating theology into art exhibitions, East vs West Coast Jewish culture, and Amy Winehouse.
Renny has been a pivotal figure in the San Francisco Bay Area arts community for over three decades. He served as Co-Director of New Langton Arts in San Francisco from 1979 to 1992, Chief Curator at the Yerba Buena Center for the Arts from 1992 to 2004, and Director of the Nelson Gallery and Fine Arts Collection at the University of California, Davis from 2004 until 2012.
---
Mon, 27 July 2015
Bad at Sports Episode 517: Archibald Motley, Tracie Hall, and Amy Mooney
This week things get crazy. We check in from inside the Cultural Center with Tracie Hall and Amy Mooney. Together we look into the heart of the building, the city, and explore the legacy of Archibald Motley.
This weeks show is dedicated to Paul Woodrow. Our hearts go out to his family.
Motley's show is still up. Go check it out.
1. Archibald J. Motley Jr., Blues, 1929. Oil on canvas, 36 x 42 inches (91.4 x 106.7 cm). Collection of Mara Motley, MD, and Valerie Gerrard Browne. Image courtesy of the Chicago History Museum, Illinois. © Valerie Gerrard Browne.
2. Archibald J. Motley Jr., Self-Portrait (Myself at Work), 1933. Oil on canvas, 57.125 x 45.25 inches (145.1 x 114.9 cm). Collection of Mara Motley, MD, and Valerie Gerrard Browne. Image courtesy of the Chicago History Museum, Illinois. © Valerie Gerrard Browne.
3.
. Oil on canvas, 31.875 x 39.25 inches (81 x 99.7 cm). Collection of Mara Motley, MD, and Valerie Gerrard Browne. Image courtesy of the Chicago History Museum, Illinois. © Valerie Gerrard Browne.
_____________
UPCOMING EVENTS
August 6th, 6:00-7:00 pm, Chicago Artists and Authors Respond to the Art of Archibald Motley: Cándida Alvarez
Chicago Cultural Center, 78 E. Washington, Sidney Yates Gallery, 4th Floor North
For this series of informal gallery talks, Chicago artists and authors are invited to reflect on how this modern master influences their own work. Painter Cándida Alvarez will join art historian Amy Mooney in a conversation about the space, form, and meaning in the paintings of Motley as well as her own large, abstract canvases.Presented by Columbia College Chicago in collaboration with the City of Chicago's Department of Cultural Affairs and Special Events as part of the ongoing city-wide cultural program, The Art of Archibald Motley: Connect, Collaborate, & Create. Learn more about the dynamic ways that our faculty, staff, students, and community at large has engaged the themes, innovations, and vision of this African American Chicago painter at colum.edu/motley
Sunday, August 16th 4:00-6:00 pm: Archibald Motley and the Matter of Film, Part III
Chicago Cultural Center, Claudia Cassidy Theatre, 2nd Floor North
In partnership with the Chicago Cultural Center and Columbia College Chicago, Black Cinema House is proud to present Archibald Motley and the Matter of Film, a three-part film series that complements the Archibald Motley: Jazz Age Modernist exhibition at the Chicago Cultural Center and explores how the formal and thematic concerns of filmmakers from the 1920s-1940s; including uses of light and color; images of city life; and portraits of race, align with the formal and thematic endeavors of the painter Archibald Motley. Curated by Dr. Romi Crawford (School of the Art Institute and Co-Chair of the Chicago Film Archives), each event consists of a screening followed by a brief response by a local filmmaker, artist, or scholar. The first two installments of this series will take place at Black Cinema House, while the third and final screening will be held at the Chicago Cultural Center and also in collaboration with Chicago Film Archives.
Part III: The Matter of City Life will include:
· Manhatta (Paul Strand and Charles Sheeler, 1921)
An experimental film comprised of 65 shots, which evoke the progression of a day in New York City;
· Études sur Paris (André Sauvage, 1928). Considered a "city symphony" film of Paris in the 1920s. It offers a poetic and experimental portrait of the city;
· Bronzeville selections from the Don McIlvaine Collection (In collaboration with Chicago Film Archives). Short film clips shot by Chicago artist and muralist Don McIlvaine featuring scenes from the city of Chicago still under development.
Originating at the Nasher Museum of Art at Duke University, Archibald Motley: Jazz Age Modernist was curated by Dr. Richard J. Powell, John Spencer Bassett Professor of Art and Art History at Duke. Grant support to the Chicago Department of Cultural Aff­airs and Special Events provided by the Nasher Museum of Art and the Terra Foundation for American Art; the National Endowment for the Humanities: Exploring the human endeavor; and the Henry Luce Foundation; and the Wyeth Foundation for American Art. The exhibition is on display at the Chicago Cultural Center until August 31,2015. See more on our city-wide cultural programming at http://www.colum.edu/academics/fine-and-performing-arts/initiatives/archibald-motley.html
---
Mon, 20 July 2015
Bad at Sports Episode 515: Colin Guillemet
This week Mark is back from Europe!
From Waterside Contemporary...
Colin Guillemet's (b.1979) work highlights the difficulty of describing art, concepts and ideas. Where self-expression is concerned it seems words are not enough. Confronted with his work mixed senses of confusion and comprehension occurs, the viewer is convinced they understood something, but does not know exactly what. Guillemet has exhibited at the Helmhaus, Zurich, Lisson gallery, London and Hayward touring.
---
Mon, 13 July 2015
Bad at Sports Episode 515: Orit Gat
This week we catch up with Orit Gat at Superscript2015. This was one of the most honest conversation we have had in years. I think the context of being surrounded by arts writers created the prefect context for frankness.
Thanks go out to our sponser Coagula Curatorial and our friends at the Walker.
Orit Gat from her web site...
Orit Gat is a writer based in New York and London. She writes about contemporary art, publishing, internet culture, and different meeting points between these things. Her writing is published regularly onRhizome, where she is a contributing editor, and has appeared in frieze, ArtReview, The White Review,Art Agenda, Flash Art, The Art Newspaper, The Brooklyn Rail, Spike Art Quarterly, Review 31, BOMB Magazine, LEAP, and Modern Painters.


I'm currently the managing editor of WdW Review. In my spare time, I read art magazines with some other people organize this class at the Public School New York (you can read about it here).
---
Wed, 8 July 2015
Bad at Sports 514: Art+ Positive and Iceberg Projects
This week we catch up with Aldo Hernandez and Dr. Dan Berger of Iceberg Projects to talk about Art +Positive, Act Up, and the legacy for the 80s and 90s.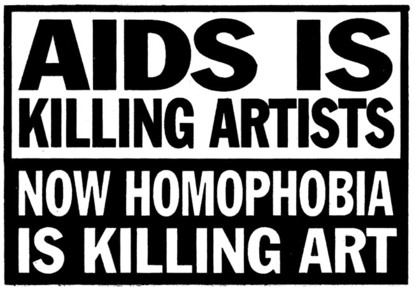 From Iceberg Projects...
Iceberg Projects is pleased to present selections from the Art+ Positive archives, curated by Dr. Daniel Berger and John Neff. The first exhibition of the group's archive, this show is the first step in an ongoing project of research and scholarship around the materials.
A June 1989 Vanity Fair profile of Mark Kostabi included this quotation from the celebrity artist:
These museum curators, that are for the most part homosexual, have controlled the art world in the eighties. Now they're all dying of AIDS, and although I think it's sad, I know it's for the better. Because homosexual men are not actively participating in the perpetuation of human life.
That summer, Art+ Positive organized as an affinity group of ACT UP New York in protest of Kostabi's remarks and other instances of "homophobia, AIDSphobia, and censorship in the arts."
Art+ Positive members included Dennis Davidson, Bill Dobbs, Lola Flash, Catherine Gund, Aldo Hernandez, Leon (Tracy) Mostovoy, Robin Murphy, Ray Navarro, Hunter Reynolds, Jody Rhone, Julie Tolentino and David Wojnarowicz. Collaborating artists also represented in the archive include Donna Binder, David Bradshaw, Ana De Orbegoso, Martha Fleming & Lyne Lapointe, Diviana Ingravallo, Zoe Leonard, Anthony Viti and Michael Wakefield.
Iceberg's exhibition will include artworks and a rotating display of documents, ephemera and protest signage from this collective of artists practicing at the intersection of the HIV / AIDS crisis and the Culture Wars of the Bush era. A workstation in the gallery will be used in cataloging and digitizing the archive during the run of the show.
Equipped, created by Ray Navarro with assistance from Zoe Leonard, will be among the works exhibited. An image-text triptych in artist-designed frames, Equipped slyly mobilizes references to queer sex, AIDS medicine, and censored public speech. It was included in the 1990 PS 122 exhibition An Army of Lovers: Combatting AIDS, Homophobia, and Censorship, which opened on the day of Navarro's death. The elements of a large collage installation by David Wojnarowicz, also shown in the PS 122 exhibit before being dispersed into different collections, will be brought together for display at Iceberg for the first time in 25 years.
---
Tue, 30 June 2015
Bad at Sports Episode 513: Janine Antoni
Holy SHIT! Janine Antoni!
shamelessly lifted from Art 21...
Janine Antoni was born in Freeport, Bahamas, in 1964. She received her BA from Sarah Lawrence College in New York, and earned her MFA from the Rhode Island School of Design in 1989. Antoni's work blurs the distinction between performance art and sculpture. Transforming everyday activities such as eating, bathing, and sleeping into ways of making art, Antoni's primary tool for making sculpture has always been her own body. She has chiseled cubes of lard and chocolate with her teeth, washed away the faces of soap busts made in her own likeness, and used the brainwave signals recorded while she dreamed at night as a pattern for weaving a blanket the following morning. In the video, "Touch," Antoni appears to perform the impossible act of walking on the surface of water. She accomplished this magician's trick, however, not through divine intervention, but only after months of training to balance on a tightrope that she then strung at the exact height of the horizon line. Balance is a key component in the related piece, "Moor," where the artist taught herself how to make a rope out of unusual and often personal materials donated by friends and relatives. By learning to twist the materials together so that they formed a rope that was neither too loose nor too tight, Antoni created an enduring life-line that united a disparate group of people into a unified whole. Antoni has had major exhibitions of her work at the Whitney Museum of American Art, New York; Solomon R. Guggenheim Museum, New York; S.I.T.E. Santa Fe; and Irish Museum of Modern Art, Dublin. The recipient of several prestigious awards, including a John D. and Catherine T. MacArthur Fellowship in 1998 and the Larry Aldrich Foundation Award in 1999, Janine Antoni currently resides in New York.
---
Fri, 26 June 2015
Bad at Sports Episode 512: Kochi-Muziris Biennale
On December 12, 2014, the Second Kochi-Muziris Biennale, curated by artist Jitish Kallat, opened in Kerala, India. The second edition of the Kochi-Muziris Biennale built upon the themes from the first Kochi-Muziris Biennale. So, before we dive into the second edition, let's first revisit Indian's inaugural international Biennale.
The first edition opened on December 12, 2012. It was a huge event and by all accounts, a success. In this podcast, Tanya Gill puts together a collection of artist interviews and viewer reactions from the first Biennale's opening week in 2012, including celebrated artists Nalini Malani, Vivan Sundaram, Tallur L.N., Rohini Devasher, as well as Australian street artists Daniel Connell and Vextra, independent curator Amit Kumar Jain, and filmmaker Hatti Bowering.
Please stay tuned for the forthcoming second Kochi-Muziris Biennale podcast. This podcast, as well as photographs of the
and additional interviews, can be found at zacii.com. Additional information on the Kochi-Muziris Biennale can be found at http://kochimuzirisbiennale.org.
Tanya Gill is a visual artist who lives between Chicago, USA and Chandigarh, India.
A special thank you to everyone who took the time to talk in December 2012! It was amazing to witness this groundbreaking event.
---
Mon, 15 June 2015
Bad at Sports Episode 511: Manish Nai
Tanya Gill interviews Mumbai artist Manish Nai at Kavi Gupta's Elizabeth street space as he prepares for his June 6th opening. This is Manish Nai's debut solo exhibition in the United States. He is using this opportunity to create wall murals and a compressed jute sculpture just for the space. The media used in Nai's work are both humble and quintessentially Indian. He transforms everyday materials, such as newspapers or clothes, through labor-intensive processes. The result is a very personal translation of time. For more information on the exhibit visit www.kavigupta.com.
Manish Nai
Kavi Gupta
219 North Elizabeth Street
June 6, 2015 - August 1, 2015
---
Mon, 8 June 2015
Bad at Sports Episode 510: Super Script 2015 (superscript#15)
This week Art Practical and Bad at Sports combined to produce audio that astounds! Listen as our hosts taken on wild ideas like "twitter" and "Christopher Knight's paternalism." Laugh along with them as they celebrate and demonize their brothers and sisters at #superscript15.
Thanks again to the Walker and MNArtists.org for making our dreams a reality.
Critics roll out. We be unpacking this shit left and right! And hell yes, I'll check that privilage.
---
Mon, 1 June 2015
Bad at Sports Episode 509: Paul Krainak
This week Christopher Sperandio and Duncan MacKenzie get down and dirty with Paul Krainak. They try and get to the bottom of wtf the Inland Visual Arts Center at Bradley University is and wrestle with the possibility that the Midwest has an art history all its own. Learning happens.
---
Mon, 25 May 2015
Bad at Sports Episode 508: Carl Baratta and Oli Watt
This week: We talk to Carl Baratta and Oli Watt and we actually run this interview unlike when we did this last year.
Also:
Big news! ACRE is moving to a bigger and better location!

As you mayknow, ACRE has been operating out of my storefront apartment since its inception in 2010. I started searching for a new home for ACRE last spring and found a building in Pilsen that is absolutely perfect for us. A former funeral home, large enough for us to expand into over time and featuring remarkable restored historic elements, the building is an ideal base of operations for our growing organization.
You are among the first to know, and I am reaching out to you for help making our ambitious vision a reality. ACRE has already received a generous donation to cover a portion of the building renovation cost. In addition, we are launching a Kickstarter Campaign to raise the remaining $20,000 needed to realize our plans for the new space. We are hopeful that our campaign, which was specially selected by Art Basel's Crowdfunding jury, will garner both financial and community support for the project. We softly launched our fundraiser today and will begin promoting the campaign publicly on May 25th.

Due to your valuable and continued support of our organization, I am hoping that you may be able to make a contribution of at least $100 during the lead up to our public launch. If you are able, I ask that you please contribute between now and the 25th. Your contribution will make an even greater impact if made at this time, as it will help us to build momentum for the campaign's launch and indicate to future donors that there is enthusiasm for the project.

Here's a direct link to ACRE's Campaign: https://www.kickstarter.com/projects/1569629484/help-build-acres-new-home-in-chicago
I sincerely hope you will consider helping ACRE take this crucial step in our development. I've always felt that ACRE has an uncanny knack for being able to accomplish a lot with very little. I can't wait to show you what we are capable of with a new and improved home base.
Sincerely and With Great Excitement,
Emily
PS- If you are interested in making a significant contribution outside of the campaign please feel free to contact me.
---
Tue, 19 May 2015
Bad at Sports Episode 507: Edgar Arceneaux
This week we chase down the beauty of drawing, the perils of the 501c3, the question of economy and the base matter of humor, all with the brilliant Edgar Arceneaux. Duncan Mackenzie is joined Amanda Browder, Amy Mooney, and Abigail Satinsky live from inside a tent at Open Engagement 2014. Why did it take so long to post? Because it did.
---
Mon, 11 May 2015
Bad at Sports Episode 506: Jim Duignan, Michael Rakowitz, and Abigail Satinsky
This week we bring together artist who work with war, teaching, and infrastructure for a discussion about what the hell we think we are doing when we blend art and politics. We welcome Michael Rakowitz, Abigail Satinsky, and Jim Duignan! Thanks to EXPO Chicago for handing us the space and context for having the discussion live in 2014 and now brought to you via tape or more correctly, silicon.
---
Mon, 4 May 2015
Bad at Sports Episode 505: Pablo Helguera and Christian Viveros-Faune
This week in conjunction with EXPO Chicago we welcome Pablo Helguera and Chistian Viveros-Faune! We chat Socially Engaged Art.
It is time for an app that helps us gallery goers and Threewalls has the answer, lets kickstart them!
---
Mon, 27 April 2015
Bad at Sports Episode 504: Tanya Zimbardo
This week Brian and Patricia sit down with curator Tanya Zimbardo during her residency at Krowswork, a center for Video and Visionary Art, in Oakland. Tanya is a San Francisco-based curator. Her research and writing is primarily centered on conceptual art and experimental media in California in the 1970s and 1980s. She is co-curating the group survey Public Works: Artists' Interventions 1970s - Now at Mills College Art Museum this fall. As the Assistant Curator of Media Arts at the San Francisco Museum of Modern Art, she curated select film and video screenings and co-organized the past two SECA Art Award exhibitions and overview Fifty Years of Bay Area Art: The SECA Awards, among other exhibitions. She has contributed essays to several SFMOMA publications, most recently West Coast Visions(2015, Borusan Contemporary, Istanbul). As a guest contributor to Open Space (2012‒14), Zimbardo highlighted various site works, public interventions, and artist-run spaces in the Bay Area, including Receipt of Delivery, her weekly series featuring exhibition mailers.
The Krowswork Residencies feature a diverse range of visionary artists and artwork—from graffiti to poetry and from elaborate sci-fi video installations to Kabalistic painting. These Krowswork Residents present their own work, host conversations and events, and in some cases present the work of others. Each Resident is implicitly or explicitly in conversation with those who come before and after, as well as in dialogue with the total arc of the year.
Caption:
Kristin Lucas, Air on the Go, 2014, multi-channel video on different size monitors with sound, 4 min., courtesy the artist; © Kristin Lucas
---
Mon, 20 April 2015
Bad at Sports Episode 503: Mamie Tinkler and Winslow Smith
In this episode we check in with NY artists Mamie Tinkler and Winslow Smith as they visit the Suburban and we find out what is happening with the same said Suburban from our soon to be departing Michelle Grabner. First we hear about Dr. Sketches Anti Art School's Chicago branch.
---
Mon, 13 April 2015
Bad at Sports Episode 502: Mary Mattingly
This week we present the artist Mary Mattingly. We talk survival after the coming Robot wars, a life at sea, and how artists can relate to institutions while feeling the weight of being a human.
Thanks to Cannonball, Pulse Miami, and Art Practical.
This interview was recorded in Miami, December 2013.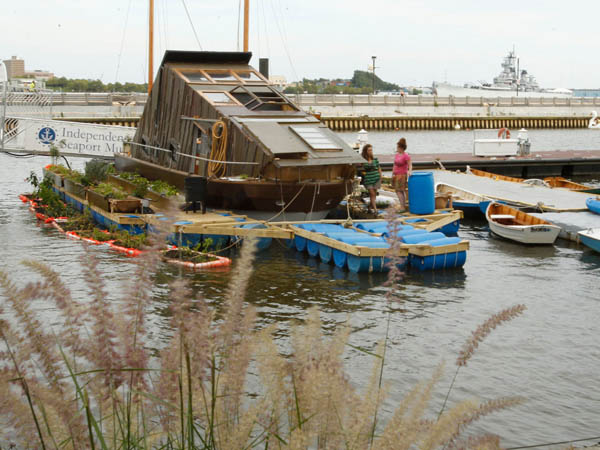 ---
Sun, 5 April 2015
Bad at Sports Episode 501: R & R Studios
This week we present the artists Roberto Behar and Rosario Marquardt of R & R Studios. We talk displacement, Miami's writing of it's art history, and how artist reclaim and present public space.
Thanks to Cannonball, Pulse Miami, and Art Practical.
This interview was recorded in Miami, December 2013.
---
Mon, 30 March 2015
Episode 500: Richard bids a fond farewell
This week: So long and thanks for all the fish.
---
Mon, 23 March 2015
Bad at Sports Episode 499: Amanda Browder
This week: The penultimate show of the Richard Holland era has arrived. There was only one person who could possibly have been the subject of this show and that, of course, is Richard's good friend, Bad at Sports co-host and all around awesome person Amanda Browder! They talk about Amanda's work, installation and site specific art and Duncan's creepy fixations.
Next week is episode 500! Duncan, Richard and Amanda gather at a non-ironic tiki bar. Rude jokes are told. It is a wacky mess. Don't miss it.
Check out Amanda's work at www.amandabrowder.com
---
Mon, 16 March 2015
Bad at Sports Episode 498: Doris Salcedo
This week: A very brief interview with Doris Salcedo with special guests Sarah Guernsey, Executive Director of Publishing at the Art Institute of Chicago, and Hank Holland intern at Bad at Sports. Following the long intro and short interview we present courtesy of the Museum of Contemporary Art Chicago, Doris Salcedo's talk from February 22, 2015. Thanks MCA!
Only two more weeks of that Holland charm.
---
Mon, 9 March 2015
Bad at Sports Episode 497: Joe Zucker
This week: Duncan talks to Joe Zucker. His show opens March 15th at the Parish Art Museum.
---
Mon, 2 March 2015
Bad at Sports Episode 496: Justin Cooper
This week: This show has everything, the Amanda Browder Show, Justin Cooper, Richard finally records a new outro, and some of the most annoying music ever used on BAS!!
NYC/Browder talks to Brooklyn based artist Justin Cooper. Post a few deadpan jokes, and moments of spacing out...(edited of course) we discuss his history of his work, and his installationSpreadsheet, and performance Mowers of Ten presented by the Art-In-Buildings program, and Monique Meloche Gallery. The project is in conjunction with The Armory Show that is going on next week.
Employing a strategy of "endless introducing," Cooper plays both host and hosted, in an effort to eradicate the line between these two states. With the classic Charles and Ray Eames film, Powers of Ten, as inspiration, and Cooper's installation, Spreadsheet serving as a backdrop, the performance aggregates comedic bits, routines, acts, sound fragments, free floating signifiers, and chains of non sequitors systematized into miniature narratives, into a simulation of comedy. Like "Friends" minus the laugh track or AstroTurf as a surrogate for suburban lawn, Mowers of Ten, highlights the impossibility of reconciling the intellectual with the visceral. "I know this isn't funny...and yet." "I know this isn't grass...and yet."
http://moniquemeloche.com/artists/justin-cooper/
SHOUT OUT TO AMANDA:
Art Fair weekend is next weekend in NYC! The Armory, VOLTA, Scope, etc. etc.
BUT Time to go see the SPRING/BREAK Art Fair. Amanda Browder and a ton of very cool artists in NYC will be showing at this fair in the abandoned section of the Post Office on 33rd Street between 8th and 9th. It is a fair of guest curators who are bringing their collection of artists to each room in the massive office space.
Look for her on the 4th floor with curators Jacob Rhodes of Field Projects and Jen Schwarting. You can also find: Adam Parker Smith, ESP TV., Siebren Versteeg, Julia Oldham and Trish Tillman
---
Mon, 23 February 2015
Bad at Sports Episode 495: Ben Davis
This week: Open Engagement 2014 Amanda, Duncan, and Abby talk to Ben Davis.
---
Mon, 9 February 2015
Bad at Sports Episode 493: Judy Blum Reddy
This week: THE AMANDA BROWDER SHOW (TM)(R)(C)(WTF) Amanda talks to Judy Blum Reddy!

Also Duncan MacKenzie, co-host/founder/dependant of this very program has an art show opening this Thursday at Sector 2337! 2337 North Milwaukee, Chicago, IL. Contract kllers and bounty hunters this is a rare chance to get them both in one fell swoop and there is the added bonus of seeing some Kickass Mackenzie/Kuras art! Be there or be squa..a docuhebag who is dead to us! 7-9 PM.
---
Mon, 2 February 2015
Bad at Sports Episode 492: Tucker Nichols
This week: Brian and Patricia talk to Tucker Nichols
---
Mon, 26 January 2015
Bad at Sports Episode 491-A Blade of Grass
This week: From Open Engagement 2014 we talk to Deborah Fisher Executive Director of A Blade of Grass.
---
Mon, 19 January 2015
Bad at Sports Episode 490: Philip Vanderhyden
This week: We talk to Philip Vanderhyden about his work, particularly his recreation/revivial/refabrication/collaboration/whatever-you-want-to-call-it with the late, great Gretchen Bender and her 1988 work "People in Pain".
http://philipvanderhyden.com/
Also, Richard has an announcement. With his final words you'll find an ace that you can keep.
---
Mon, 12 January 2015
Bad at Sports Episode 489: Chelsea Haines
This week: Duncan, Abigail Satinsky and Columbia College Chicago's own Amy Mooney talk the author and curator Chelsea Haines. They -do not- talk about hot dog stands as art constructs, much to Richard's amazement.
---
Mon, 5 January 2015
Bad at Sports Episode 488: MFA roundtable at CAA
This week: Duncan (and eventually Richard when that jerk shows up) talks to Sharon Louden and Blane De St. Croix about the MFA and the profession of artist.
---