Jul 9, 2015
This week we catch up with Aldo Hernandez and Dr. Dan Berger of Iceberg Projects to talk about Art +Positive, Act Up, and the legacy for the 80s and 90s.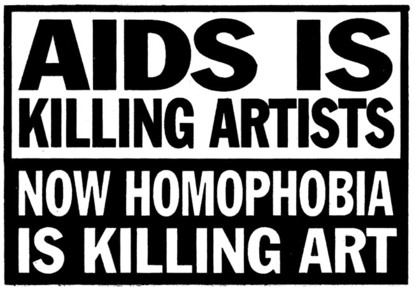 From Iceberg Projects...
Iceberg Projects is pleased to present selections from the Art+ Positive archives, curated by Dr. Daniel Berger and John Neff. The first exhibition of the group's archive, this show is the first step in an ongoing project of research and scholarship around the materials.
A June 1989 Vanity Fair profile of Mark Kostabi included this quotation from the celebrity artist:
These museum curators, that are for the most part homosexual, have controlled the art world in the eighties. Now they're all dying of AIDS, and although I think it's sad, I know it's for the better. Because homosexual men are not actively participating in the perpetuation of human life.
That summer, Art+ Positive organized as an affinity group of ACT UP New York in protest of Kostabi's remarks and other instances of "homophobia, AIDSphobia, and censorship in the arts."
Art+ Positive members included Dennis Davidson, Bill Dobbs, Lola Flash, Catherine Gund, Aldo Hernandez, Leon (Tracy) Mostovoy, Robin Murphy, Ray Navarro, Hunter Reynolds, Jody Rhone, Julie Tolentino and David Wojnarowicz. Collaborating artists also represented in the archive include Donna Binder, David Bradshaw, Ana De Orbegoso, Martha Fleming & Lyne Lapointe, Diviana Ingravallo, Zoe Leonard, Anthony Viti and Michael Wakefield.
Iceberg's exhibition will include artworks and a rotating display of documents, ephemera and protest signage from this collective of artists practicing at the intersection of the HIV / AIDS crisis and the Culture Wars of the Bush era. A workstation in the gallery will be used in cataloging and digitizing the archive during the run of the show.
Equipped, created by Ray Navarro with assistance from Zoe Leonard, will be among the works exhibited. An image-text triptych in artist-designed frames, Equipped slyly mobilizes references to queer sex, AIDS medicine, and censored public speech. It was included in the 1990 PS 122 exhibition An Army of Lovers: Combatting AIDS, Homophobia, and Censorship, which opened on the day of Navarro's death. The elements of a large collage installation by David Wojnarowicz, also shown in the PS 122 exhibit before being dispersed into different collections, will be brought together for display at Iceberg for the first time in 25 years.