Mon, 13 August 2018
Bad at Sports Episode 650 Allison Agsten and the Main Museum
This week we catch up with Dana's life crush, Allison Agsten, Director of LA's Main Museum. We chat through founding a museum, LA's art scene, and who has the best bag.
http://www.themainmuseum.org/home
Allison Agsten, you might remember as Curator of Engagement at the Hammer when she appeared on our show with Duncan's life crush Mark Allen, http://badatsports.com/2011/episode-319-mark-allen-and-allison-agsten/
We be crushing yo.
Recorded as part of the B@S radio take over at Lumpen Radio WLPN Chicago for Justice and Open Engagement 2018
---
Thu, 9 August 2018
Bad at Sports Episode 649: Hiba Ali
Hiba Ali rock's the mic on this week's Bad @ SportsCenter, joining Brian and Ryan in the studio. Ali discusses her current curatorial project, U.N.I.T., generated through Roots and Culture's CONNECT residency, and delves into her multifaceted art practice that includes video, installation, fashion, and music.
---
Tue, 7 August 2018
Bad at Sports Episode: 648 Sheehy, Cadieux, and Matteson
Art and Change. Fast and Slow.
We check in with three bright lights of the Minneapolis/St Paul arts community and try to get to the bottom of #soilpractice #socialpractice
How do we make and sustain engagement?
Recorded as part of the B@S radio take over at Lumpen Radio WLPN Chicago for Justice and Open Engagement 2018
Colleen Sheehy is Executive Director of Public Art Saint Paul, an organization that places artists in leading roles to shape urban spaces, improve city systems, and deepen civic engagement.
Valentine Cadieux is Director of the Environmental Studies Program and the Sustainability Program at Hamline University in St. Paul.
https://www.hamline.edu/faculty-staff/valentine-cadieux/
Shanai Matteson is an artist and activist who leads collaborative public art and design projects through Works Progress Studio. She is cofounder of Water Bar & Public Studio.
---
Mon, 23 July 2018
Bad at Sports Episode 647: Jessica Stockholder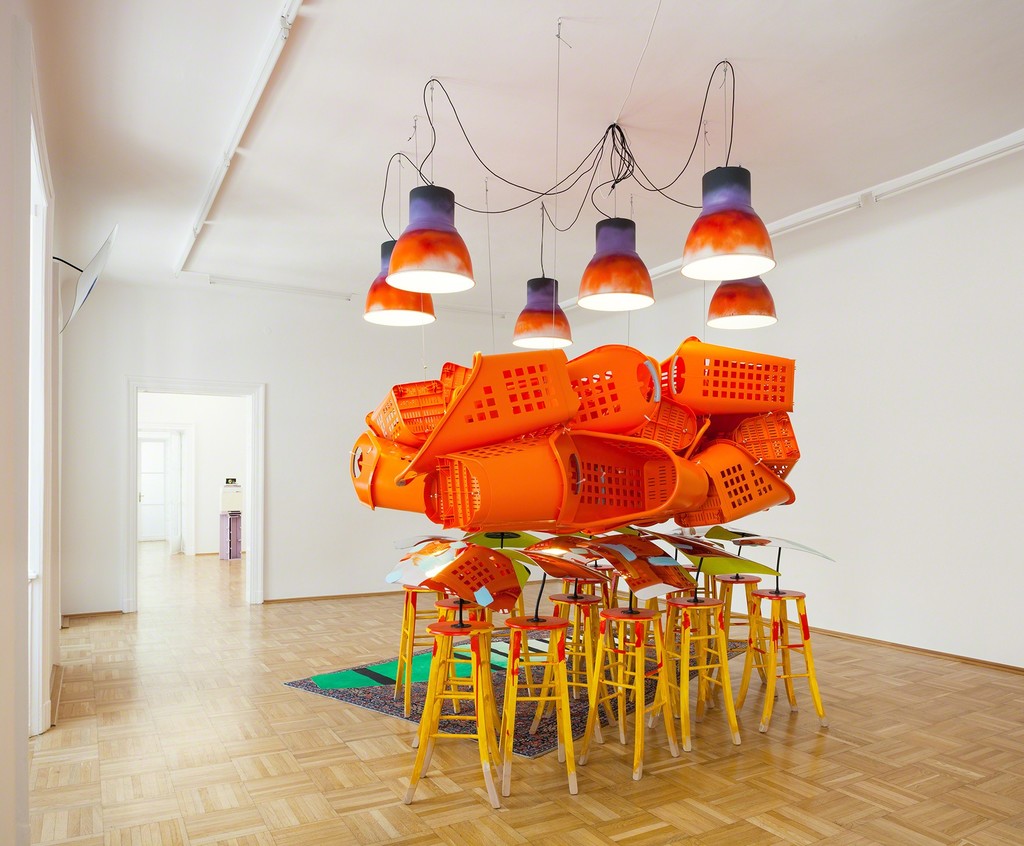 Jessica Stockholder is reticent to be called a living legend, but on this week's episode, Bad@SportsCenter speaks with living legend, JEsSicA sTOckHoLDeR! With an impending sabbatical from University of Chicago, Stockholder will still be doing all of the things, including a year-long residency in Berlin, and upcoming exhibitions at The Contemporary Austin and the Centraal Museum, Utrecht. Our charming discourse addresses her process, materiality, language, and the essentialism of production to existence. Can we get an Amen?!?
---
Thu, 19 July 2018
Bad at Sports Episode 646: Dan Berger Iceberg Projects
This week we bring you a special and timely conversation between our very own Dana Bassett and Dr. Daniel Berger recorded at Iceberg Projects where Berger has curated the current show, "Flesh of My Flesh," an exhibition of painting, film, sculpture, photography and print work by the late David Wojnarowicz. Dan and Dana discuss Wojnarowicz's aesthetic and historical legacy, the AIDS crisis, and the upcoming screening of Films by David Wojnarowicz and Friends, featuring "Silence=Death."

Wojnarowicz's screening takes place this Sunday, July 22nd at Northwestern's Block Museum. More information can be found here: http://icebergchicago.com/davidwojnarowicz.html.

"Flesh of My Flesh" is on view at Iceberg Projects until August 4th.


Full text of the writing referenced in this interview:
When I put my hands on your body on your flesh I feel the history of that body. Not just the beginning of its forming in that distant lake but all the way beyond its ending. I feel the warmth and texture and simultaneously I see the flesh unwrap from the layers of fat and disappear. I see the fat disappear from the muscle. I see the muscle disappearing from around the organs and detaching iself from the bones. I see the organs gradually fade into transparency leaving a gleaming skeleton gleaming like ivory that slowly resolves until it becomes dust. I am consumed in the sense of your weight the way your flesh occupies momentary space the fullness of it beneath my palms. I am amazed at how perfectly your body fits to the curves of my hands. If I could attach our blood vessels so we could become each other I would. If I could attach our blood vessels in order to anchor you to the earth to this present time I would. If I could open up your body and slip inside your skin and look out your eyes and forever have my lips fused with yours I would. It makes me weep to feel the history of your flesh beneath my hands in a time of so much loss. It makes me weep to feel the movement of your flesh beneath my palms as you twist and turn over to one side to create a series of gestures to reach up around my neck to draw me nearer. All these memories will be lost in time like tears in the rain.
---
Thu, 12 July 2018
Bad at Sports Episode 645: Susanne Doremus
Bad @ SportsCenter kicks back this week with Chicago painter, Susanne Doremus, for a delightful exchange over her current show at Devening Projects, Cabinet:1. In her newest exhibition, Doremus has drawn down the emblematic grand scale of her paintings, inaugurating new spaces for her visual lexicon of calligraphic line and exposed revisions. We visit the affinity of drawing and painting, the influence of teaching on studio practice, and the function of audience on the objet d'art.
---
Fri, 29 June 2018
Bad at Sports Episode 644: Chicago Design Museum
On this week's episode Bad @ SportsCenter jaws with Tanner Woodford and Lauren Boegen of the Chicago Design Museum. We find out about the founding of ChiDM, and chat about the current exhibit, Great Ideas of Humanity, a revival of the Container Corporation of America's Great Ideas of Western Man campaign from the mid 20th Century (it sounds so long ago…). Stick around to the end… we get a little graphic.
---
Fri, 22 June 2018
Bad at Sports Episode 643: Sabina Ott and the Terrain Biennial 2017
In this Terrain Biennial "Mega-sode" the full Bad at Sports crew posts up on Sabina Ott's front porch for an all day affair featuring: Ahmed Ozsever/Carrie Cooper/Maggie Leininger (10:14); Alisa Reith/Laura Shaeffer/Matthew Nicholas from Compound Yellow (20:26); Iris Bernblum/Zoe Nelson (28:18); Anna Kunz/Alex Paik from Tiger Strikes Asteroid (39:08); Sabina Ott (50:45); Jenny Kendler/Richard Medina (104:24); and Jesse Malmed (132:32). Buckle up!
https://www.terrainexhibitions.com/
http://sabinaott.com/home.html
http://ahmedozsever.com/home.html
https://www.carrieannacooper.com/
https://www.maggieleiningerart.com/
http://zoenelson.com/home.html
http://www.tigerstrikesasteroid.com/flatfile-chi
http://jennykendler.com/home.html
---
Wed, 20 June 2018
Bad at Sports Episode 642: Fernwey and Chicago Print Crawl
This week Bad at Sports Center welcomes Kate Conlon and Boyang Hou from Fernwey Gallery and the Chicago Print Crawl to chat about the Chicago Print/Art world's blowout Sunday June 24th organized by Spudnik Press and their projects and Damen Avenue artist run space.
---
Fri, 15 June 2018
Bad at Sports Episode: 641 Anna Metcalfe and Holly Hanessian
Live from our Elevator Studio @ Open Engagement: We are joined by Anna Metcalfe and Holly Hanessian to discuss their cohort, The Socially Engaged Craft Collective (SECC), a group focusing on the social aspects historically connected to craft objects and materials. We suss out the intersection of ceramic objects and sustainable models of agriculture and water consumption.
http://www.hollyhanessian.com/
https://sociallyengagedcraftcollective.org/
http://openengagement.info/session/a-story-of-sustenance-the-ceramic-object-as-conduit-for-engagement/
---