Mon, 14 December 2015
Bad at Sports Episode 535: Noah Lyon
This week: Amanda believes the children are the future, she thinks you should teach them well and let them lead the way. Amanda wants to show you all the beauty you possess inside.
Noah Lyon decided long ago, never to walk in anyone's shadow, if he fails if he succeeds, at least he'll live as he believes.
No matter what we take from you, fine listeners, you are in the art world, you abdicated your dignity second semester your freshman year, who are you kidding.
Holy shit those lyrics work really well here.
---
Thu, 3 December 2015
Bad at Sports Episode 534: Jitish Kallat
This week, Mumbai-based artist Jitish Kallat returns to Bad at Sports, this time from San
Francisco, where he sits down with Patricia Maloney. Listeners may remember Kallat's
first appearance on the podcast on the eve of the opening for his large-scale installation,
Public Notice 3 (2010-11), in the Fullerton Hall stairwell of the Art Institute of Chicago.
Kallat, one of the most prominent figures of contemporary Asian art, works across a
variety of media, including painting, sculpture, photography, installation, and video. He
was the curator for the Kochi-Muziris Biennale, India in 2014. This year, Kallat has had
several solo exhibitions, including Jitish Kallat: Public Notice 2, at the Art Gallery of
New South Wales in Sydney. His Paris exhibition, The Infinite Episode, opened at the
Galerie Templon in September 2015. Kallat's large permanent public sculpture unveiled
in Austria in October 2015.
His solo exhibitions include Epilogue (2013-14) at the San Jose Museum of Art; Circa at
the Ian Potter Museum of Art, Melbourne, Australia (2012); Fieldnotes: Tomorrow was
here Yesterday at the Bhau Daji Lad Museum, Mumbai, India (2011); Likewise at Arndt,
Berlin, Germany (2010); The Astronomy of the Subway at Haunch of Venison, London,
UK (2010); Aquasaurus at the Sherman Contemporary Art Foundation, Paddington,
Australia (2008) and Lonely Facts at the Kunsthalle Luckenwalde, Luckenwalde,
Germany (1998).
Kallat has participated in major exhibitions, including: India: Art Now at the Arken
Museum, Ishoj, Denmark (2012-13); Indian Highway IV at MAXXI, Rome, Italy (2012)
and at Musée d'art contemporain de Lyon, Lyon, France (2011); The Empire Strikes
Back: Indian Art Today at Saatchi Gallery, London, UK (2010); Chalo! India: A New Era
of Indian Art at Essl Museum – Contemporary Art, Klosterneuburg, Austria and at Mori
Art Museum, Tokyo (both 2009), as well as Indian Highway at the Serpentine Gallery,
London, UK (2008-09); Die Tropen. Ansichten von der Mitte der Weltkugel at Martin-
Gropius-Bau, Berlin, Germany (2008); Urban Manners at Hangar Bicocca, Milan, Italy
(2007) and Century City at Tate Modern, London, UK (2001).
---
Wed, 25 November 2015
Bad at Sports Episode 533: Dread Scott
This week we are totally ashamed of Chicago and are collectively horrified by the Tragic death of Laquan McDonald. #blacklivesmatter
We are joined by venerable Dread Scott to talk through the problems and possibilities that exist in contemporary America.
---
Wed, 11 November 2015
Bad at Sports Episode 532: Nancy Lupo and Laylah Ali!
This week: Recorded live on stage September 18, 2015 at Expo Chicago as a part of the Dialogs series, we talk to Nancy Lupo and Laylah Ali!

You have to tell them...Soylent Green is people!!
https://www.youtube.com/watch?v=9IKVj4l5GU4
---
Fri, 6 November 2015
Bad at Sports Episode 531: Ben Tanzer
This week we are joined by the Emmy Award winning novelist, screen writer and Chicago based social worker, Ben Tanzer thanks go out to Columbia College Chicago's "Late Late Afternoon Show."
Ben's blog and Podcast This Will Change your Life has treated the literary world much like B@S has treated the Contemporary Art world. It is worth checking out.
---
Thu, 29 October 2015
Bad at Sports Episode 530: Nina Katchadourian
Real show note to follow.
---
Tue, 20 October 2015
Bad at Sports Episode 529: Chances Dances with Latham Zearfoss
This week we present an interview recorded live at EXPO Chicago with Latham Zearfoss one of the leaders of a decade long party called Chances Dances. You will have to tune in to almost, but not quite, the end where we actually break a little news.
You have time to catch their Gallery 400 show or hit them up on the internet at http://www.chancesdances.org/. Turns Out they know how to party, with everyone.
They continue to run two parties a month...
THIRD SATURDAYS at The Subterranean
2011 W. North Ave., Chicago, IL
10pm-3am / $5 Cover
SECOND TUESDAYS at Danny's
1959 W. Dickens Ave., Chicago, IL
10pm-2am / FREE
---
Tue, 13 October 2015
Bad at Sports Episode 528: Alfredo Cramerotti, Malerie Marder, and Cauleen Smith.
This week we present literally exactly what happened when Duncan did this:
EXPO VIDEO | Alfredo Cramerotti In Conversation
Featuring Alfredo Cramerotti, Director | MOSTYN and 2015 EXPO VIDEO Curator Malerie Marder, Artist and Cauleen Smith, Artist. Moderated by Duncan MacKenzie, Bad at Sports
Internationally acclaimed curator in film, video and new media Alfredo Cramerotti will be in conversation with Bad at Sports discussing the 2015 EXPO VIDEO program. Based in the UK, Cramerotti's work explores the relationship between reality and representation across TV, radio, publishing, critical writing, photography and curatorial exhibitions. His research includes the theory and practice of "aesthetic journalism," a concept he created to investigate the relationship between contemporary exhibitions and elements of interview, documentary and reportage.
---
Tue, 6 October 2015
Bad at Sports Episode 527: Hou Redux
Bad at Sports finishes our 5 episode look back with a return to the cultural impact of Hou Hanru. He casts a shadow that has only grown longer in the 8 years since we originally aired this interview. We are excited to return to his thinking right after his appointment to the Guggenheim as Consulting Curator to The Robert H. N. Ho Family Foundation Chinese Art Initiative.
---
Tue, 29 September 2015
Bad at Sports Episode 526 AA Redux
This week we look back at our interview with AA Bronson founding member of General Idea and Printed Matter.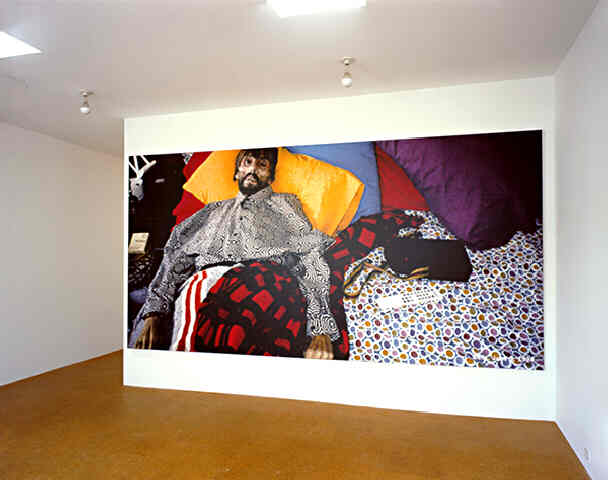 ---