Mon, 25 May 2015
Bad at Sports Episode 508: Carl Baratta and Oli Watt
This week: We talk to Carl Baratta and Oli Watt and we actually run this interview unlike when we did this last year.
Also:
Big news! ACRE is moving to a bigger and better location!

As you mayknow, ACRE has been operating out of my storefront apartment since its inception in 2010. I started searching for a new home for ACRE last spring and found a building in Pilsen that is absolutely perfect for us. A former funeral home, large enough for us to expand into over time and featuring remarkable restored historic elements, the building is an ideal base of operations for our growing organization.
You are among the first to know, and I am reaching out to you for help making our ambitious vision a reality. ACRE has already received a generous donation to cover a portion of the building renovation cost. In addition, we are launching a Kickstarter Campaign to raise the remaining $20,000 needed to realize our plans for the new space. We are hopeful that our campaign, which was specially selected by Art Basel's Crowdfunding jury, will garner both financial and community support for the project. We softly launched our fundraiser today and will begin promoting the campaign publicly on May 25th.

Due to your valuable and continued support of our organization, I am hoping that you may be able to make a contribution of at least $100 during the lead up to our public launch. If you are able, I ask that you please contribute between now and the 25th. Your contribution will make an even greater impact if made at this time, as it will help us to build momentum for the campaign's launch and indicate to future donors that there is enthusiasm for the project.

Here's a direct link to ACRE's Campaign: https://www.kickstarter.com/projects/1569629484/help-build-acres-new-home-in-chicago
I sincerely hope you will consider helping ACRE take this crucial step in our development. I've always felt that ACRE has an uncanny knack for being able to accomplish a lot with very little. I can't wait to show you what we are capable of with a new and improved home base.
Sincerely and With Great Excitement,
Emily
PS- If you are interested in making a significant contribution outside of the campaign please feel free to contact me.
---
Tue, 19 May 2015
Bad at Sports Episode 507: Edgar Arceneaux
This week we chase down the beauty of drawing, the perils of the 501c3, the question of economy and the base matter of humor, all with the brilliant Edgar Arceneaux. Duncan Mackenzie is joined Amanda Browder, Amy Mooney, and Abigail Satinsky live from inside a tent at Open Engagement 2014. Why did it take so long to post? Because it did.
---
Mon, 11 May 2015
Bad at Sports Episode 506: Jim Duignan, Michael Rakowitz, and Abigail Satinsky
This week we bring together artist who work with war, teaching, and infrastructure for a discussion about what the hell we think we are doing when we blend art and politics. We welcome Michael Rakowitz, Abigail Satinsky, and Jim Duignan! Thanks to EXPO Chicago for handing us the space and context for having the discussion live in 2014 and now brought to you via tape or more correctly, silicon.
---
Mon, 4 May 2015
Bad at Sports Episode 505: Pablo Helguera and Christian Viveros-Faune
This week in conjunction with EXPO Chicago we welcome Pablo Helguera and Chistian Viveros-Faune! We chat Socially Engaged Art.
It is time for an app that helps us gallery goers and Threewalls has the answer, lets kickstart them!
---
Mon, 27 April 2015
Bad at Sports Episode 504: Tanya Zimbardo
This week Brian and Patricia sit down with curator Tanya Zimbardo during her residency at Krowswork, a center for Video and Visionary Art, in Oakland. Tanya is a San Francisco-based curator. Her research and writing is primarily centered on conceptual art and experimental media in California in the 1970s and 1980s. She is co-curating the group survey Public Works: Artists' Interventions 1970s - Now at Mills College Art Museum this fall. As the Assistant Curator of Media Arts at the San Francisco Museum of Modern Art, she curated select film and video screenings and co-organized the past two SECA Art Award exhibitions and overview Fifty Years of Bay Area Art: The SECA Awards, among other exhibitions. She has contributed essays to several SFMOMA publications, most recently West Coast Visions(2015, Borusan Contemporary, Istanbul). As a guest contributor to Open Space (2012‒14), Zimbardo highlighted various site works, public interventions, and artist-run spaces in the Bay Area, including Receipt of Delivery, her weekly series featuring exhibition mailers.
The Krowswork Residencies feature a diverse range of visionary artists and artwork—from graffiti to poetry and from elaborate sci-fi video installations to Kabalistic painting. These Krowswork Residents present their own work, host conversations and events, and in some cases present the work of others. Each Resident is implicitly or explicitly in conversation with those who come before and after, as well as in dialogue with the total arc of the year.
Caption:
Kristin Lucas, Air on the Go, 2014, multi-channel video on different size monitors with sound, 4 min., courtesy the artist; © Kristin Lucas
---
Mon, 20 April 2015
Bad at Sports Episode 503: Mamie Tinkler and Winslow Smith
In this episode we check in with NY artists Mamie Tinkler and Winslow Smith as they visit the Suburban and we find out what is happening with the same said Suburban from our soon to be departing Michelle Grabner. First we hear about Dr. Sketches Anti Art School's Chicago branch.
---
Mon, 13 April 2015
Bad at Sports Episode 502: Mary Mattingly
This week we present the artist Mary Mattingly. We talk survival after the coming Robot wars, a life at sea, and how artists can relate to institutions while feeling the weight of being a human.
Thanks to Cannonball, Pulse Miami, and Art Practical.
This interview was recorded in Miami, December 2013.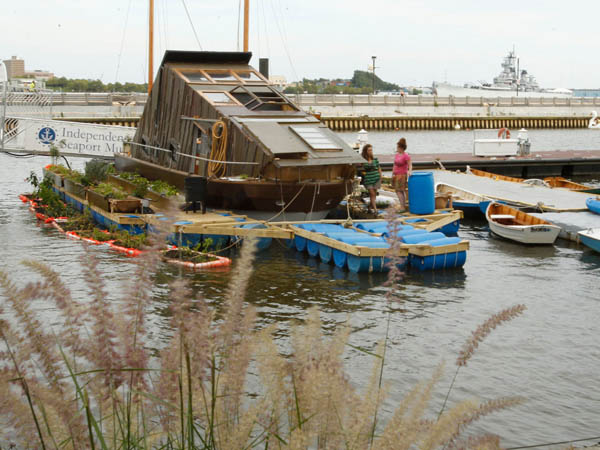 ---
Mon, 6 April 2015
Bad at Sports Episode 501: R & R Studios
This week we present the artists Roberto Behar and Rosario Marquardt of R & R Studios. We talk displacement, Miami's writing of it's art history, and how artist reclaim and present public space.
Thanks to Cannonball, Pulse Miami, and Art Practical.
This interview was recorded in Miami, December 2013.
---
Mon, 30 March 2015
Episode 500: Richard bids a fond farewell
This week: So long and thanks for all the fish.
---
Mon, 23 March 2015
Bad at Sports Episode 499: Amanda Browder
This week: The penultimate show of the Richard Holland era has arrived. There was only one person who could possibly have been the subject of this show and that, of course, is Richard's good friend, Bad at Sports co-host and all around awesome person Amanda Browder! They talk about Amanda's work, installation and site specific art and Duncan's creepy fixations.
Next week is episode 500! Duncan, Richard and Amanda gather at a non-ironic tiki bar. Rude jokes are told. It is a wacky mess. Don't miss it.
Check out Amanda's work at www.amandabrowder.com
---