Thu, 21 April 2016
Bad at Sports Episode 547: Present Standard
This week: Richard and Duncan talk to the curators and artists of Present Standard!
Guest curated by Edra Soto and Josue Pellot, Present Standard features 25 contemporary artists with Latino Chicago connections. Their works that play with the manifold meanings and forms suggested by the "standard" – as either a flag or a pennant, a measuring tactic or a guiding principle, or a potent symbol of national identity.
---
Mon, 18 April 2016
Bad at Sports Episode 546 Ebony G Patterson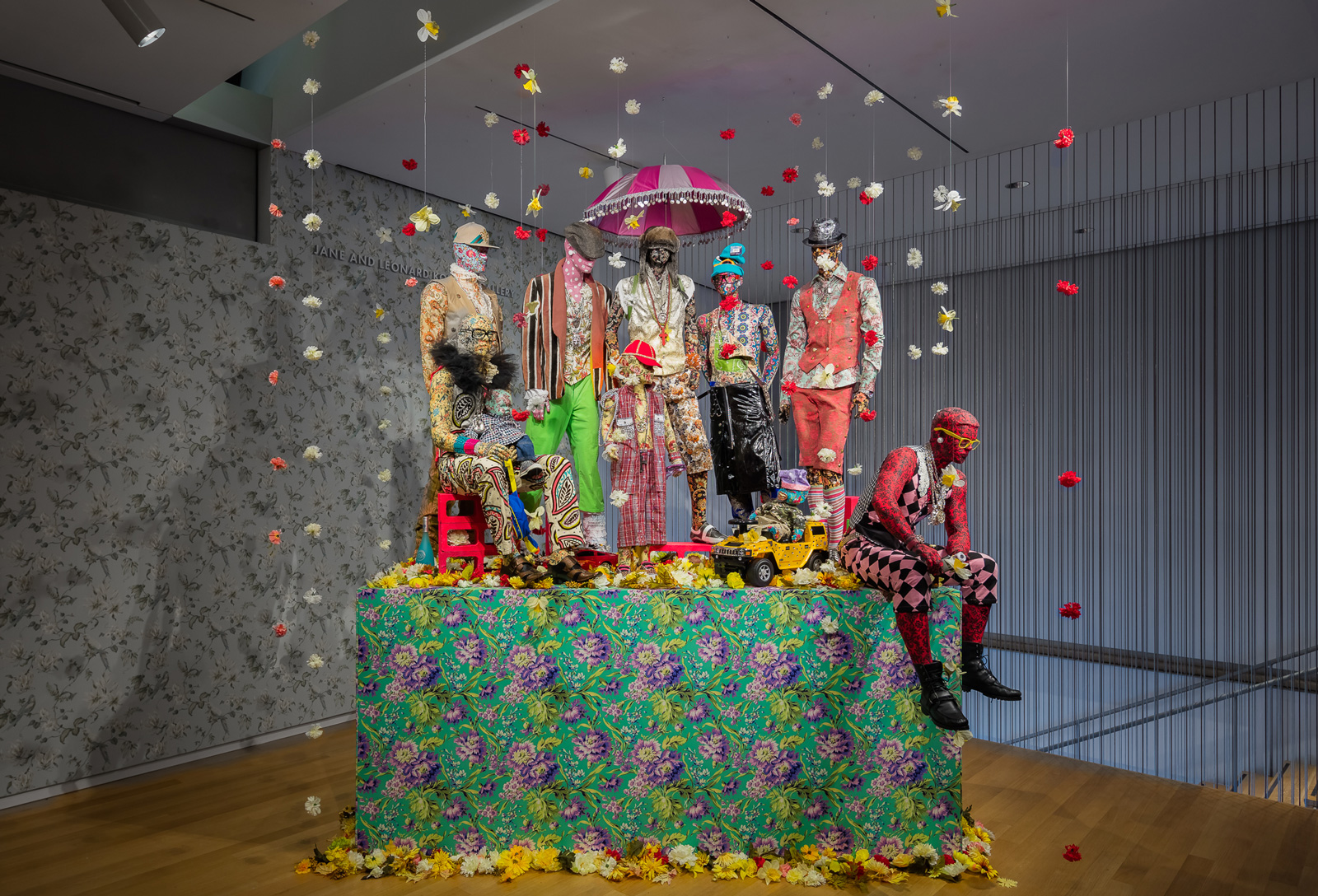 Ebony G Patterson is tearing apart our collective American contemporary art consciousness. She has recently closed a show at New York's Museum of Arts and Design and is rocking as exhibition at the Studio Museum in Harlem! We caught up with her at EXPO Chicago.
Richard and Duncan announce a new Bad at Sports initiative.
Names Dropped:
Bling Funerals, Trinidad Carnival, Monique Meloche, Krista Thompson, Claire Tancons, ICI (Independent Curators International), Michael Brown, Jacquard Loom, Prospect, Carpal Tunnel, Jamaica Biennial, Chincy, Skin Bleaching, Metrosexual, Man Bun, Kanye West, Jay Z, Kehendi Wiley, man liner, Cindy Sherman, the New York Times, Stan Douglas, Frank Stella, Jeffrey Gibson, Paul Anthony Smith, Dan Gunn, Sabina Ott
---
Mon, 11 April 2016
Bad at Sports Episode 545-Deborah Stratman
This week: NO NOT THE GUITAR COLLECTOR! Instead this week Duncan and Jesse talk to Deborah Stratman the artist and filmmaker.
---
Tue, 22 March 2016
Bad at Sports Episode 544: Spring Break!
This week: Bad at Sports goes to SPRING BREAK Art Fair in the burned out section of the Post Office building on the Westside of Manhattan. Sadly we did not get loopy with jello shots and beach balls, but instead nerded out with some killer art conversations with some fantastic work! Joining Amanda this week is her co-host artist Caroline Burghardt, a Brooklyn based artists who looks at the relationship between humans and nature. Check out her site at www.carolineburghardt.com.
At the fair we first chatted with artist David B. Smith about his installation of fabric based sculptures. Then headed over to the curated exhibition "Doppelnamer" that is curated by and Elisabeth Smolarz, Lauren Silberman and Jamie Diamond. We chatted with Elisabeth and Lauren about the artists in the show, and their doppelnamers. The artists featured in the room were: Daniel Bejar, Vince Contarino, Andrew Ross, Jonathan Allen, Brent Birnbaum, Jamie Diamond, Lauren Silberman and Elisabeth Smolarz... and all of their doppelnamers.
photo:
Top: David B. Smith installation at Spring Break
Bottom: Brent Birnbaum and his Doppelnamer + Elisabeth Smolarz and Lauren Silberman chatting with Caroline Burghardt and Amanda Browder in the Doppelnamer booth at Spring Break.
Part I:
David B. Smith : artist
Part II:
Elisabeth Smolarz and Lauren Silberman and Jamie Diamond curators and artists part of the booth "Dopplenamer"
Artists in the show: Daniel Bejar, Vince Contarino, Andrew Ross, Jonathan Allen, Brent Birnbaum and all of their doppelnamers.
---
Fri, 18 March 2016
Bad at Sports Episodes 543: SETI
Brian and Patricia play Mulder and Scully this week as they sit down with the masterminds behind the SETI Institute artists-in-residence program. For those B@S faithful listeners unfamiliar with the Institute (An oxymoron, if there ever was one ) SETI stands for the Search for Extraterrestrial Intelligence. Yes, friends, we're talking space aliens.
As part of the Institute's goal "to explore, understand, and explain the origin and nature of life in the universe, and to apply the knowledge gained to inspire and guide present and future generations," they now host a residency program for artists based out of their Mountain View, CA headquarters. Artists work with scientists across a range of disciplines at any of the associated facilities to facilitate an exchange of ideas an create new modes of comprehension or expression. No, they didn't tell us how you can apply.
We hear from SETI AIR director Charles Lindsey, who was the inaugural AIR, and Advisory Committee chair Denise Markonish, who is curator at MASSMoCA, as well as current AIRs Dario Robleto and Martin Wilner. Listen as they receive takeout delivery from ET.
Charles Lindsay
Charles is a multi-disciplinary artist interested in technology, eco-systems, semiotics and esoteric forms of humor. He was the SETI Institute's first Artist in Residence 2010 - 2015 and is now leading the SETI AIR program. Lindsay is a Guggenheim Fellow and the recipient of a 2015 Rauschenberg Residency. More about Charles Lindsay's work here.
Denise Markonish
Denise Markonish, Chair of the SETI AIR Advisory Committee, has been the curator at MASS MoCA since 2007 where her exhibitions include: Oh, Canada the largest survey of contemporary Canadian art; Sanford Biggers: The Cartographer's Conundrum, Michael Oatman: all utopias fell; Stephen Vitiello: All Those Vanished Engines, Nari Ward: Sub Mirage Lignum ; Petah Coyne: Everything That RisesMust Converge; Inigo Manglano-Ovalle:Gravity is a force to be reckoned with; These Days:Elegies for Modern Times and Badlands: New Horizons in Landscape. More about Denise Markonish's work here.
Dario Robleto (2016)
Dario is a transdisciplinary artist and storyteller whose research-driven practice results in intricate narratives and handcrafted objects that reflect his exploration of music, popular culture, science, war, and American history. He was recently appointed as the 2016 Texas State Artist Laureate. More about Dario Robleto's work here.
Martin Wilner (2015)
Martin is a visual artist and a psychiatrist interested in the processing of time-based dyadic relational correspondence, informed by principles of applied psychoanalytic theory, as a basis of his daily drawing practice. He is represented by Sperone Westwater in New York City and Hales Gallery in London and his work is in numerous public and private collections. He is also Assistant Clinical Professor of Psychiatry at Weill Cornell Medical College. More about Martin Wilner's work here.
---
Sat, 12 March 2016
Bad at Sports Episode 542: Avi Gitler
This week: Tom Sanford is back! Tom and Duncan talk to Avi Gitler about his gallery Gitler & _______ and his amazing stories of world travel and the terror of facing the NYT art critic!
---
Wed, 2 March 2016
Bad at Sports Episode 541: Peter Wachtler
This week Dana Bassett and Duncan MacKenzie catch up with Peter Wachtler at Chicago's Renaissance Society just after their 100th anniversary.
We "borrowed" this from Art Space which "borrowed" it from the Liverpool Biennial... probably it is updated on the Renassance Society website.
PETER WÄCHTLER
Hometown: Hanover, Germany
Lives and Works: Brussels, Belgium and Berlin, Germany
Education: Fine Art Studies, Bauhaus-University Weimar with Prof. Fritz Rahmann, 2004
Kent Institute of Art and Design, Canterbury / England
While it might seem foreign or unfamiliar, underwater life, bourgeois domesticity, or the world of Peter Wächtler's animated cartoons are simply habitats, each one coming with a set of behaviors, life-forms, movements, objects, images, and relationships. What is a disaster in one is a miracle in another and nothing more than routine in another. Dislocating them or mixing them together short-circuits their logic. To a butler—like the character that so frequently appears in Wächtler's work—acts of intimacy, hospitality, corruption, lust, kindness, desperation, generosity, jealousy, hypocrisy, or delinquency are all the same in the end—it's all just administration. Or,in an animated cartoon, deadpan humor can be laced with depression and pathos, and used to tell stories of heart-broken rats or hobos.
Peter Wächtler's recent solo exhibitions include dépendance, Brussels, Kunstverein Hildesheim, Ludlow 38, New York, Kunsthalle Wien, Vienna, Galerie Lars Friedrich, Berlin, Etablissement d'en Face, Brussels. His work has been included in group exhibitions atLyon Biennale, Wiels Centre d'Art Contemporain, Brussels, Witte de With, and Center for Contemporary Art, Rotterdam.
Courtesy of Liverpool Biennial
The Ren posted the audio of his reading here...
Also this episode has a strange easter egg.
---
Mon, 22 February 2016
Bad at Sports Episode 540: Vesna Jovanovic
Pretty sure I pronounced Vesna's last name wrong... Opps.
But here it is the long awaited conversation and the return of a former host.
From the International Museum of Surgical Science...
Vesna Jovanovic is a Chicago-based visual artist who specializes in conceptualizations of the human body. Using spilled ink as groundwork, she creates drawings that often formally resemble medical illustration while concentrating on what is usually left out: how it feels and what it means to have a body as well as how the body is culturally perceived. With drawing as a bodily act and medical illustration as a visual trope, Jovanovic brings embodiment, biopolitics, phenomenology, and various other ideas and theories of the human body into her work.
http://imss.org/the-oval-portrait/
---
Thu, 11 February 2016
Bad at Sports Episode 539: Catherine Wagner
This week, we join Brian and Patricia as they chat with Bay Area artist, doyenne, and badass Catherine Wagner following a decadent champagne brunch in her studio to ring in the New Year. For over thirty years Catherine Wagner has been observing the built environment as a metaphor for how we construct our cultural identities. She's examined institutions as various as art museums and science labs, the home and Disneyland. Ms. Wagner's process involves the investigation of what art critic David Bonetti calls "the systems people create, our love of order, our ambition to shape the world, the value we place on knowledge, and the tokens we display to express ourselves."
While Ms. Wagner has spent her life residing in California, she has also been an active international artist, working photographically, as well as site-specific public art, and lecturing extensively at museums and universities. She has received many major awards, including the Rome Prize (2013-2014), a Guggenheim Fellowship, NEA Fellowships, and the Ferguson Award. In 2001 Ms. Wagner was named one of Time Magazine's Fine Arts Innovators of the Year. Her work is represented in major collections nationally and around the world, such as the Los Angeles County Museum of Art, SFMOMA, The Whitney Museum of American Art, MOMA, MFA Houston. She has also published several monographs, including American Classroom, Art & Science: Investigating Matter, and Cross Sections.
---
Mon, 1 February 2016
Bad at Sports Episode 538: Barbara DeGenevieve
This week: About a year and a half ago we mourned the passing of a true Chicago legend. Barbara DeGenevieve was an epic instructor, a committed boundary tester, and an enthusiastic gender warrior. Lisa Wainwright did a great job memorializing her on our site and this September Iceberg Projects mounted the first exhibition in honor of her legacy. Dr. Dan Berger, David Getsy, Doug Ischar, and our own Duncan MacKenzie gathered to discuss her exhibition, her story, and what made her the force she was.
Yes. Four white men whose names all begin with D got together to discuss a great woman. Yes we know. Take your fingers away from your keyboards.
Iceberg - http://icebergchicago.com/barbara-degenevieve-medusa%E2%80%99s-cave---iceberg-projects.html
David Getsy Just dropped a new book and announced another. Check it out...
http://www.amazon.com/Abstract-Bodies-Sixties-Sculpture-Expanded/dp/030019675X/ref=sr_1_2?ie=UTF8&qid=1454291662&sr=8-2&keywords=David+Getsy
http://www.amazon.com/Queer-Whitechapel-Documents-Contemporary-Art/dp/0262528673/ref=sr_1_1?ie=UTF8&qid=1454291662&sr=8-1&keywords=David+Getsy
Our initial Memorial...
http://badatsports.com/2014/barbara-degenevieve-irrepressible-irresistible-irreplacable/
---